---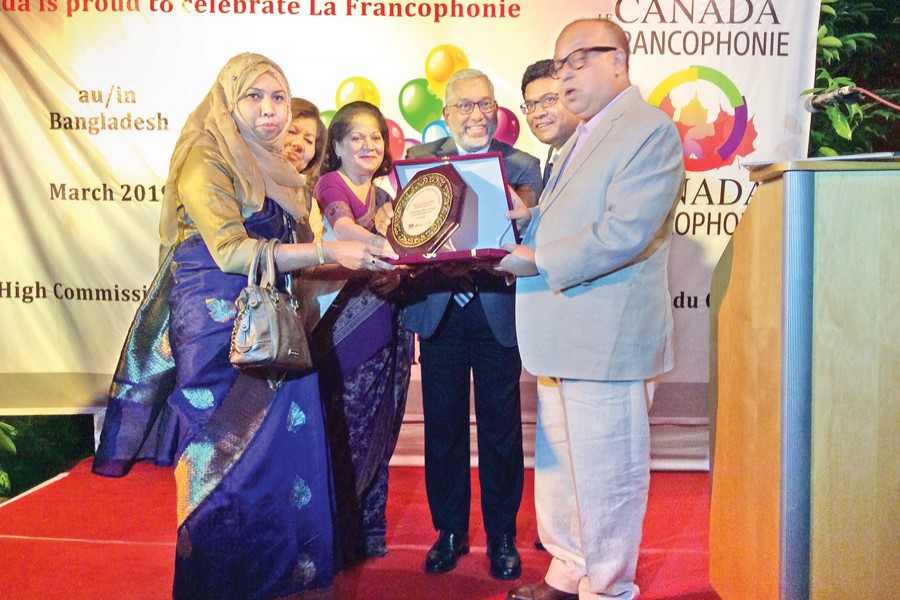 2019 Francophonie Week Business Award recipients MIDAS directors Rokiya A Rahman and Zahida Ispahani, and Bornil Fashion House owner Razia Sultana Rini receiving crests from president of CanCham Bangladesh Masud Rahman, president of France Bangladesh Chamber of Commerce and Industry Maruf Alam and president of Switzerland Bangladesh Chamber of Commerce and Industry Naquib Khan in the city on Wednesday
Three joint trade bodies have awarded two businesses as part of celebrating the 32nd International Francophonie Day in Dhaka this year.
CanCham Bangladesh, France Bangladesh Chamber of Commerce and Industry, and Switzerland Bangladesh Chamber of Commerce and Industry jointly launched '2019 Francophonie Week Business Award' to two recipients for their contribution to women's rights in the country.
The chambers recognised the contribution particularly in areas like women entrepreneurship development, skill development and promotion of women in the work place.
The celebration took place at the residence of Canadian High Commissioner in Dhaka on Wednesday when diplomats from the Francophonie member countries were present, among others.
Six diplomatic missions in Dhaka celebrated the day to promote the shared values of respect for rules and human rights, gender equality, solidarity and cultural diversity and a central place for women, youth and the vulnerable in its work.
The missions of the Francophonie member countries - Canada, Egypt, France, Morocco, Switzerland and Vietnam - observed the day along with the 88 states and governments (61 members and 27 observers) representing over one billion people worldwide, including 300 million French speakers.
The chambers selected Ms Razia Sultana Rini of Bornil Fashion House, Pabna for her remarkable efforts to become a successful entrepreneur who started her business in 2016 with Tk 50,000 only.
Her total capital now stands at Tk 3.0 million, employing 20 permanent staff and outsourcing more than three hundred workers.
The award was also given to MIDAS for its laudable contribution to creating economic opportunities and development of entrepreneurship in Bangladesh since 1982 and advancing women's rights.
Rokiya A Rahman and Zahida Ispahani received the award on behalf of MIDAS.
Presidents of CanCham Bangladesh Masud Rahman, France Bangladesh Chamber of Commerce and Industry Maruf Alam and Switzerland Bangladesh Chamber of Commerce and Industry Naquib Khan were present at the function.
The International Day of 'La Francophonie' was inaugurated in 1988 as a reminder of the creation of La Francophonie's institutional framework, a place for solidarity between French-speaking countries and a renowned actor in international relations.
munni_fe@yahoo.com