Corruption is rampant in our society. It has been so widespread and deep-rooted that there are only a few individuals or organizations who have remained untouched by corruption one way or other. It has become so deeply embedded in our society that we have almost forgotten a life without it. It is regarded as if it is a constitutional obligation that should not be violated.
Sadly, corruption is like an unbridled horse. It knows no border. It can visit any place any time without a visa. So we find its presence everywhere, in food, medicine, diagnosis, land, business enterprise, government service, law enforcement agencies, health, education, media, judiciary, you name it. It is a contagious disease no less deadly than coronavirus pandemic. It has now turned out to be a well- established institution in itself.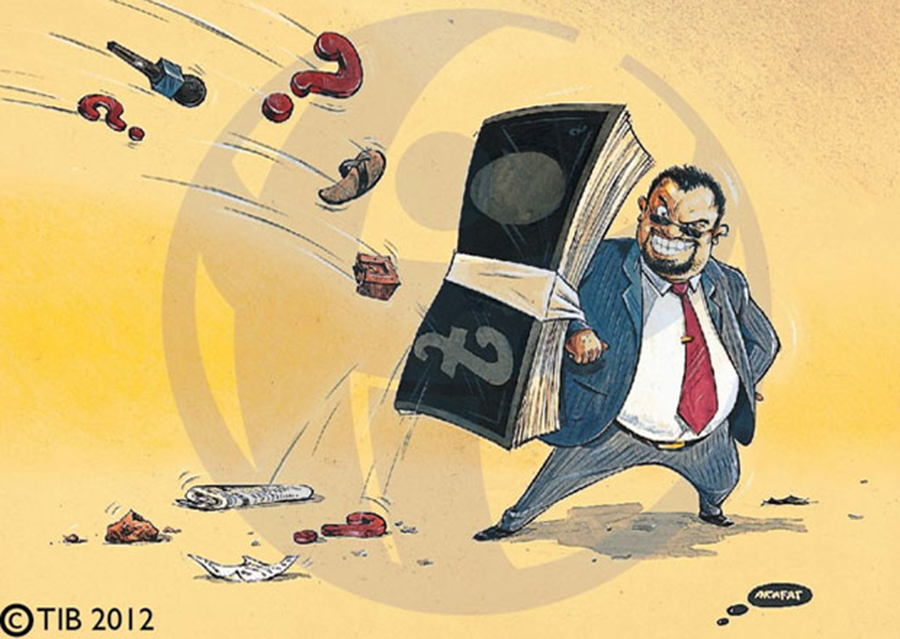 Otherwise, why do we have to see the heinous designs of Shahed Karim or Sabrina to give false test reports and play with the lives of hundreds of corona suspect patients? How does a mere accountant of Health Directorate amass wealth worth billions, not lacs, of taka? How do we come across a scandal like Cox's Bazar land acquisition project? Why is it that a file does not move in a government office without speed money? The proverbial 'dhamer kol' (Hand of God) may turn things automatically but the government machinery does not. It needs money.
Yes, we hear more often than not about the government's intention of zero tolerance against corruption. We hear about stringent measures to deal with the situation but in reality, how far have we progressed? The anti -corruption drives of the government, more often than not, start with a bang and end with a whimper.
Corruption is multidimensional. A group of people are corrupt because they are poor. They cannot make both ends meet. They cannot afford two square meals a day for their family members. They cannot afford milk for their children with the meager legal income they earn. So, they find no other alternative than taking bribe or indulging in illegal means to earn money and maintain livelihood.
Another group of people are rich but not as rich as their neighbour although they consider themselves more qualified and efficient than their neighbour. The neighbor drives a costly car, lives in a posh house. He cannot afford a three-wheeler auto. His neighbour's wife wears 30,000 taka silk saree. So he has to keep his wife quiet with at best a 5000 taka Rajsahi silk. He is then forced to enter into an unholy competition out of sheer grievance. He resorts to illegal means of earning.
Another group of people resort to corruption to become richer, 'lac-poti' to 'croro-poti', millionaire to billionaire by any means and that, too, overnight! They are ready to go to any length-- grab, cheat, or even kill anybody. The more they get, the more they want. With the money and wealth they earn from nowhere, they want all the luxury, lavishness and fantasy in life. The result is crime, violence, sexual abuse, extra-marital affairs and what not.
Where is the remedy? How do we put on the bridle round the neck of the galloping horse of corruption and halt its breakneck race? The economy of the country has been progressing rapidly in the recent years. The country's per capita income has risen to nearly USD 1800 from USD 600 in less than a decade. GDP growth has hovered around 6 to 7.5 percent for quite some time. The country is poised to graduate to a developing country from a least developed (LDC) one.
The government of Prime Minister Sheikh Hasina has reasons to be proud of the mega projects like Padma Shetu, Metro Rail, Elevated Express Way, Payra Sea Port. It has enviable record of producing unbelievable quantity of electricity and reaching the target of lighting more than ninety percent households of the country. Incessant load-shedding, that was a common phenomenon only the other day, is now a matter of grandma's fairy tale.
Yet, corruption can be a matter of grave concern for the economy to sustain. It can eat the very vitals of society making the country unviable both economically and socially. Corruption breeds greed and lust. These elements in turn erase all basic human values and make people barbaric. No wonder, every day we hear in the electronic , print and social media about so many cases of financial scam, plunder, violence, killings, and rape- all for satisfying the greed and savage lust.
There has to be a way to end the stigma of the unbridled corruption that is eating the very vitals of our society. We have to see that corruption is dealt with by the government with a heavy hand. People do not want to hear rhetoric from our politicians or policy-makers in the government any more. They do not want to hear big talks anymore. They want business. They want to see exemplary punishments meted out to at least some of the godfathers, if not all, to start with.
Capt. Hussain Imam, Master Mariner (UK)
is a retired Merchant Navy Officer.