The concept of macroeconomic performance is multidimensional. It encompasses economic growth, (usually measured by GDP growth), price stability, poverty alleviation, exchange rate stability, fiscal prudence etc. The focus in this article is on three critical issues of great macroeconomic significance. These are economic growth, inflation and poverty alleviation.
Methodologically a country's performance can be evaluated in two ways. First, how a country is progressing over time. Second, how does it fare in comparison with other countries, particularly neighboring ones. A mix of these methodologies has been used in the article.
Growth performance: There has been an acceleration of growth rate of GDP since 1980s. The rate averaged 3.8% during 1980-1985; 5.9% during 2000-2010, 6.2% during 2011-2015 and rose to 7.4% during 2016-2018. Among a sample of 12 Asian countries (Bangladesh, Cambodia, China, India, Indonesia, Korea, Laos, Malaysia, Pakistan, Singapore, Sri Lanka and Vietnam), Bangladesh dramatically improved its rank. Six countries achieved higher growth than Bangladesh during 2000-2010 period, five countries during 2011 to 2015: but during 2016-2018 Bangladesh was the highest growth performer (table 1).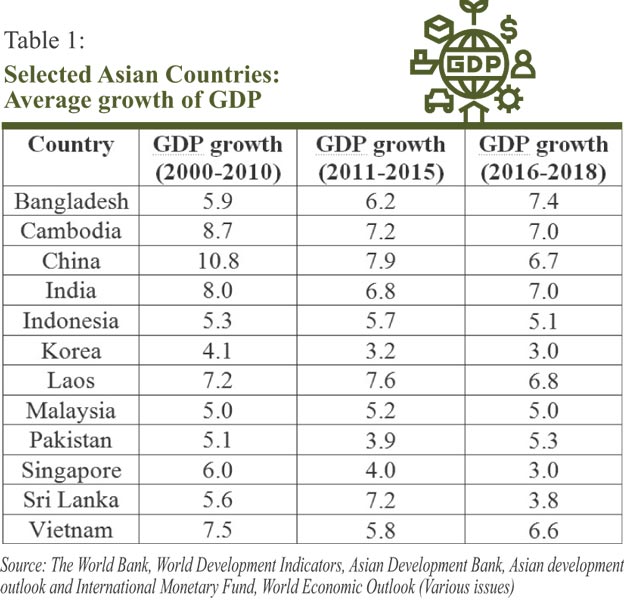 There are many factors which contribute to a country's growth. Of particular relevance in the context of Bangladesh are investment, labour, exports and remittances.
(a) Investment: As regards investment, it grew positively, albeit at a rather slow rate rising from 24% of GDP in 2000 to 30% in 2017 (table 2). But, the private sector investment as a proportion of GDP has remained virtually stagnant during the last one decade, around 22%.
The constraints to private sector investment are well known. These include deficiencies in physical infrastructure (e.g. transportation, port facilities), inadequacy of energy supply (gas, electricity), political uncertainty, poor governance and low score in ease of doing business. Considerable attention is being paid to redress deficiencies in physical infrastructure and energy. But, the determinants of private sector investment in the areas of governance and creation of a business friendly environment require much greater improvement.
The World Bank ranks different countries in terms of six sub indicators of governance. Bangladesh performs rather poorly in respect of all of these. As of 2017, ten countries performed better than Bangladesh in respect of rule of law, control of corruption, government effectiveness, political stability and absence of violence; seven countries performed better in respect of voice and accountability and Bangladesh performed worst in respect of regulatory quality. As regards ease of doing business Bangladesh ranked lowest among the 12 Asian countries in 2017. Its rank was 177 implying that 176 countries performed better. This indicator is based on 11 sub indicators which are: starting a business, dealing with construction permits, getting electricity, registering property, getting credit, protecting minority interests, paying taxes, trading across borders, enforcing contracts, resolving insolvency and labor market regulation.
The present scenario in the banking sector also poses a challenge for investment. In Bangladesh banks are the most important source for financing investment in view of dormant capital market. The banking sector is suffering from ever increasing non-performing loan which rose from 8.8% in December 2015 to 10.41% at the end of June 2018 when the absolute amount reached a staggering figure of Taka 893.39 billion. This is a gross understatement as it excludes rescheduled loans amounting to Taka 191.20 billion as well as Taka 372.60 billion written off. The reasons for the current deplorable state of the banking sector are:
v the incompetence of bank personnel in valuing collateral, assessing potential of future revenues and cash flows from the projects for which loans are given;
* poor governance of banks leading to loans to friends, relatives or politically connected people irrespective of the merit of their loan proposals;
* political influence in sanctioning loans as well as their rescheduling and restructuring;
* ineffective judicial system reflected in huge number of pending cases either in the loan courts or superior courts;
* the existence of too many banks which detracts from the economies of scale leading to unhealthy and aggressive lending to unworthy borrowers.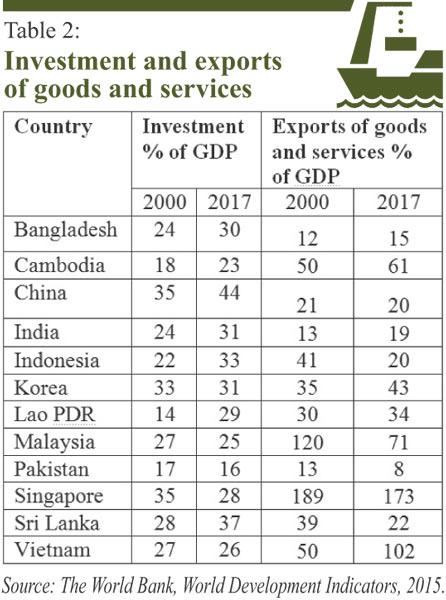 Public investment is mainly implemented through the annual development programme (ADP). It has shown an upward trend in recent years. However, its benefits are severely undermined by a lack of prioritization of projects, delayed implementation, cost overrun and thinning of resource allocation among too many projects. A recent World Bank study observed that out of 1034 projects included in FY 15 ADP, 154 projects would require 6-10 years for completion at the present levels of allocation, 106 between 11-100 years and 32 more than 100 years.
(b) Labour: In addition to investment, labor is an important primary factor of production and hence plays a significant role in any country's growth. However, what matters is not merely the number of people employed but also the quality of labor force which is substantially influenced by the level of education. Here, one major concern is that the jobs in the manufacturing sector declined in recent years from 9.53 million in 2013 to 8.76 million in 2017. Moreover, the share of informal employment in total employment remains very high at 85% in 2017, a marginal decline from 87% in 2010.
Bangladesh is currently in a situation where it can reap enormous benefits from demographic dividend with a high proportion of population in working age group. There is considerable scope for accelerating growth through increasing utilization of labor and improving the productivity of labor. In this context it can be mentioned that participation of women in labor force, despite notable increase because of expansion of readymade garments sector, remains lower than many Asian countries. The country's achievement in the area of education leaves a lot to be desired. Enrollment at secondary and tertiary levels is lower than in most other Asian countries.
(c) Exports: There is a large measure of consensus among development economists regarding the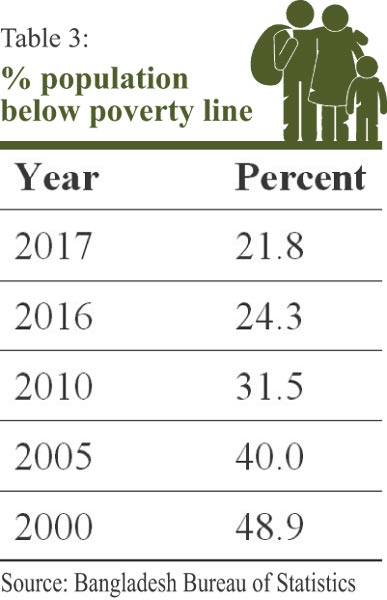 important role that exports play in accelerating growth. Exports earn foreign exchange needed to finance import of raw materials, intermediate goods and capital machinery vitally required for production. Exports are not constrained by the limitations of domestic market size and thus enable the producers to produce higher levels of output which, in turn, creates scope for availing the benefits of economies of scale. Exports are also associated with better allocation of resources by way of creating employment opportunities for labor which is a relatively more abundant in developing countries.
In Bangladesh exports accounted for less than 5% of GDP in 1985, rose to 12% in 2000 and 15% in 2017 (table 2). However, out of the 12 Asian countries only Pakistan had a lower export GDP ratio in 2017. Therefore, the opportunity for significantly increasing exports in order to accelerate GDP growth should be more vigorously exploited.
In the context of exports, a worrisome development is that there has been a slowdown of growth in recent times. The composition of exports shows a heavy reliance on readymade garments which continue to account for well over 80% of total exports. The challenges here relate to large scale expansion of non-readymade garments exports and diversification of markets. According to a recent study by Policy Research Institute, Bangladesh exports over 1300 products, each on a small scale. A further challenge may arise from the loss of duty-free and quota-free exports to European Union and also some other countries as Bangladesh is poised to graduate out of least developed country category. The country should also improve product quality of all exports and strengthen negotiating capacity to be able to secure higher unit price.
Acceleration of exports should enjoy top priority in view of mounting deficit in the current account of balance of payments. Bangladesh enjoyed a surplus in the current account in FY 16, suffered a deficit of $1.3 billion in FY 17 and the deficit ballooned to $9.8 billion in FY18. This has led to substantial depreciation of Taka despite intervention by the central bank.
(d) Remittances: Remittances by our workers employed aboard also have played a notable role in the economy of Bangladesh. The amount was nearly $15 billion dollars in FY 18. Remittances support consumption of the poor and thereby contribute to higher aggregate demand and output. These also help alleviate poverty and enable poor families to spend for health and education of family members leading to their improved productivity. In order to realize the full potential of the benefits of remittance the country needs to diversify the destination markets which presently are substantially concentrated in the Middle East. Moreover, the skill of emigrants needs to be enhanced through appropriate education and training so that they can earn higher wages abroad and thus send more remittances. At the same time efforts should be made to direct higher proportion of remittance to productive investment.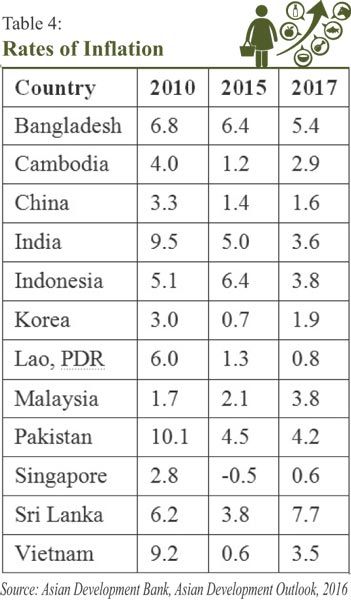 Poverty alleviation: Bangladesh has had substantial success in reducing poverty. The acceleration of economic growth, expansion of social safety net and activities of a large number of non-governmental organisations (NGOs) have contributed to this progress. One worry is that the rate of poverty reduction has slowed down. It averaged 1.8% per year between 2000 and 2005, 1.7% per year between 2005 and 2010; but declined to 1.4% per year between 2010 and 2017. This may be partly because of rising inequality of income distribution. Gini coefficient which is a summary measure of inequality of income distribution increased from 0.465 in 2010 to 0.485 in 2016. There are also fairly wide spread complaints of leakages from social safety net allocations. The leakages take three forms: those who are not entitled receive benefits, those who are entitled are deprived of the same and instances of outright misappropriation. A closer look is necessary regarding the potential of using monetary and fiscal policies to arrest rising inequality.
To restore the pace of poverty reduction it is necessary to increase budgetary allocation for social safety net programmes and improve the access of poor to publicly provided health services and educational facilities. In the area of education particular attention needs to be paid to enhance enrollment of the poor to quality secondary and tertiary education. Moreover, educational system needs to be restructured with emphasis on development of technical skills so as to ensure employment in the productive sectors of the economy.
Inflation: Price stability is an important macroeconomic objective for a variety of reasons. Inflation reduces personal savings and thereby private investment as higher prices require more expenditure on consumption in order to maintain living standards of families. Corporate savings and reinvestment may be reduced because the shareholders are likely to press for higher dividend distribution. Governments may run into larger budget deficit if revenue collection is not elastic with respect to nominal GDP. Inflation may cause distorted allocation of resources away from productive long term investment to short term trading activities and investment in jewelry or real estate. A high rate of inflation is fraught with the risk of aggravating poverty.
The situation in Bangladesh in this respect is hardly commendable. In 2010, only three countries (India, Pakistan and Vietnam) had higher rates of inflation (table 4). In 2017, no country had a higher rate. Policy actions are needed to increase domestic food production, to ensure that credit flow to the private sector is utilized for short gestation productive investment and to maintain stable exchange rate in order to bring down the inflation rate.
Policy Imperatives: In light of the foregoing analysis the following policy imperatives deserve to be highlighted.
* Strengthen efforts to address deficiencies in physical infrastructure, energy supply, and ease of doing business to accelerate private investment.
* Public sector investment should be based on clearly identified priority and the projects should be completed on scheduled time, supported by adequate allocation of funds.
* The administrative machinery should be made accountable for failure to utilize allocated funds in time.
* Take measures to avail of demographic dividend by providing higher and better quality education and training for the workers, including female workers.
* Diversify basket of export goods and their markets, improve product quality and strengthen negotiating capacity of exporters.
* Diversify markets of labor exports and enhance skill level of the emigrants.
* Increase budget allocation for social safety net programs, prevent leakages and adopt appropriate monetary and fiscal policies to arrest falling annual rate of poverty reduction and rising inequality.
* Take appropriate supply side measures to keep inflation within desirable limits.
Dr. Mirza Azizul Islam is a former Adviser (Cabinet Minister) to Caretaker Government for the Ministries of Finance and Planning and presently a Professor at BRAC University.
maislam@bracu.ac.bd