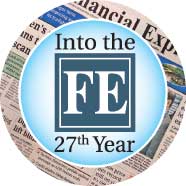 China and India have rivalry over a lot of issues but they have one thing in common - intense need to have a footprint in Myanmar.
And this can help many in understanding the chemistry behind the prolonging Rohingya crisis that has been giving enormous pain to Bangladesh since the beginning of the crisis in August 2017.
China has taken almost similar policy narratives on Rohingya issue, and that is not to do anything which can hurt Myanmar.
Both of these countries have been refraining from condemning Myanmar for its alleged brutal atrocities against Rohingya, both of them call for peaceful solution through dialogue and both stress socio economic development of Northern Rakhine area.
Bangladesh with valid reasons is dependent on these two big neighbours for resolving the crisis. China since the beginning has been active in mediating the negotiation between Bangladesh and Myanmar. And this resulted in signing the bilateral arrangement where Myanmar pledged to take back the displaced people within a short period of time. But after the passage of two years and a half not a single person out of the over one million Rohingya was repatriated.
Now let us see what prompted China and India to engage in hobnobbing with Myanmar, a country well-recognised as a rouge state where crimes against humanity are a common phenomenon.
China's gateway to Indian Ocean
According to many historians Muslims first set their foot in Myanmar in 9th century. They were Arab crews and their ships wrecked. The place was the Ramree island under the Arakan state (Now the Rakhine State). Irony is, China is going to build a deep-sea port in the same island and this port at Kyaukpyu will be connected to mainland China through Rakhine State, home to Rohingya.
Several centuries ago a Chinese general documented the importance of Myanmar for China. The Gen shows how Myanmar can be a gateway to sea for China's land-locked southern part like Yunnan.
China has influences over Myanmar's different spheres- its military bosses, its political elite and among its insurgent groups.
And when Myanmar faces criticisms in the global arena, China has never failed to protect it. The Rohingya crisis actually has given China the opportunity to get Myanmar closer.
China thrashed the resolution in the Security Council against Myanmar over the Rohingya issue and has always been saying that the genocide allegations are exaggeration of the western media.
A Chinese state-owned firm also has a 70 per cent stake in the building of a US$7.3bn deep-sea port and a US$2.7bn special economic zone in Rakhine State as part of the BRI (Belt and Road Initiative). This port project will provide an entry point for a US$1.5bn oil and gas pipeline between Kyaukpyu and Kunming in China's Yunnan Province. China and Myanmar have also agreed to develop an economic corridor between Kunming and Kyaukpyu, also as part of the BRI. Across the border, China has agreed to provide Bangladesh with US$22bn of assistance until 2024.
A flurry of activity has taken place between officials of China and Myanmar amid the ongoing Rakhine crisis.
After the beginning of the Rohingya crisis, Chinese Foreign Minister Wang Yi proposed an economic corridor with Myanmar when he visited Naypyidaw. That was endorsed by his host, State Counsellor Aung San Suu Kyi and by Myanmar President U Htin Kyaw.
After Wang's visit to Naypyidaw, Senior General Min Aung Hlaing, the commander-in-chief of the Myanmar Armed Forces, visited Beijing. General Li Zuocheng, a member of China's powerful Central Military Commission, sought closer military links with Myanmar, including deeper training and technical exchanges.
Beijing's desire for closer defence ties is understandable, considering Myanmar's geostrategic importance from an economic and security standpoint.
"The country sits astride the eastern Indian Ocean, where vital sea routes carrying Chinese energy imports from Africa and the Middle East extend far into the Malacca Strait. Myanmar's location could at least partially offset the obvious military advantage India possesses with its highly strategic Andaman and Nicobar Islands that overlook the strait entrance. Furthermore, energy pipelines linking Kyaukphyu and Yunnan provide an alternative to the waterway, which the Chinese have long identified as their "soft underbelly" that is exposed to potential adversaries, writes international affairs expert Collin Koh in the South China Morning Post.
China and Myanmar are contemplating carrying out a feasibility study on a railway line between Muse on the Myanmar side of China-Myanmar border and Mandalay in Myanmar, according to recent media reports.
China is also in the process of building a railway line connecting Kunming, the capital of Yunnan province of China, with Ruili, a town on the China-Myanmar border. The two railway lines are expected to provide a major boost to economic activities between China and Myanmar and further cement the existing bilateral trade between the two countries.
This railway line will pass across the Myanmar provinces, which have borders with India. So, according to many, these would pose security threat to India. Experts refer to B. Raman's book titled 'The Kaoboys of R&AW Down Memory Lane', where it was told that Chinese forces used the Myanmar route to make an attack, if necessary, in the North East provinces of India during the 1962 war.
India wants a counterbalance
Just 2 decades ago, India was vocal against the military Junta of Myanmar on human rights issue. But it started to change its stance on Myanmar after realising that alienation from Myanmar will push it to the lap of China.
With the assumption of power by the BJP government led by Narendra Modi, India geared up "Look East' policy which is highly Myanmar centric.
Since the beginning of the Rohingya crisis in 2017, Myanmar has seen the arrival of a string of top Indian leaders in the state. The list includes Narendra Modi, Indian President Ram Nath Kovind.
Mr Kovind's visit took place just over a month after China and Myanmar finalised a deal to build a deep-sea port in Kyaukpyu on Myanmar's western coast in the Bay of Bengal.
Many Indian policymakers consider it as a security threat as they have the apprehension that these projects will allow the Chinese military greater access into its extended neighbourhood and will be the latest addition to the Chinese "string of pearls" across the Indian Ocean comprising ports like Pakistan's Gwadar and Sri Lanka's Hambantota.
India offers fund and assistance for a number of development programmes and connectivity projects in Myanmar, mainly in Rakhine state to counterbalance the 'strategic encirclement by China.
According to media reports, during his visit, the Indian President appreciated Myanmar's "ongoing efforts toward achieving peace and national reconciliation. India is also developing Sittwe port in Myanmar's Rakhine State and implementing the US$484m Kaladan transport project, which will connect Rakhine State with India's northeastern state of Mizoram.
India, Myanmar and Thailand are jointly developing a 1,360km highway -- to be operational by December 2019 -- designed to link the three countries and improve connectivity between India and ASEAN states. The highway may eventually be extended to connect India with Vietnam through Cambodia and Laos. India is also undertaking a US$77m rural connectivity project to provide basic internet access to villages in Myanmar, Vietnam, Cambodia and Laos, a scheme that could be replicated in other ASEAN countries.
In December, India committed US$25m in development assistance, to be transferred over five years, to help the 'restoration of normalcy' in Rakhine State, and the return of the Rohingya refugees to Myanmar. This followed the signing of an agreement between India and Myanmar for a development programme in Rakhine State. India is currently building pre-fabricated housing for refugees returning there.
Chinese growing footprint in Myanmar has implications for India and that is why its foreign policy is recast in a pro-Myanmar manner.
Indian efforts included a trilateral India-Myanmar-Thailand highway, bus services between Myanmar and India, and border markets.
India is also engaged in developing the Kaladan Multi Modal Transit Transport Project, which will connect Kolkata and Sittwe port.
A road and river communication project from the North East India to the Sittwe port is also underway.
The two countries share a 1,600km land border and Myanmar is India's gateway to South East Asia.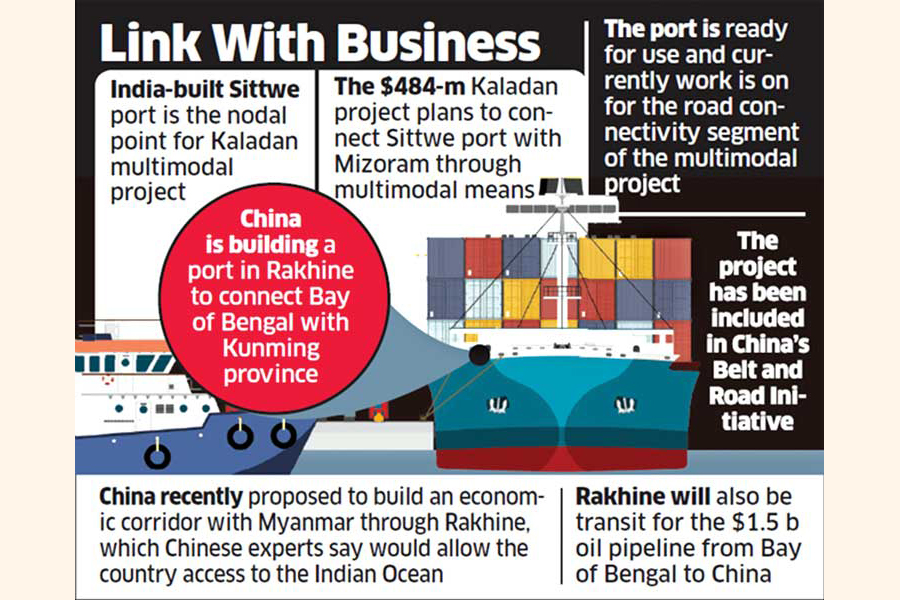 China has economic interest in Rakhine and building a sea port there— ToI Graphic
In fighting insurgency of the NE states, Myanmar is also important for India as the insurgents very often take shelter in jungles of Myanmar during anti-insurgency operations. Indian media often alleged that these insurgents cross border, and reach China via Myanmar.
In November 2017, both the countries conducted their first ever bilateral military exercise.
In June 2015, India conducted a 'surgical strike' in Myanmar by the Indian army's special forces unit, which killed at least 60 insurgents from the National Socialist Council of Nagaland (NSCN-K). The operation was carried out in retaliation for the killing of 18 Indian soldiers by NCSN.
India's priority for Myanmar was also evident with its move to open a separate wing for Myanmar in its foreign office.
India hosted Myanmar's top general for a week-long visit last July, during which he met Prime Minister Modi.
Gen Min's visit took place shortly after the US sanction on the Myanmar commander-in-chief and his deputy, Vice Senior General Soe Win and two other senior military officers.
"New Delhi made a bold and strategic decision to invite Myanmar's top commanders at a time when the military leaders face increased pressure and sanctions from some Western countries over human rights abuses, and amid prolonged fighting in Rakhine State", says Myanamar's online news agency, the Irawaddi.
"The visit itself is no doubt significant, as India will transfer one of its Russian-made Kilo-class diesel-electric attack submarines to the Myanmar Navy this year. It will be Myanmar's first submarine, and the transfer will take place with Russia's support. It is interesting that Myanmar has not opted to purchase a submarine from China. In the past, Myanmar military leaders questioned the quality of Chinese military hardware and have since diversified their procurement sources", it informed.
In maritime sector both countries started cooperation and their navies conducted their first-ever bilateral naval exercise, IMNEX-18, in the Bay of Bengal in March 2019.
The Myanmar navy also participated in a multilateral naval exercise off the coast of the Andaman and Nicobar Islands in early March.
Myanmar's importance, despair for Rohingya
For the superpowers Myanmar has become a prize to be fought over, a fact that Myanmar's rulers have already been aware of. Myanmar has shown high management skill in manoeuvring the superpowers on the basis of their geo-political advantage.
In fact the superpowers who are seeking dominance in the Indian Ocean have already started shifting their gears towards Myanmar.
Myanmar's policy makers are now shuttling between China, India, Japan and Russia. Japan has a historical relationship with Myanmar. During the Second World War, Japanese army invaded Myanmar and got support from the Burmese. Recently Japan has started some development projects in Myanmar.
Myanmar also managed to convince Russia in selling weapons and has purchased six Sukhoi SU-30SM fighter jets from Russia at a cost of US$204 million.
Given the scenario, Myanmar is apparently unmoved by the international community's cry over the Rohingya issue as it knows well that at the end of the day, powers like, China, India, Russia and Japan would not take the risk to do anything, which can hurt the regime.
State-sponsored atrocities against Rohingya in Myanmar basically started in 1785 when Burmese king captured Arakan. Previously Arakan was an independent state where shipwrecked Muslim crews started to settle in the 9th century.
According to the Burma Gazette, several Arab ships wrecked in Ramree Island near Arakan and the Muslim crews of the ships were taken to mainland by the local rescuers. From then on, the Muslim settlers' number began to increase as the Muslim settlers married local girls and started raising families.
The interaction between Arakan and Bengal was further consolidated when Chattogram fell under the independent Arakan Kingdom.
But with the invasion of the Burmeese King the situation changed drastically with the beginning of torture and oppression on the muslim minorities known as Rohingya.
Many Rohingya then fled to Chattogram. However after the war between the Burmese King and the British, Arakan and other parts of Burma came under the British rule.
As a divide and rule policy and with a bid to gain revenue from agriculture production the British encouraged Rohingya settlement in Arakan and favourable law was enacted by the British government.
During this period a huge number of Rohingya Muslims started to live in Arakan permanently due to the high income prospects.
And at one stage, when the second World War began, they were promised by the British ruler to be granted with an independent state in Arakan in exchange for their support to the British government against the invading Japanese. The Buddhist Burmese were collaborating with the Japanese forces.
But the British government did not fulfil their commitment. After the independence in 1948, Myanmar once took an attempt to settle the ethnic issue through the Panglong agreement under the leadership of Aung Sun, that was stipulated to provide autonomy to the ethnic regions and formation of a decentralised state the Union of Burma. But when the military ruler took over in 1952, hopes for ethnic groups faded and since then a centralised military regime has been ruling Myanmar who do not believe Rohingya are an ethnic group of Myanmar. So through amending the Citizenship Law in 1982, Rohingya were prohibited to be the citizens of Myanmar as they were excluded from the list of 135 ethnic groups, which were considered eligible to be citizens of Myanmar.
The Rohingya became victims of state-sponsored persecution in 60s under the "Operation King Dragon'. During the operation Burmese military forces targeted the Rohingya people, and were accused of human rights abuses including rape, destruction of houses and villages, and mass arrests.
In 90s another targeted campaign, "Operation Clean and Beautiful Nation," started forcing another 200,000 people out of the country.
The majority Buddhist people of Myanmar are the key behind the power of Myanmar, they are dominating the military, the political class and the business class. This ruling class has the mindset of hatred against the Rohingya and they are dead against providing citizenship to the Rohingya which is the only solution to the Rohingya crisis.
Unless this ruling elite from the Buddhist elite are convinced to provide full citizenship rights to the Rohingya there will not be any permanent solution to the problem. They may be forced to go back to Rakhine State but they have to be returned again when they would be persecuted as stateless people.
The free movement of the stateless Rohingya will create the scope of radicalisation in both Myanmar and in the Cox's Bazar refugee camps. So to stop this process and also the movement for an independent Rakhine state for Rohingya, Myanmar government should amend their citizenship law to recognise the Rohingya as their citizens.
The question is whether Myanmar, termed a slow-motion Darfur, by the Washington Post, would overcome its mindset of hatred towards Muslim Rohingya or this 'strange and romantic' land will remain as a moral catastrophe.
But having a huge geopolitical advantage and the backing of regional superpowers, Myanmar is unlikely to follow the moral lessons of humanity of even Buddha.
The author is a Special Correspondent of the FE.
mirmostafiz@yahoo.com