---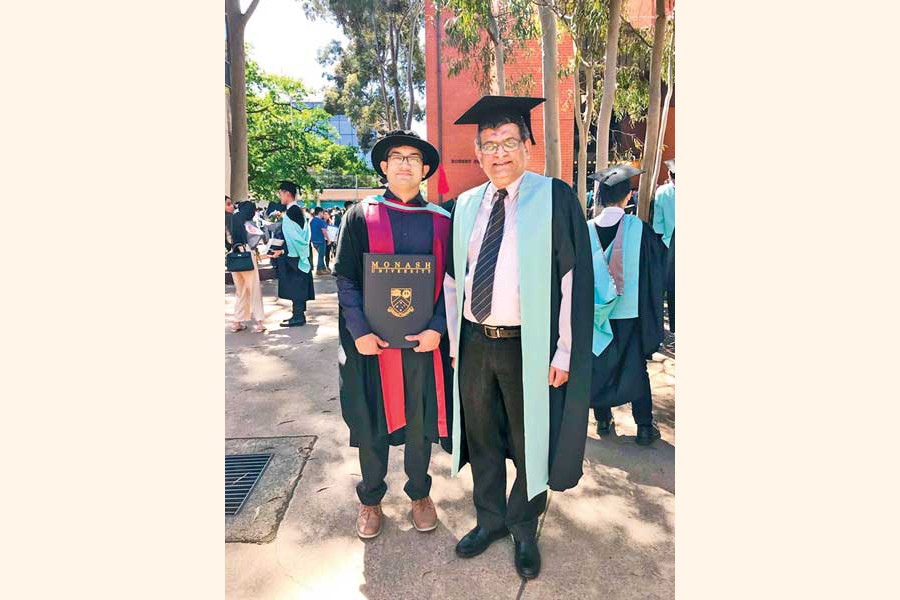 A Bangladeshi student with his PhD supervisor after receiving the degree at Monash University in Australia recently — Collected
Over the course of our professional academic careers, we have had the opportunity to evaluate two streams of academicians and researchers with PhDs. One stream obtained their PhD under a "course-based" system, while the other stream is based on a "research-only" system. The former system is largely a feature of North America (Canada, the United States), while the latter is generally observed in Europe and Asia (also Australia).
Under a course-based system, a typical PhD programme spans around five years. Of these, the first two are devoted to course work including comprehensive exams, while the remaining three years are used to conduct original research, to be supervised by a committee of experts. Of these experts, one plays a central role, that of supervisor. By contrast, a typical research-based system lasts for three years and doesn't require any coursework. The student is assigned a particular supervisor and asked to conduct original research right away. Lately, though, some European universities are using a mixed approach and allow some limited course work with the research.
The research-only degree is good for mature students. Students with a solid background, practical experience and ability to design and carry out research independently are perfectly suited for this category of PhD. In fact, there was a time when some superstar researchers like Denis Sargan, James Durbin and WM Gorman did not have PhDs, but Master's degrees only. These cases are an extreme rarity today. They were adopted at a time when the PhD was a degree for mature students. This has long since ceased to be the case, especially with the dominance of US universities since the 1950s.
Since students possess different academic backgrounds and training, candidates entering the course-based North American PhD programmes tend to get more standardised in terms of academic training once the two-year coursework is over. That is, skill levels among students may diverge initially, but the two-year course work largely eliminates the skill gap, so that every student becomes equally likely to write a good dissertation. Moreover, during the two years of course work, students not only pass the mandatory core courses, but also take courses in their areas of specialisation. Generally, it is the exchange of ideas and discussion with peers and professors in the specialised courses which sows the seeds of future research questions - to be explored in their dissertations.
By contrast, students under the research-based system do not get the opportunity to do any coursework and are generally assigned a research topic from day one. Generally, these students work on topics assigned by their advisor(s) rather than finding topics of their own because they didn't go through the two-year coursework that exposes students to many different subfields of economics and the puzzles that remain to be addressed. Although most students have completed a Master's programme before they start dissertation, doing a PhD without classes and examinations may not be sufficient. Many of these students are the professors of the future and a course-based PhD widens their core knowledge and imparts an understanding of multiple open questions before they get specialised by focusing on narrowly defined problems.
The difference is most evident when students have to publish papers after their PhDs. Not having the training of coursework, the practice of mastering journal articles and writing the smaller class papers that take them into the world of quality publications, these students have greater struggles. Further, these PhD graduates can run into problems if they want to enter internationally competitive academia, especially in the United States. Except for a handful of superstar universities of Europe, it is very difficult for these graduates to find academic jobs in the United States.
A PhD is not just about mastering a single research area, it is also a training of the mind. The course-based system offers a relatively better chance to take students skills to a new domain and add value to it. Particularly for students from Bangladesh, a research-only PhD is not recommended because of the quality at the Bachelor's and Master's education at home.
For example, the Department of Economics at Dhaka University, reputedly the top economics department in the country, does not require a research project to obtain a Master's degree in economics. So, when some of these students opt for a PhD in a research-only university, they struggle not only in producing a marketable dissertation, they also lack rigorous training in doctoral-level courses that helps produce the next generation of researchers. In our attempts to stimulate both research and publication by junior faculty at several different Asian universities - our combined experience covers Bangladesh, Fiji, India, Malaysia and Qatar - we have been struck by this difference in both preparation and aptitude of the two types of PhDs. As a result, we now set a higher bar for candidates with research-only degrees.
It is often harder to get admission in a North American university, and they tend to cost more. Finding funding after admission becomes a second hurdle. Moreover, prospective students require a decent score in GRE, among other requirements. In recent years, however, some North America universities have shown flexibility in accepting scientific research work (even unpublished working papers) as a trade-off for weak GRE score. In recent years, we were shocked to learn when some of our best students couldn't secure fully-funded admission in North American universities. Upon inquiry, we were told that the candidates did not have sufficient training in probability theory and mathematics.
In conclusion, our humble advice is the following. It is better to wait and prepare yourself (through GRE scores, research work) as a competitive candidate for North American universities. A quick and relatively less financially burdensome admission in a research-only European or Asian university is tempting, but it comes with a great cost of lesser, and lower quality, lifetime output. Ultimately what matters most is the capability of creating new knowledge that serves society. Our experience shows that academics and researchers with course-based training do better work and have fared better than those with research-only training.
Dr. Syed Basher is professor of economics and Dr. Salim Rashid is university professor at East West University.