---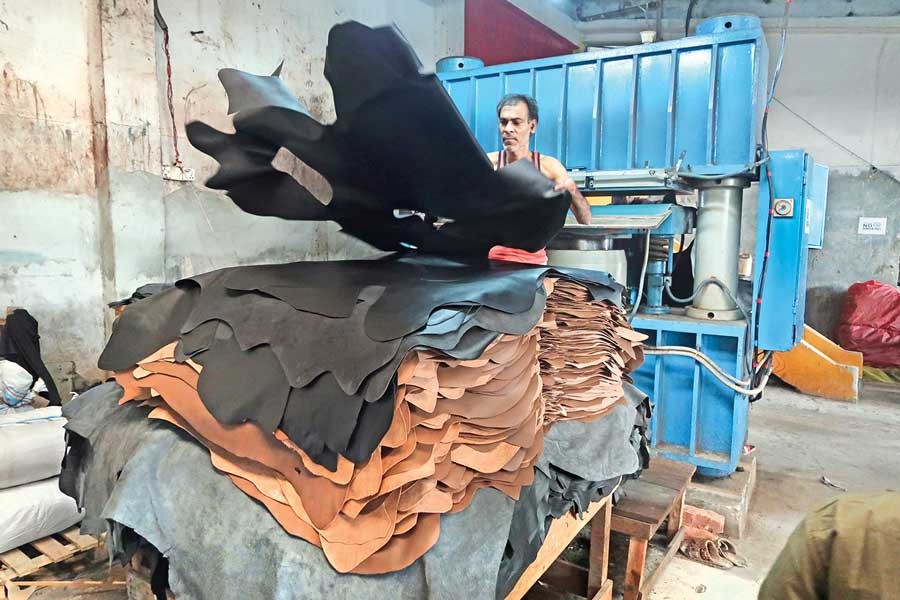 A worker at a leather factory in Dhaka — FE Photo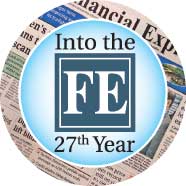 Leather processing is the fourth largest exporting sector of Bangladesh. In fact, the Export Policy and Industrial Policy termed 'Leather products and Footwear sector' as one of the highest priority sectors of Bangladesh due to its high value addition and export potentials. This sector exports products like leather shoes, belts, travel bags, wallets and other finished leather products to several international destinations including Italy, France, UK, USA, Belgium, Spain, Germany, the Netherlands, Canada and Poland. Also, there has been a gradual and steady rise in the export value of the 'Leather products and the Leather Footwear' industry.
It is one of the older manufacturing sub-sectors in Bangladesh stretching over six decades. Due to availability of raw materials (hides and skins) this industry emerged in the early 1940s in East Bengal. During the Pakistan period (1947-1971), this industry was dominated by non-Bengali migrants from India, who had the in-depth knowledge about f leather processing industry. During that period, leather processing was limited to the production of wet blue leather (semi-processed tanned leather) and the non-Bengali traders exported a large part of their products to West Pakistan for further processing and production of leather goods. Only a few small tanning units belonged to Bengali entrepreneurs who processed leather mainly to meet the needs of the domestic market.
After the independence of Bangladesh, the government took over the tannery industry abandoned by the departing non-Bengali entrepreneurs but had limited success in operating them under the public sector. Export of processed leather consisted almost entirely of wet blue leather till 1980-81. After 1981, a number of policy support measures were taken to raise the level of value addition in the industry which provided an incentive for new private investment in this sector. The ban on export of wet blue leather in June 1990 led to the setting up of modern leather tanning units for the production of crust leather (tanned leather after further processing of wet blue leather) and finished leather and this was followed by new investment in leather goods industry. Leather industry in Bangladesh had undergone significant transformation during the past two decades from a low value addition tanning activity to a producer of leather footwear and leather goods along with high value added crust and finished leather.
There are three broad components of the leather industry (i) Leather tanning, (ii) Leather footwear and (iii) Other leather products such as handbags, carry bags, wallets, cases etc. A variety of skills are required in these categories for the following purposes: Administrative; Managerial; Secretarial; Engineering and Quality Controlling; Machine Operating; Inventory, Material selection & compliance operating; Computer System & Data Analyzing; Design & Pattern Engineering (Software basis); Multi-Machine dimension operating; Packing and Finishing; Sales etc. Considering the future prospect of this high priority industrial sector, it is important to increase the level of the existing skills in this industry and also accommodate for further skill improvisation.
Since Bangladesh government needs a proper assessment of the demand and supply situation of skills in the labour market in order to plan for skill development for the medium to longer term requirements of the economy. This is needed at the sectoral level, suitably projected for the next 10-20 years. The analysis is carried out for leather goods sector by (i) identifying key categories of occupations and trades; (ii) estimating current and future needs for skilled workers in each of the categories; and (iii) recommending ways to meet the future needs for skills demand in the sector. The analysis will incorporate the key features of training and labour market characteristics and include current recruitment practices, number of workers who received training from TVET institutions/other training centres, and their contribution to the sector, all of which can tell the extent of needs for skills development programmes for the sector. This article is mainly based on a sample survey of 10 large firms of BIDS, which were selected purposively and on the focus group discussions (FGDs) with various industry associations (such as Leather goods & Footwear Manufacturers & Exporters Association of Bangladesh, LFMEAB and Bangladesh Finished Leather, Leathergoods and Footwear Exporters' Association, BFLLFEA) and human resources officers, managers and workshop supervisors of the industries.
Enterprise survey reveals that 75 per cent of the large surveyed firms are export-oriented and 16.7 per cent produce for the national market. These enterprises produce footwear, bag, wallet, belt and mat as finished leather goods. It is necessary to understand the nature of current workforce of the surveyed enterprises. Survey data show that a total of 26,836 employees are working in those enterprises. On an average 269 employees are working in each of the surveyed industries. Among them 99.72 per cent are local or Bangladeshi workers and only 0.28 per cent are foreign workers Moreover, 99 per cent of the employees are working in the technical or production line and only 1 per cent are working as administrative or management staffs. Most of the employment process of the leather goods industries depend on walk-in interview and test for hiring workers. Almost 85.5 per cent follow the walk-in and test process. They (enterprises) employ 3.7 per cent employees from the direct contact with the training service providers. Survey data prove that very poor connection exists between employer and training providers in current leather goods employees recruitment practices.
It is observed from survey data that in terms of skill mix, in all types of employment categories, skilled and highly skilled employees dominate the industry. This situation refers that the leather goods sector mostly needs skilled and highly skilled employees for various categories of employment. Highly skilled employees heavily dominate managerial activities, supervisors and line leaders and also in case of quality control operators. Thus, future growth of this sector should be associated with skill training facilities. One of the major objectives of this article is to understand the future skills gap of leather goods industries in Bangladesh. At the time of enterprise survey entrepreneurs were asked to project the future demand of the unskilled, semi-skilled, skilled and highly skilled employees in different categories of employment. Overall, there will be around 3 per cent growth in demand for employees in the surveyed leather goods enterprises in the next 5 years and another 3 per cent five years after that. Demand for skilled manpower will be highest in the categories of Sewing Operator and Lasting, Setting & Assembling Operator in next 5 years and 10 years respectively. According to the entrepreneurs, the highest percentage of skilled manpower will be needed in the multi-machine dimension operator area in next 5 (4.30 per cent) and in next 10 years (6.10 per cent).
It has been revealed from the enterprise survey that employers prefer trained workers than non-trained workers. An immediate question arises then how much money is needed for each type of training. Training cost depends on the duration and type of training. Survey data show that for quality controller 68 days of training is needed at a cost of BDT 6,750 per person. Training duration varies from 38 days to 88 days and cost varies from BDT 5,730 to BDT 9,000. This estimate will help design the future training programme for the workers in the leather goods sector.
Bangladesh Institute of Leather Engineering & Technology (BILET) is providing bachelor degrees to 120 students per year in three basic engineering courses namely Leather Engineering, In addition to Footwear Engineering and Leather Goods Engineering, they recruit 40 students for each course. All of their students have to sit for written and viva exam after HSC to get entry to the course. On the other side, the Centre of Excellence for Leather Skill Bangladesh Ltd. (COEL) enrolls 519 students for Leather Sewing Operator course, 84 students for Leather Cutting Operator course and 589 students for Table Operation in Leather Goods course for three months. Their students have to complete class eight to get enrolled for the course.
At the time of the Key Informant Interview, the head of the BILET have agreed that their 10 per cent students are employed overseas and the rest are employed in Bangladesh. And COEL said that their 100 per cent students are employed in Bangladesh. For a sector like leather goods, practical experience is a basic need for the students at the time of their training. When we discussed about the cost of the training, the BILET director said that they could not run an Analytical Lab which is necessary for fourth year engineering students. They need around Tk 500 million (50 crore) BDT to purchase the instruments for that lab and need Tk 10 million (1 crore) BDT for maintaining the lab every year. Ahsania Mission (a private training institute) had to stop their leather goods training program in 2006-07 due to financial and technological crisis. So, a huge amount of money is needed to start and continue leather goods sector skill training programme. That is why, the current institutional training programme in Bangladesh can be compared as a peanut to the demand for training in this sector, which proves the very poor conditions of the supply side of skilled labour force in this sector.
There are a number of skill gaps in workers in different occupations in the leather goods sector. The leather sector has high potential for growth but to tap that it is necessary to adderss the problem of skill gaps. Prevailing training facilities are not enough to meet the demand for skilled persons in this sector. The following steps could be taken to encourage improvements in skills in this sector.
* Establishment of more private sector training institutes to meet the demand of the leather goods sector should be encouraged. In this connection more training facilities should be there for leather sewing operators, cutting operators and lasting, setting and assembling operators.
* Not only capital is a big constraint for establishing a leather testing lab, but also availability of technicians. Therefore, skill training facilities are required for technicians.
* As there is a dominance of small and micro enterprises in case of leather goods industry (specially for leather footwear), it is necessary to conduct surveys on the small and micro enterprises to understand their needs and challenges of meeting the demand for skill in this sector.
Dr. Mohammad Harunur Rashid Bhuyan is Research Fellow, Bangladesh Institute of Development Studies (BIDS).
harunmonash@gmail.com