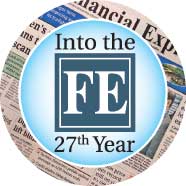 This piece makes an attempt at understanding the current investment climate in Bangladesh, identifying scopes of its improvement and mapping prudent strategies to improve the same. Firstly, it presents the country's stunning macroeconomic performance especially over the last decade or so. This is then followed by a review of the Bangladesh economy's investment potential.
Analysis of cross country investment to GDP (gross domestic product) ratios including those of FDI (foreign direct investment) inflow to GDP indicates that it is quite possible for Bangladesh to attract more FDI and that too at a faster pace like its peers. As the newest member of the "7 per cent club", Bangladesh is expected to double the size of its economy within the next decade. And its past record shows that this is doable.
However, to materialise this potential the country needs to significantly improve its ranking in the index of doing business. Although Bangladesh has leaped forward recently by 8 notches in this ranking reflecting 51 per cent growth in FDI during last year, it is still lagging far behind its South Asian peers. The absolute size of FDI is still pretty small. Hence, the country needs to focus more on simplification of processes, overall automation, risk-based inspection mechanism, and above all updating the existing policy framework to catch up with its peers in attracting FDI.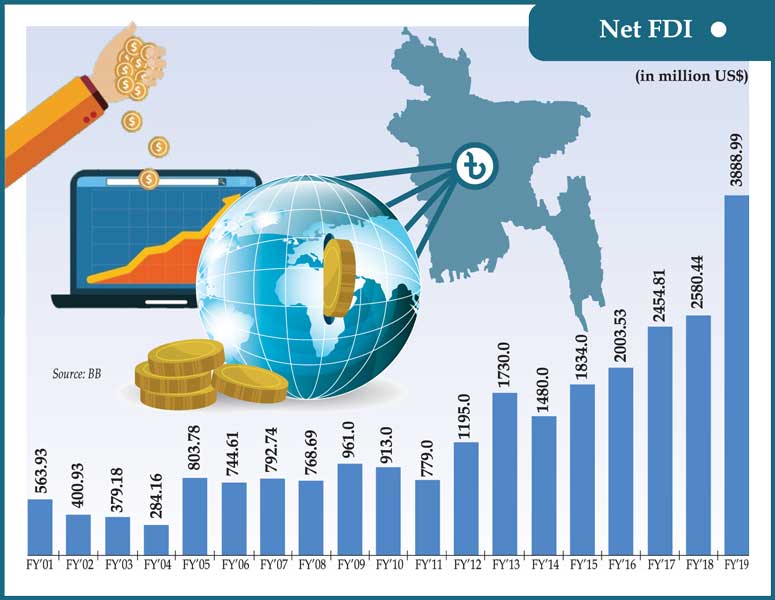 Undoubtedly, many of the investment-related regulations are indeed archaic. There are numerous macroeconomic factors that are in favour of Bangladesh becoming an investment hotspot in the coming decades. The country is blessed with unique geo-strategic location, demographic dividend and burgeoning domestic consumer base and it has focused attention to improving physical infrastructures and connectivity (in particular, spectacular improvement in power supply and development of a number of special economic zones). Despite many challenges still remaining, Bangladesh is moving forward steadily with digital innovations to brand itself as a new hub of investment, both domestic and foreign.
Stunning macroeconomic performance
The Bangladesh economy has been growing steadily over the past two decades. It has grown from Tk 6.0 trillion to Tk 11 trillion between fiscal year 20009-10 and 2018-19. It is now one of the fastest growing economies around the world, not to speak of Asia. This, indeed, is an impressive growth by any consideration. Moreover, the economy has also shown strong resilience to the recent global financial crisis by maintaining its steady growth.
Besides targeting achievement of higher average growth rate each year, the Bangladesh government also took several policies to keep the growth process inclusive. For examples, it remained focused on a) extending digital connectivity of the economy, b) promoting policies of financial inclusiveness of the poor and farming communities across Bangladesh, and c) extending the social safety net for the extreme poor.
The whole world has been appreciating this unprecedented gains of Bangladesh when there is a remarkable deceleration in the global growth. At the same time, it is predicted by the global bodies that if this growth pattern continues, Bangladesh will become the 26th largest economy by 2030. The International Monetary Fund (IMF), in one of its latest reports, puts Bangladesh as one of 20 best growth performing countries in the next five years. The IMF also considers Bangladesh as one of the 40 countries with better inclusive development index.
HSBC Global Research (2018) has projected that in between 2018 and 2030, Bangladesh's GDP growth rate would be 7.1 per cent per year on an average. The government of Bangladesh, however, has been projecting an even higher economic growth in this period. The Asian Development Bank (ADB) has been particularly supportive of Bangladesh's growth projections. The IMF, though a bit more conservative in its projection, is still optimistic about this. Consequently, by 2030, the Bangladesh economy will be larger than that of the Philippines, Pakistan, Vietnam and even Malaysia [Henry and Pomeroy (2018), `The World in 2030', HSBC Bank Plc., London].
The latest Asian Development Outlook of ADB (2019) puts Bangladesh as the only country with 8.0-plus per cent of GDP growth in 2018 in Asia. The outlook says that Bangladesh will remain the fastest growing country with 8.1 per cent growth of GDP in the region in 2019. The World Bank, on the other hand, predicts it to be lesser than the one projected by the ADB. However, the WB's projection still puts Bangladesh at a more elevated position compared to its South Asian peers. In other words, all of these predictions have given a robust signal about a higher growth trajectory for Bangladesh.
Investment potential as upper Middle-Income Country
According to the World Bank Group, Middle-Income Countries (MICs) are a diverse group in terms of size, population, and even income. The lower Middle-Income Countries are those having GNI (gross national income) per capita between US$1,006 and US$3,955. And the upper Middle-Income Countries are those having GNI per capita between US$3,956 and US$12,235 (WB, 2018). The MICs are home to five billion of the world's seven billion population. Of all the poor people of the world 73 per cent are housed in these countries. And these economies constitute one-third of the global GDP and hence are major engines of global growth (ibid).
FDI inflow to Bangladesh as share of GDP has been increasing consistently during 2014-2018 and just crossed the 1-per-cent-mark. Although both India and Indonesia experienced a slight decrease in this ratio, they still are ahead of Bangladesh (1.54 per cent and 2.11 per cent). Vietnam has the largest FDI to GDP ratio (over 6 per cent) followed by Myanmar (5.1 per cent). This implies that foreign investors are very much interested to invest in these countries (including Bangladesh) provided the investment climate improves to a significant extent.
Not only have the FDI inflows to Bangladesh not increased proportionately with its GDP, but it has not also grown proportionately with the capital formation within the economy. FDI inflows to Bangladesh as percentage of capital inflow have actually decreased from 3.1 per cent to 2.9 per cent (from 2014 to 2017). This share has actually increased for all other countries other than India and Indonesia. As of 2017, this ratio was the second lowest for India, and yet India is ahead of Bangladesh by 2.3 percentage points. This implies that as the economy of Bangladesh continues to grow in the coming years there will be ample scope of attracting foreign investors.
The newest member of the '7 per cent Club'
In the 1950s, just after the World War II, some newly industrialised economies such as Japan, Korea, Singapore (since the 1960s) and Taiwan were achieving 7 per cent growth for the following 25 years or more. These economies formed the basis of the 'Asian model' of growth (Standard Chartered, 2019). Later countries from other regions, such as Azerbaijan, China, Côte d'Ivoire, Ghana, Iraq, Uzbekistan, Uganda and Botswana, joined this '7 per cent club'.
The point to be noted here is that Bangladesh also has been earning significant amount of foreign exchange through readymade garments (RMG) exports (commodity export boom) as a fast growing manufacturing economy. It has recovered well from the post-Liberation War (1971) dislocations and consciously opted for inclusive development policies over the last decade or so (recovery bounce). The economy is currently enjoying benefits of a broad-based financial inclusion campaign spearheaded by its central bank over the past decade and as a result access to finance has been enhanced to unprecedented levels (overheating boom) despite some recent hiccups.
And finally, Bangladesh is now looking to go beyond RMG export (export diversification) and is focusing on attracting investments in other areas (agro-processing industry is already doing very well). The planned special economic zones and ICT Parks could indeed be game-changers in attracting FDI to make Bangladesh an industrial powerhouse.
As a result, Bangladesh has become the newest member of the so-called 7 per cent club and the economy is poised to double its size by the end of the coming decade. China had to exit this club, which is expected to become smaller in the 2020s. But Bangladesh hopes to remain in this club with its robust growth outlook.
Improving Ease of Doing Business Index
According to the latest World Bank report titled "Doing Business in 2020: Comparing Business Regulations in 190 Economies", Bangladesh has risen to the 168th rank from 176th (from previous year). This leap by 8 positions has been attributed to mainly three factors : 01) new policies related to setting up a new business easier than before, 02) enhanced efficiency in providing electricity connections to businesses in Dhaka, and 03) enhanced access to credit information. Riding on this enabling business environment, FDI in Bangladesh has increased by 51 per cent during the last one year (from US$1.83 billion in FY 2014-15 to US$3.89 billion in 2018-19). Yet, the absolute figures look quite modest compared to its competitors.
Ensuring that markets serves many
Of course, improving the investment climate has to be among the top priorities of the policymakers in Bangladesh. But this cannot be a substitute for domestic investment. Myriads of local entrepreneurs must also feel at ease with the prevailing business environment. In fact, there should be seamless incentives for domestic investors as well.
Also, the consumers must have the trust in the investment environment to sustain aggregate demand. Rajan (The Third Pillar, 2019), therefore, has pointed out three steps to ensure faith of the broader mass of people in the system: Promoting trust along with efficiency; Fostering competition; and Allowing time and space to adjust.
Firstly, an environment must be created where the people believe that the investors will be socially responsible while strategising for higher profits.
Secondly, fair competition has to be ensured. Of course Bangladesh has to welcome large foreign corporation into the economy for instilling cutting-edge technology to respond to global export demand. However, at the same time the policymakers must also ensure that the interest of smaller firms (especially the SMEs) remains protected.
Finally, the society as a whole requires time to adjust to major changes.
Driving factors for rising Bangladesh
There are numerous macroeconomic factors that are in favour of Bangladesh becoming an investment hotspot in the coming decades. Three major factors are: 01) geographic location of Bangladesh, 02) the country's demographic dividend, and 03) its burgeoning domestic consumer base.
Regional economic hub
Due to its geographic location (being at the centre of the China-India-ASEAN growth triangle) Bangladesh has a huge potential to become a regional economic hub. Investors from all over the world would be interested to set up factories/processing plants here so that they may enter into the regional market with further ease and competitive edge. Setting up plants in Bangladesh would ensure further ease of accessing as the country is enjoying better connectivity with the other markets in the region.
Utilising demographic dividend
A recent research has been published by UNFPA, which projects the age group-wise population for 2025. It appears that the current demographic dividend will continue up to 2025 and even later. The demographic bulge suggests that overwhelming majority of the total population of the country will be the youth (from 15 to 40 years of age). This youthful workforce combined with relatively lower labour costs ensures critical comparative advantages to any investor interested to invest in Bangladesh.
Burgeoning domestic consumer base
Household income in Bangladesh has been consistently growing over the years. No doubt this is a positive sign for the economy as a whole. A survey on the growing consumer market of Bangladesh conducted by Boston Consulting Group (BCG) in 2015 revealed that there were 10 cities in Bangladesh with over 300,000 people with monthly household income at least US$401 (middle and affluent class consumers called MAC population). This burgeoning consumer base indicates a fast-growing domestic market for quality goods and services. Investors willing to set up plants/factories in Bangladesh will be able to serve these emerging consumers who are mostly tech-savvy and brand loyal at a competitive price.
Challenges and way forward
Although Bangladesh, in alliance with the development partners, has taken a number of innovative initiatives for easing doing businesses to improve its climate, the country still needs to go a long way in simplifying government services for businesses and develop standard operating procedures for each simplified process with a digital tracker (as is done by DHL) in place so that applicants can monitor the pace of movement of their applications. Excessive regulatory burden, inefficiency in terms of monitoring and supervision, sluggish automation/digitisation of services, absence of interoperability among the regulator agencies, lack of institutional capacity and integrated policy framework are some of major constraints standing on the way of further easing businesses in Bangladesh. Multiple submissions of same papers to different government agencies still bug businesses. Coordinated digitisation of business processes is the only way out of this mess. It is, therefore, expected that if an applicant provides documents to one agency for any business these should remain in the cyber/cloud space so that other agencies can access these digitally without asking the applicant to submit the same again. Hence there is an imperative for further improving the integrated ICT-led single window model of 'one stop service' which has already been in place at BIDA or EZA for quite some time. Other regulators should adopt this model without delay and be linked to BIDA platform. Inter-operability of the services is the name of the game in today's businesses. In addition, further automation of all other business-related services must continue with support from both public and private stakeholders. The ICT Division of Bangladesh government has been quite innovative and supportive of start-ups to improve the landscape of innovations of services through public-private partnerships. This collaboration should continue to foster digital transformation of the regulatory services.
At the same time, there is no alternative to improving the institutional capacity of the service providers along with desired human resource development. Hence, there is a need for quality education for required skilling and reskilling of the human resources in a competitive world.
However, without macroeconomic stability including financial stability supported by good governance in the banking system and sustainable balance of payment all these efforts will bear no fruit. We may not escape the danger of investment distresses unless we can ensure sustainable finance with good purpose which provides services to many. Let me, therefore, conclude this piece with a quote from Ceyla Pazarbasioglu (Vice President, The World Bank) who speaks about more of financial inclusion:
"You have good finance, bad finance and ugly finance … you need to make it serve citizens, the SMEs, and not just the banker, or the wealthy, or the chosen few."
Dr Atiur Rahman is Bangabandhu Chair Professor, Dhaka University, and former Governor at Bangladesh Bank.
dratiur@gmail.com