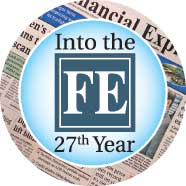 Encouraging the inclusionin, and contribution of women to, trade towards sustainable and inclusive economic and social development remains a significant challenge for South Asia. While trade as an institution is not biased towards any gender, but the depth and knowledge that leads to women harnessing and participating in different trade activities are not free from biases. In South Asia, a preference for sons means that the girl child must struggle twice as hard to survive and fulfil her potential. A girl child must escape health issues, get basic education and evade forced child marriage to make to a stage from where they can engage in trade linking to different supply chains (The World Bank, 2019).
South Asia has been performing as one of the fastest growing regions over the last couple of decades (GDP growth for the region approximated to 6.8 percent on average). But participation of women in trade has been delivered mainly from the informal angle (with a very small share of women taking up leadership and executive roles in the services sector, businesses and politics). Hence, rapid GDP growth has not translated into employment generation. Benefits have inherently bypassed this key segment of the society.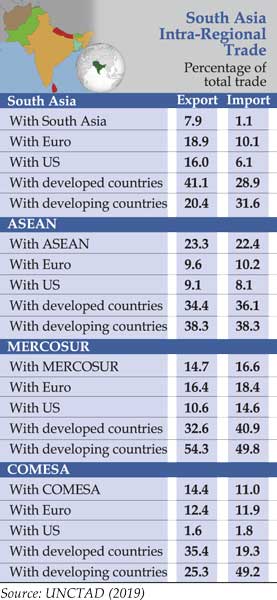 South Asian women do not participate as much as men, and therefore are less likely to benefit directly from economic opportunities that arise out of increased trade. It has been estimated that South Asia loses USD 888 billion by failing to achieve gender uniformity in economic activity and participation. Another study estimated that the overall gain in GDP to South Asia from closing gender gaps in employment and entrepreneurship would be close to 25%. "The exclusion of women, whether by design or happenstance, is not just an issue of women's rights, but also represents unaffordable economic losses for the countries that make up this large and populous region" (Nag, 2018).
South Asia has not gained intra-regional traction, with intra-regional trade as low as 8.0%, which is the lowest intra-regional trade statistic as compared to other regional blocs. Political dynamics did not further the trade agenda either. There is a general level of mistrust between the South Asian countries, and the cultural, religious and historical baggage of the region has a significant role to contribute as well.
With new regional cooperation being formed by the South Asian countries together with South-East Asian counterparts in a few (for example BIMSTEC and BBIN), there is renewed interest and vigour to push forward intra-regional trade as regards goods, services, investment, energy and security. South Asia increased its trade of goods and services from around 27% in the 1960s to approximately 60% in 2017(as a percentage of GDP). Trade as percentage of GDP went up to more than 80% during 1980s as it is during that decade and in the 1990s that the South Asian countries adopted liberal trade regimes and went for enormous capital accumulation.
Female Labour Employment in South Asia and Structural Transformation
A South Asian Economic Focus report finds that female labour employment in South Asia has been decreasing at a higher degree than their male counterparts. What is worrying is that decrease in female labour employment is not following a general trend, rather women are choosing to exit the labour force as family incomes rise. Female employment rates declined by 5.0% per year between 2005 and 2015 in India, 3.0% per year in Bhutan and 1.0% per year in Sri Lanka. "While it is not surprising for female employment rates to decline with economic growth and then increase, in what is commonly known as the U-shaped female labour force function, the trend observed in South Asia stands out. Not only has female employment declined much more than could have been anticipated, it is likely to decline further as countries such as India continue to grow and urbanise" (Rama and Ravenga, 2018).
Female participation in the industrial and services sectors has been increasing after the 2000s. Women's participation in export-led industries, such as textiles, food processing, electronics, and light engineering, has been increasing over the years. Many jobs created in the light-manufacturing export sectors are providing new opportunities for women as they move out of traditional sectors. On the other hand, South Asian women's participation in the agricultural sector has been decreasing over the last couple of decades, although the rate of reduction has been modest (Bangladesh and Sri Lanka with highest falls).
Employment opportunities in the services sector get women more values both socially and economically, which is observed through perceived returns on investment and their improving attitudes towards higher education and quality living standard (Lipowiecka, 2017). Women in South Asia have become involved with services that require low-productivity and capital accumulation such as small retail trade, restaurants, call centres, etc.
Women Trading Across India-Bangladesh Borders
The ecosystem around borders in the region is not trade-friendly, let alone being friendly for women. There is an immediate need of investment in infrastructure and public services at border points and particularly, simplifying and digitising border level procedures and processes which will attend to and reduce barriers to trade for women. The 'border haats' are such settings aimed to promote the wellbeing of people living in remote areas across borders of two countries, by establishing traditional system of marketing the local produce (Ministry of Commerce, 2016).
Governments of India and Bangladesh came up with the intervention of 'border haats', which are enclosed areas at India-Bangladesh borders for trades to come and trade certain agricultural, handicraft and manufacturing merchandise with transactions up to a certain threshold. There are currently four 'border haats' which are operational along the India-Bangladesh border and is maintained by Haat Management Committees. The 'border haats' have been so effective that both Governments have approved six more.
Taking it from the successful partnership with Bangladesh, India has initiated a Memorandum of Understanding (MoU) with Myanmar on the establishment of 'border haats' along India-Myanmar borders.
Women as Producers, Consumers, Traders and Entrepreneurs
More often than not, linkages between women and trade are looked through interactions between women and trade on the production side, but women are also consumers. It is imperative to prioritise goods which form women's consumption baskets when trade barriers are removed selectively.
Tariffs are higher on agriculture than on non-agricultural products, and this translates to a greater burden of trade policy on women than on men due to their different consumption patterns and reliance on agriculture for livelihood. Prominently, average tariffs on agriculture are at least double the level of non-agricultural tariffs in South Asia.
Women work in a variety of sectors that can be affected by trade, and consequently female employment, relative wages, and gender pay gap. As countries open to trade, they specialise according to comparative advantage, a process that is reinforced by reciprocal markets opening abroad. If women tend to be concentrated in comparative advantage sectors (inherently the case that women are concentrated in small-scale agriculture), relative demand for female labour will increase, which can lead to higher levels of employment and income (Stolper-Samuelson model). However, even when women are employed in the formal labour market and stand to gain from increased demand due to comparative advantage dynamics, discrimination may prevent those gains from being realised.
Women are not only active in international trade as consumers and labourers, they also contribute as business owners as the owners of capital. In many parts of Africa and Asia, borders are porous and substantial amounts of informal trade happen. Women, who are poor and live in border areas, are heavily involved in this kind of informal cross-border trade.
Women's Opportunities and South-South Cooperation
Since the mid-1990s, the share of the South in global output and trade has risen speedily, with the value of South-South trade increasing seven-fold, from USD 0.6 trillion in 1995 to USD 4 trillion in 2016. It is estimated that developing and emerging economies will account for approximately 60 percent of world GDP by 2030 (International Trade Forum, 2010). However, acceleration in the growth of output and trade has been concentrated in a few developing countries, prominently in East Asia, with China contributing the lion's share. To leverage cross-border investment and accelerate sustainable and inclusive development, South-South Cooperation has the potential to play an instrumental role at the regional and international levels.
Developing economies have limited productive capacities, for which they entail the risk of remaining trapped in low value-adding activities at the bottom of value chains leading to thin industrialisation, weak productivity growth and growing income gaps, which is characteristic of the majority of the Southern countries. Strengthening trade facilitation and investment link in energy and infrastructure between South Asia, Asia-Pacific and Latin American countries will be essential for unified markets supporting increasingly common standards and providing enhanced legal certainty.
Very little has been done to connect women traders and/or entrepreneurs to other developing markets in the South. Promising interventions include, for example, training to build an entrepreneurial mindset. Such trainings successfully increased incomes of female entrepreneurs in settings as different as West Africa and Peru and transmitting the lessons to countries such as Bangladesh and Nepal will be ideal.
Enhanced South-South trade would also elevate targeting of the barriers that constrain trade rather than women themselves. Many of these policies, regulations and operating environment may well appear to be gender-neutral in paper but are not gender neutral in impact. Women and men tend to work in very different parts of the 'economic space', a distribution which has changed very diminutively over time. In almost all countries, women are more likely than men to engage in low-productivity activities (The World Bank, 2012). Increased participation of women during the fourth quarter of the last centuryhas not translated into equal employment opportunities or equal earnings, although women have entered the labour force in large numbers across much of the developing world during that time.
Learnings of different Southern countries can be replicated in other developing Southern counterparts. "Youth Connekt was developed in Rwanda in 2012 with the aim of connecting young people to their role models, peers, resources, technologies, skills and economic opportunities. YouthConnekt helps reinforce an enabling environment for job-rich growth, strengthen and expand leadership and entrepreneurship skills, as well as productive youth employment opportunities for inclusive growth and social cohesion" (UNDP, 2019).
Vocational skills development is another area of collaboration to narrow skills gap and enhance links among education and skills development, industries and labour markets. Marginalised and out-of-school female youth is the most disadvantaged section of developing country populations who are left behind and obscured from the economic and social progresses of societies. The Brazilian National Industrial Learning Service's (SENAI) successful experience in improving school-to-work transition can be replicated in several countries in Africa, Asia and Latin America.
Bangladesh's a2i (Access to Information) programme is being replicated in the Maldives, Bhutan and Fiji to decentralise access to public services and bring information and services to citizens' doorsteps. a2i is an innovative public service delivery model, operated through one-stop digital centres, to extend reliable services to people's doorsteps, to provide access to the remote and poor citizens with public service. Women are benefiting the most as it is them who have travel restrictions, live in areas with no access to services and are generally less aware of Government service provisions.
A lot of the Southern countries are prone to natural disasters, and it is women in these countries who are at the greatest risk of losing their homes, livelihood and even families. Cuba "implemented a cooperation programme to promote effective governance at the local level for disaster risk reduction, early warning, integral management of natural resources, strengthening the cross-sector approach, developing resilient human settlements and supporting local production of construction materials" (UNDP, 2019).
Potential Challenges for Women to Engage in Trade
Challenges women encounter when they engage in trade are: (1) Social norms and values; (2) Lack of access to export markets; (3) Lack of legal and policy support; (4) Lack of access to global value chains; (5) Information asymmetry and gender discrimination in trade procedures; (6) Lack of awareness and knowledge in technology use; and (7) Transport, commuting and safety concerns.
Women Owned Businesses (WOBs) face business-side challenges and these are inclusive of: (1) Lack of access to market information; (2) Lack of finance and capital; (3) Cumbersome trade procedures; (4) Harassment in performing trade processes; and (5) Lack of technical capacity and know-how.
Conclusion and Policy Implications
Women's ability to participate equally in markets, their access to and control over productive resources, access to decent work, increased voice, and meaningful participation in economic decision-making are essential from household to international institutions. Economic growth does not automatically lead to greater participation of women in economic activities, or for that matter does not give them a better standard of living or a more pronounced voice. A recent 'Women, Business and the Law 2018' report by the World Bank (2018) finds that 104 economies still have laws preventing women from working in specific jobs, 59 economies have no laws on sexual harassment in the workplace, and in 18 economies, husbands can legally prevent their wives from working (out of an assessed 189 economies).
Laws and regulations are not gender-friendly in developing countries, although they are gender neutral and do not discriminate based on gender. Women are over-represented in informal and vulnerable employment and their share in informal employment in developing countries was 4.6 percentage points higher than that of men considering the agricultural sector and 7.8 percentage points higher without agriculture (ILO, 2018).
Intended interventions to women's employment and economic empowerment in South Asia may not always come from policies that focus specifically on women. Most often, it will come from policies and investments that address key development constraints which are especially detrimental to women. Bringing a gender lens to decision making around these policies and investments will not only increase their developmental impact, it will also put gender at the core of a country's/region's development policy and give women their voice, judgement and economic and social independence.
Some pertinent recommendations would be inclusive of: (1) Policy interventions for increasing women's participation into regional/global value chains: One of the most important constraints to developing women's role in value chains is lack of knowledge on their proper role in the value chain. Gender aspects need to be considered while designing interventions for improving value chains, at global or regional levels.
(2) Address gendered job segregation at policy level: Gender-based analysis of sectoral employment and economic activities of women and sex-disaggregated data is essential to identify actual role of women and explore their potential in engaging into regional and global value chains. Despite some recent development in women's economic participation, WOBs in developing countries are confined to small and informal sectors. Increasing women's competitiveness and inclusion into value chains would require policy level initiatives for women's economic upgradation.
(3) Integrating more Small and Medium Enterprises (SMEs) in value chains: Engaging more SMEs into regional or global value chains would ensure more participation of women. Subcontracting can be introduced and promoted, keeping provisions for SMEs while big firms take the lead. This practice of engaging SMEs as subcontractors has been proven to workin many countries' public procurement operations, through which women entrepreneurs became capable of entering bigger trading operations.
(4) Trade facilitation measures for WOBs: Trade facilitation interventions in developing countries mainly involve evolutions in trade processes and regulations. Gender specific trade facilitation measures cannot be adopted unless a sex-segregated database is developed on trade. In South Asian countries, addressing gender issues into trade policies, design of trade promotion programs, and infrastructure planning is scarce. Pertinent trade facilitation measures catering to WOBs will be inclusive of expanding WOBs' business networks; reducing information gap for women; establishing localised trade centres to help women entrepreneurs and traders improve their economies of scales; and trade agreements and negotiations reflecting gender priorities.
.............................................................................
Mashfique Ibne Akbar is an Economist. He can be reached at akbar.mashfique@gmail.com
The views and opinions expressed in this article are those of the author and do not necessarily reflect the official policy or position of any agency with which the author is associated.