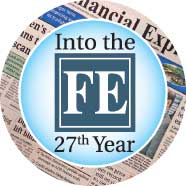 Chattogram City Corporation Mayor AJM Nasir Uddin has said he could fulfil 80 per cent of his commitment to the port city dwellers during his current tenure.
He expressed his hope that Prime Minister and Awami League President Sheikh Hasina would give him nomination in the upcoming mayoral poll next year.
In an exclusive interview with The Financial Express recently he also said, "The main area of work of a city corporation is cleaning the city, lighting the city and maintenance of roads under the city."
"I have cleaned the city and evicted the billboards from the city. I am making Chattogram a clean and green one during my tenure as a mayor. Besides, I am continuing maintenance of the roads."
He also said, "Green patches are seen in the port city now while we are trying to make it totally clean one."
"We have already introduced the door-to-door drive to collect household garbage. Now, the city dwellers need not come out from their houses for throwing the garbage to dustbins. But, our sweepers and workers are going to the houses for collecting the garbage every day," he said.
He said, "Despite Chattogram being a commercial capital hosting the prime seaport of the country, many areas are yet to be brought under lighting with road lights. There are many areas at Patenga, Bakolia, Bohaddarhat, Rahattarpole, Meahkhan Nagar, Oxygen and Hathazari where the street lights are yet to be set up. So, several lakh people are still in the dark in the areas as there are no street lights till now."
"In the meantime, the CCC has undertaken a project to cover all 41 wards of CCC with street lights. The CCC will set up a total of 20,600 Light Emitting Diode (LED) lights at all roads of the 41 wards."
He said, "I had my commitment to the people for lighting the city hundred percent. Following the commitment, I have started the project which is going on now. In the meantime, we have set up street lights on 87km roads in the wards. Of these, 58km roads have been lighted by Power Development Board while 29km roads are lighted with our own funding. Besides, JICA will set up LED lights on 80km roads under another project."
"Meanwhile, we have started the procedure for setting up LED lights on 50km more roads in wards. Moreover, we have already got approval of the project for setting up a total of 20,600 LED lights at all roads of the 41 wards under CCC. So, these will be set up under a project of the government. As a result, the entire city will come under the lighting projects," he added.
He said, "The 25 to 30 per cent of the roads of the city get damaged every monsoon. After the rainy season, we can renovate them."
"We are maintaining the roads of the city. We are working for beautification of roadside areas. We have already completed beautification in many wards," he added.
Mayor Nasir said no new taxes were imposed now considering the economic condition of the city dwellers.
Nasir Uddin also said, "Our Prime Minister Sheikh Hasina is dreaming of a digital Bangladesh. Now, there are 100 million (10 crore) people in Bangladesh who are using internet. So, we are setting up a hi-tech park in Chattogram. After completing the park, 2500 youths will get jobs at the hi-tech park."
"There are 1,430,000 poor people living in the port city who have nothing. The CCC health department cut the entry fees at the CCC General Hospital from Tk 30 to Tk 10 only for the poor people."
He said, "The CCC will distribute 41,000 health cards in 31 wards next year. I will introduce ICU, HDU and dialysis unit at the CCC hospital next year."
He also said, "There are 1,052 staffers and physicians working under the health department of CCC. Of them, 134 are physicians, 81 nurses, 83 pharmacists, 122 health assistants and 10 inspectors. A total of 49,123 patients received health services in the fiscal year 2015-16 while 64,555 patients received services in the last fiscal. The CCC provided subsidy worth Tk 13 crore in the last fiscal year in the health sector."
He said, "I have taken up project for planting Binna Grass for saving our hills. It is a fact that many of our hills in the city have already been levelled. But, the sandy hills should be saved by our care. So, I have been planting Binna Grass in the hills of the city."
Stressing the step against pollution and occupying of Karnaphuli, one of the prime rivers of the country, he said, "The Karnaphuli is the lifeline of Chattogram. Karnaphuli is being polluted by our canals. So, I am trying to dredge our canals and save the river."
"Now, Chattogram city is a city of air pollution. Huge dusts are hovering in the air due to development projects. I requested all not to carry the materials of development projects openly as the materials cause air pollution. I have published advertisements and created awareness in this regard," he also said.
He said, "The number of educational institutions of CCC has been raised to 90 in my tenure. The educational institutions of CCC are trying to produce good citizens by imparting them quality education."
There are 48 secondary schools, 23 colleges, one university, one computer institute, five computer campuses, seven kindergarten (KG) schools, two primary schools, 350 Madrasas, nine mosques, four Sangskrito Tolls, one teacher training institute, one mass education centre, one theatre institute and one public library under the management of CCC."
"Presently, CCC is constructing new buildings for 20 institutes and renovating eight educational institutions with financing from the educational engineering department. Besides, 10 new buildings have been constructed with financing of JICA," he said.
There are 20,330 students in CCC colleges, 37,700 students in secondary schools, 4,950 students in KG schools and a total of 1,087 permanent teachers and 641 temporary teachers teaching at the educational institutions of CCC.
The mayor further said that the CCC undertook several projects. The development projects include development of infrastructure, drainage and environment, Airport Road development and garbage and processing project, bus and truck terminal construction, development of Patenga and Thandacharia area as tourist spots, setting up a power plant based on garbage, construction of new cyclone centres, preservation of ponds and dighis and open grounds in the city, construction of flats for people living on hillside at risk, introducing commuter train services, construction of inner ring roads and launch of waterway transport, turning the tube light factory of the CCC into an LED bulb factory, etc.
He said, "We have already taken necessary plans as per recommendations of experts to make Chattogram Green and Clean."
He said no billboards are allowed on power pillars, roofs of houses, roadsides or anywhere in the city. Besides, no illegal signboards, festoons, play cards or banners can be displayed anywhere.
He also added, "We could not implement many projects in the past due to lack of funds. It is a fact that it needs time to send projects, it also needs time for approval and allocation of funds."
"One company has agreed to introduce 100 AC buses in the city. They have already opened the LC (letter of credit) and after launch of the public buses, the crisis of transport in the city will be removed."
nazim07@yahoo.com