---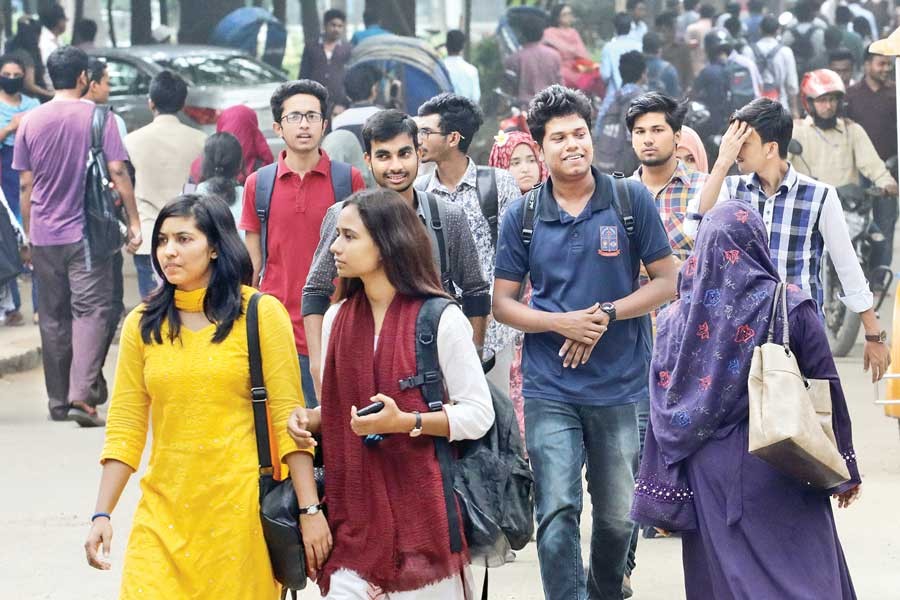 A large number of university students trail behind in skill development — FE Photo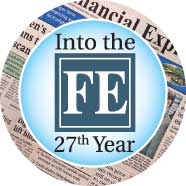 Bangladesh has achieved a phenomenal economic success during the last decade. Aided by a stable political environment, the country has enjoyed a solid economic growth rate of near six per cent or more over the past decade. According to the International Monetary Fund's October 2019 report, Bangladesh's real GDP growth is currently 7.8 per cent - the third highest in the world. This growth is expected to continue, as HSBC Global Research and Centre for Economics and Business Research are forecasting Bangladesh to be the 26th largest and the 24th biggest economy of the world by 2030 respectively.
HSBC Global Research projected that Bangladesh's real GDP will grow by 7.1 per cent per annum up to 2030. Considering a number of mega infrastructure projects such as Padma bridge, Paira deep sea port, Rooppur nuclear power plant, Dhaka metro rail, coal-fired power plants in Matarbari and Rampal, etc. are expected to be completed in the coming year, this ambitious growth projection is entirely plausible. If one applies this projected rate and extrapolate using Okun's Law, Bangladesh can expect unemployment rate to go down by 1.5 per cent. This confirms the intuition that the robust economic growth should create a lot of new jobs. At first glance, the question "how would we fill the new jobs" may seem inane, considering the demographic composition of the population. Bangladesh has a young population with 27 per cent aged below 14 and around 66 per cent of our population is of working age, between 15 and 64. It would be natural to assume that Bangladesh would reap the benefit of demographic dividend and easily fill the new jobs and also have the expert resources to navigate through the economic growth. But deep down, the picture far from being rosy. A recent study conducted by the General Economics Division (GED) under the ministry of planning has found there are 13.8 million underemployed people in Bangladesh. Also, as per the most recent Labour Force Survey, there are about 20 million youths who are inactive or dissuaded from participating in the workforce. On the other hand, employers complain that they can't fill vacancies due to a lack of qualified candidates, particularly in mid-level roles. Due to the dearth of qualified local resources, businesses are hiring people from abroad to fill the void. A study by the Centre for Policy Dialogue (CPD) in 2015 claimed that as many as 500,000 employees from India alone were working in Bangladesh.
An oft-cited reason for job skill mismatch in Bangladesh is that the curriculum taught in universities are not up to the mark. While the argument has merit, it can be argued that archaic curriculum alone shouldn't be able to prevent youth from acquiring the knowledge and skills sought by the job market. The current generation of youth are tech savvy, has access to high speed internet and if they are passionate then they can easily use online sources such as Coursera, Duolingo, Khan Academy, MIT OpenCourseWare, Open Yale Courses etc. to uplift their knowledge and skill.
However, this wouldn't help the youth with getting jobs in the public sector. Despite contributing less than 4.0 per cent of total employment, public sector jobs are the primary choice of employment for aspirants. A recent study on youth of Bangladesh by BRAC Institute of Governance and Development (BIGD) found that 42 per cent of male university and 57 per cent of female university graduates want to land a government job. This preference for public sector jobs can be attributed to social security, respect, benefits, and power that comes with a government job in public. While previously only STEM and Arts students targeted public sector jobs, in recent years business students too have started preferring public sector jobs. Even at the University of Dhaka, there are long queue of students in front of the central library of the university every morning and almost all of them study in the library for Bangladesh Civil Service (BCS) or other public sector job exams instead of their university coursework. Students nowadays start preparing for BCS exams as early as in their first year of university studies. The number of BCS exam candidates has grown exponentially over the last decade. While about 115 thousand candidates applied for BCS exam in 2008, the numbers of applicants ballooned to 412 thousand by 2018; and only about 2,000 of them got the job. Due to the intense competition, many students sit for the exam multiple times till they reach the maximum age of eligibility. Candidates who fail to secure a public sector job after crossing the age of 30, suddenly realise the topics that they have studied for years - Bengali, English, Bangladesh affairs, international affairs, mathematical mental ability and general science - have almost no bearing on private sector jobs. Thus, the candidates get saddled with underemployment and businesses suffer due to the dearth of suitable candidates to support their growth.
As for the youths who joined the private sector, many of them are getting disillusioned with their jobs. Most youths in today's workplace belong to the Millennial generation, and they are usually working under manager belonging to Generation X. There is a general lack of recognition that Millennials have a different value system -- which leads to friction in the workplace and frequent job hopping. Also, despite rapid economic growth, it's hard to dispute that Bangladesh still lags in terms of quality of life -- as demonstrated by Dhaka being ranked as the third worst city to live by the Economist Intelligence Unit's Global Liveability Index 2019. This has prompted many young professionals to migrate abroad. The most popular destination has been Canada, which is welcoming skilled professionals from around the world through its Express Entry and Provincial Nominee programmes. These professionals usually have a master's degree, three or more years of professional experience, and demonstrated English proficiency. As per a report published by government of Canada's Immigration, Refugees and Citizenship Canada (IRCC) department, some 2,089 invitations to migrate were extended to Bangladeshi citizens in 2017 and 2018 through the Express Entry programme alone. With Justin Trudeau's re-election as Prime Minister of Canada, and the country's target of welcoming 1.3 million permanent residents through its immigration programmes, one can expect this brain drain of skilled resources from Bangladesh to continue.
Businesses in Bangladesh are already suffering from the shortage of skilled resources and there is no silver bullet to resolve the issue. If the current cycle of underemployment and brain drain continues, the shortage may soon turn to a full-blown crisis. Public and private sector needs to work in tandem to address the issue, and the first step should be updating the syllabus for public service jobs' entrance exams to match with the private sector so that candidates taking preparations for public sector employment can also gain skills required for the private sector placements.
........................................................
Nabid works as a manager at an international bank. All views are his own.
nabidhassan@gmail.com