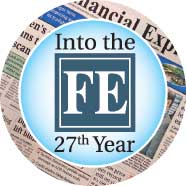 Following are the full excerpts of the interview:
FE: Would you please describe the state of the construction sector in the country as it is right now?
Alihussain Akberali: The country's construction sector is booming. However, the overall private sector investment in the country is not up to the mark. Industries like steel-based ones feel the pulse of the economy much earlier than others. Nowadays the govt projects are driving the demand. However, the payments are very slow in the event of these projects. We expect the overall demand to improve in the coming months with no rainfall. Money supply is also tight and money up to the regular limits cannot be drawn by some of the industrialists which is probably affecting the growth in the private sector.
FE: What are the challenges you face in the business right now?
Alihussain Akberali: It is interesting to face challenges on the business front. We have been doing this for the past 67 years. However, the biggest challenge we are presently facing is that a huge sum of our working capital is stuck in tax and VAT refunds. This is absolutely not sustainable. We have set up new industries that will not need to pay tax for a minimum of four years due to initial and additional depreciation in the first year of operations and long-term loan interest costs. But we are finding hundreds of crores of tax money blocked at the import stage, which is not refunded even after filing of returns. We feel there should be a clear policy on refund. No DCT is willing to refund us our money, even small amounts due, after Tribunal and court orders.
From July 2019, in the new budget, the government has introduced the minimum income tax for everyone based on deductions at imports and transactions. For new companies being set up, it is discouraging. Because, on one hand, the government gives tax incentive on accelerated depreciation but now a minimum tax is there. So if even a new company suffers loss as per tax calculation, it still has to pay income tax. This will affect setting up of new industries as entrepreneurs will be less motivated. For new companies, there should be an exemption of minimum tax for a period of five years. Being highest taxpayers, we always look forward to prompt and effective support of the National Board of Revenue (NBR), tax zones and other government departments.
FE: What is the state of the use of latest technology like prefabricated steel in the sector?
Alihussain Akberali: Prefabricated steel buildings are in vogue in our country for many years. However, it is not up to the mark in terms of timely supply, quality and competitive prices. The capability is there but the industry is yet to come of age, especially when someone is implementing large projects, it is difficult to maintain the project schedule relying on the local prefab building manufacturers.
FE: How will you evaluate the backward linkage industry in the sector and do you think there exist opportunities still untapped?
Alihussain Akberali: If the govt undertakes work to build port facilities and roads on a massive scale, there will be a huge potential of setting up backward linkage facilities in our country. Sometimes we are forced to unload small cargoes of 2000 tonnes by multiple vessels on our own from the mother vessel lying at the outer anchorage at huge costs because of non-availability of berthing space at the port at all times. The Bay Terminal for bulk cargoes needs urgent planning. It is proceeding at a slow speed. Now the steel industry is fully integrated with the steel scrap being imported. There should be a proper policy on recycling, not only for steel but for all other industries like plastic, electronic waste, etc. If there is a proper policy, companies will be able to set up professional outlets to manage and process waste which will be beneficial for the country.
FE: Construction is a big sector that can change the face of the country. How much is the sector ready for that in the global perspective?
Alihussain Akberali: The private sector of our country has invested billions of Taka in the steel and cement sector. We are prepared to face any demand. It is sad to note that the government sometimes gives zero-rated duty on import of steel rods, angles, etc. and that keeps our industries in a disadvantageous position. We can produce steel of any quality in our country up to 6.0 million tonnes per annum.
FE: The government plans to build villages like urban areas. That offers a great opportunity for businesses like yours. What is your opinion?
Alihussain Akberali: Every year steel mills are adding capacities and with the growth of GDP the steel mill owners in Bangladesh are also going for capacity building. It is hoped that the govt will issue dollar-denominated bonds to raise funds for the equity from the govt side to run these projects. Resorting to local bank borrowing by the govt will crowd out the private sector from the much-needed low-interest loans. With a dense population, it is a good idea of the government to make villages vertical. It will save farmland and give the people a better standard of living. Demand for steel will increase definitely but it will also contribute to the overall economic growth in the country.
FE: Please tell about how you got into the business and founded your business venture. What is the way forward?
Alihussain Akberali: I got my schooling done in Chattogram and joined our family business after I had qualified as a Chartered Accountant. For the past 40 years I am at the helm of our family business with my cousin, son and a host of others including DMD, ED and senior staffers supporting us. Our family hails from a town called Amreli in Gujarat, India. My father and his brothers migrated from Gujarat to West Pakistan in 1947 and then first came to the then East Pakistan from West Pakistan in 1950 and then in 1952 we set up the 2nd rolling mill in Chattogram. My father really liked the environment in Chattogram and decided to settle here. Basically we are steel experts in our country and are fully concentrating on steel business. Today we are having nearly 10 production units in the country set up at different locations in Chattogram.
We have been continuously going for upgrading and production increases and now we are having the largest capacity in the country. We are also getting into wires manufacturing. We are always investing in the country as we feel that our country gives the best opportunity for growth.
Last year we contributed over Tk. 17 billion (1700 crore) in revenue to the public exchequer by the way of income tax, customs duty, power bills, VAT and gas bills. We are the largest owners of steel mills.
FE: What is your view about the sector?
Alihussain Akberali: If government simplifies the tax structure on steel and keeps the money flow to the government projects and continues to improve the port facilities and infrastructure, I can assure you the private sector will take the responsibility of supplying cement and steel on a larger scale. Presently there are surplus capacities in both cement and steel manufacturing. The government has to increase the volume of their investment in infrastructure projects. This sector has huge potential for employment generation and, if it is disturbed, a lot of workers will lose their jobs.
FE: Do you have any suggestion for the policymakers?
Alihussain Akberali: We are proud to say Bangladesh has a fantastic investor-friendly policy. In our day-to-day operations we do not have any problems with any govt departments, be it Customs, Income Tax, PDB, VAT and gas. We are supported by all govt departments. Only procedures need to be improved and laws need to be refined. Drives should always be there on digitalisation and improvement in the ease of doing business. If the focus is right, automatically the economic environment will further improve.
We expect that the relevant ministries and the department concerned will address the problems or make suggestions for which we turn to them. They should promptly tell us yes or no to our queries. Sometime it takes months to get a simple legal issue amended or passed or a reply to it from a ministry/department, though the letter can be issued in a few days' time.
We are overall happy over the leadership being provided by Honourable Prime Minister Sheikh Hasina and we hope our country will keep progressing smoothly in future also.