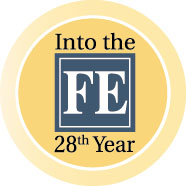 Though financial inclusion is a powerful instrument for sustainable economic development, notable gender gaps are observed in different aspects of the financial services portfolio. There is no denying the fact that greater financial inclusion leverages ways to expand the horizon of people's access to productive resources, and thus contributes to overall inclusive development of the country. Bangladesh's financial sector has undergone rapid growth and has embraced technology solutions to improve the financial inclusion of the general population. However, the women have not progressed on a par with the general trend. A widespread gender gap is observed in terms of financial literacy, financial numeracy, access to finance, use of financial services, readiness to digital financing etc.
The 2018 data of tracker survey by the Financial Inclusion Insights (FII) brings this issue to the forefront. The survey depicts that women remain financially underserved compared to men, with substantial gender gaps in the uptake of financial services. Various financial inclusion indicators mentioned in the FII (2019) revealed that except for registered users of Non-bank financial institutions (NBFIs) (that also includes Microfinance institutions (MFIs)), women lagged behind men in all the cases in 2018. The highest gender gap was in registered mobile financial services users with 58%, and in the case of registered bank users, it was 33%. Women were less likely to be financially included via a registered mobile money account or bank account than men. Gender gaps are evident in key predictors of digital financial services (DFS) adoption, such as possessing necessary ID (3%), phone access (14%), SIM card ownership (20%), and texting ability (29%), financial literacy (27%), and financial numeracy (9%). All these gaps result in a 43% gender gap in accessing a digital payment or transfer, as only 32% of women utilise digital platforms against 56% male. A more recent survey by GSMA titled 'The Mobile Gender Gap Report 2020, has noted that mobile phone (any type) ownership among men and women (as a percentage of the total population in respective groups) has increased to 86% and 61% (in 2020) from 58% and 33% (in 2019) respectively. Thus the gender gap in mobile ownership is now 29%, which was 33% in the previous year. It underlines that the primary means of internet access in low-income and middle-income countries is a mobile phone, especially for women. Therefore, the lower rate of the ownership of smartphones by women also results in a lower level of internet use by women. In Bangladesh, the percentage of mobile internet users for men and women is 33% and 16% respectively (gender gap is 52%).
The gender gap is most significant for influence on household spending decisions for both financially included and financially excluded segments. While 77% of financially included male respondents in FII (2019) have almost full influence on household spending decisions, only 44% of the financially included female respondents have this influence The gender gap for this influence is even higher for financially excluded respondents. Of male respondents, it is 60% and for females, it is only 32%. It is noted that the percentage of financially included women having voice and agency is higher than those of financially excluded men. In the case of control over personal finances, the financially included group shows a smaller gender gap than does the financially excluded group. Overall, it is noted that the gender gap reduces when women are financially included.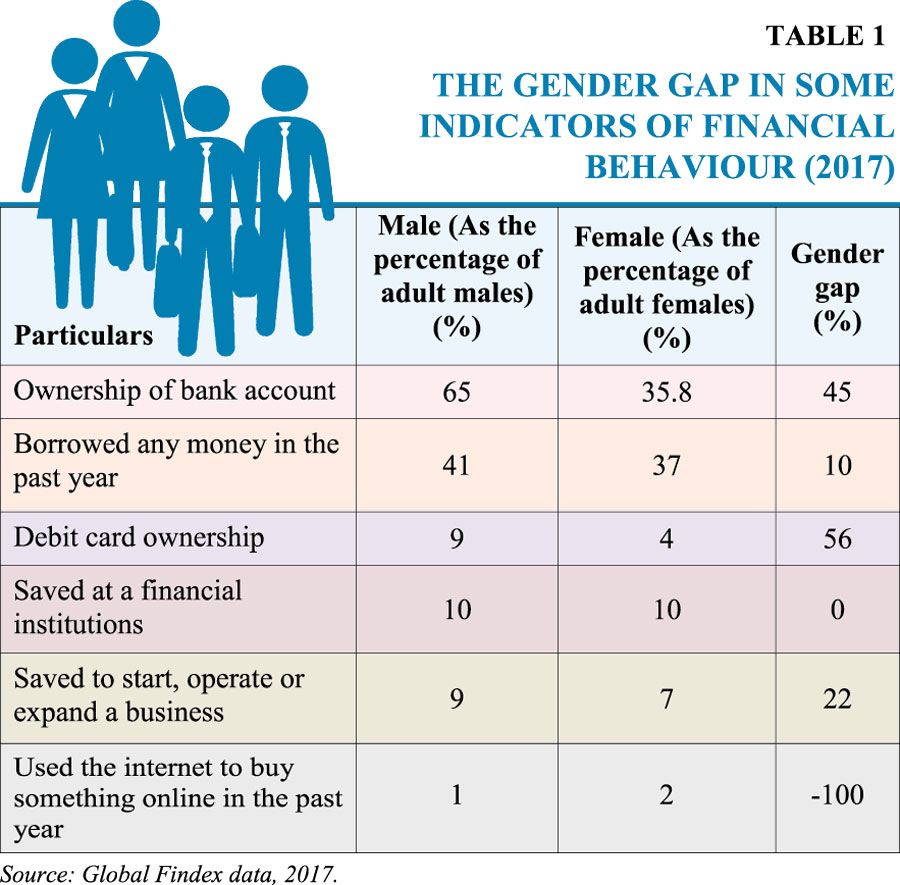 FINANCIAL INCLUSION OF MICRO, SMALL AND MEDIUM WOMEN ENTREPRENEURS: Among the 7.8 million businesses in Bangladesh, 99.93% are cottage, micro, and small and medium enterprises (CMSMEs). However, only 7.21% CMSMEs are owned by women. Moreover, women account for only 17% of individuals that are employed by CMSMEs. SME Foundation (2019) identified that access to finance to be a key constraint faced by women entrepreneurs to start a business as well as to expand them. Recognising the lack of access to financial services is a significant reason for income inequality and slower economic growth, Bangladesh Bank has made a shift in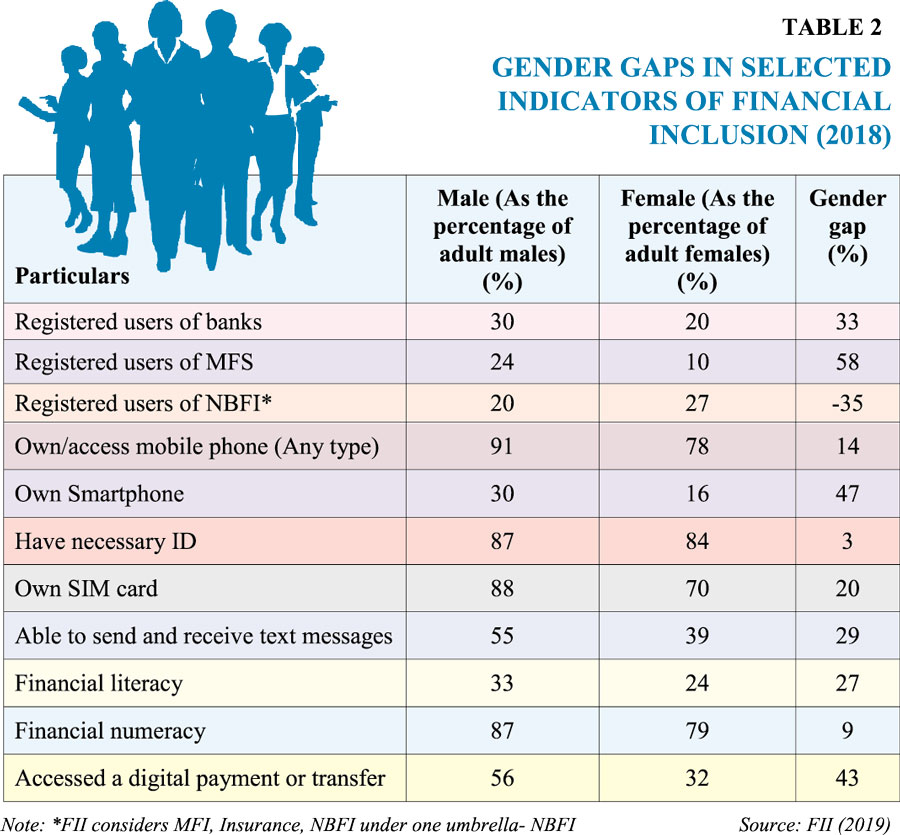 policy paradigm in favour of the financially excluded and unbanked, especially for MSMEs and women entrepreneurs. A total amount of BDT 80.2 billion has been provided to different banks and NBFIs under various refinance schemes up to February 2019 against 59,952 enterprises. Bangladesh Bank is raising awareness regarding financial education, especially among rural women. If all types of SME loan disbursement are considered (not only refinanced loan), only 6.6% of the borrowers were women. Only around 4% of the total MSME loan amount is received by the women entrepreneurs. A similar situation is noted in the case of the size of loan taken by women borrowers.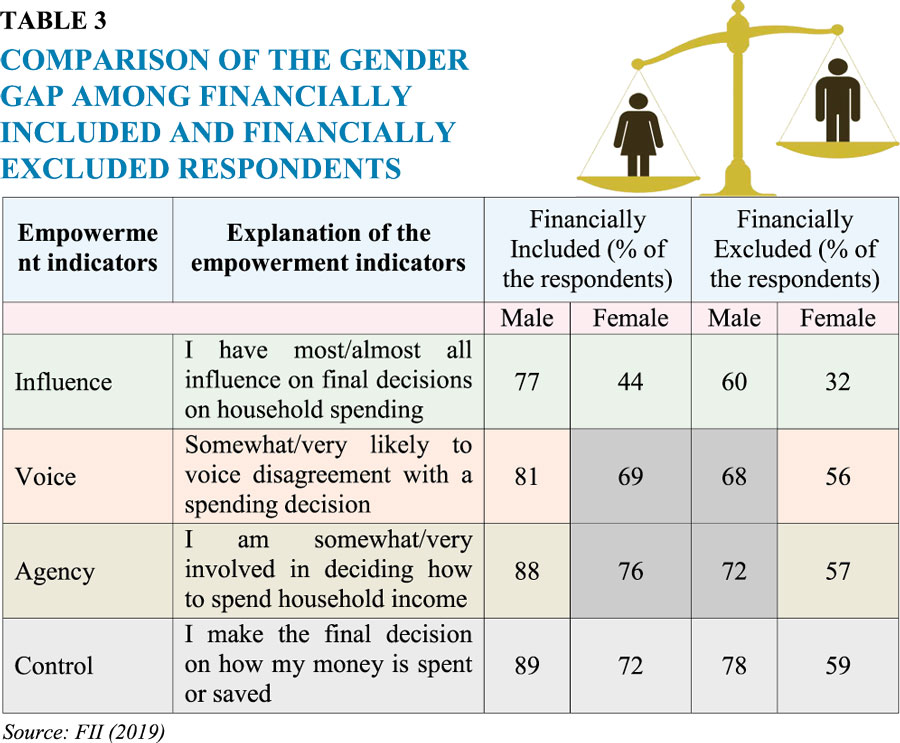 The size of the loan per MSME female borrower is almost half of the average amount taken by male MSME borrowers. Thus, a gender gap with regards to accessing finance prevails in terms of the number of borrowers, the amount of total loan disbursement, and the size of loans.
REASONS FOR FINANCIAL EXCLUSIONS AMONG WOMEN IN BANGLADESH: Bangladesh Bank's "Survey on Impact Analysis of Access to Finance in Bangladesh" has noted that despite the substantial expansion of bank branches and an increase in the membership of MFIs and other financial institutions, a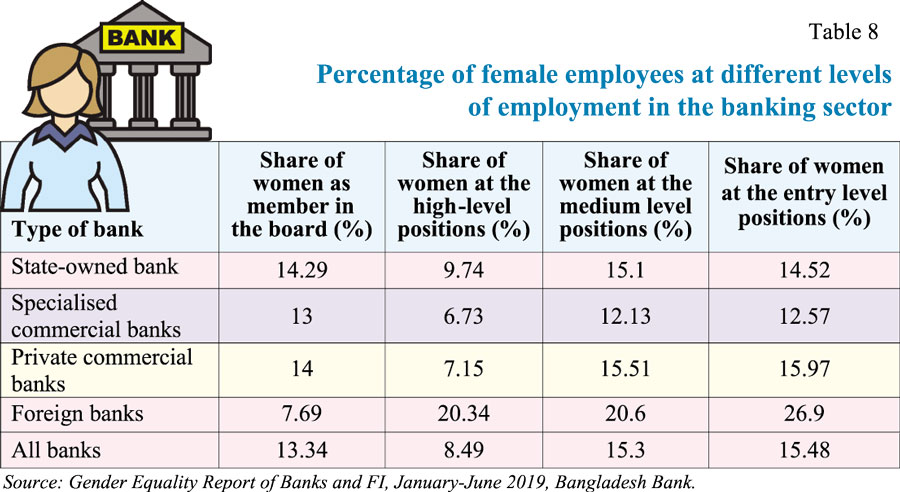 large number of the country's adult population remains financially excluded. The main reasons for financial exclusion identified in this survey are- i) Poor physical access or banking infrastructure, ii) High requirement of minimum balance, iii) Inadequate financial literacy or education, (iv) Lack of proper documentation (including ID cards, introducers, wage slips, proof of domicile and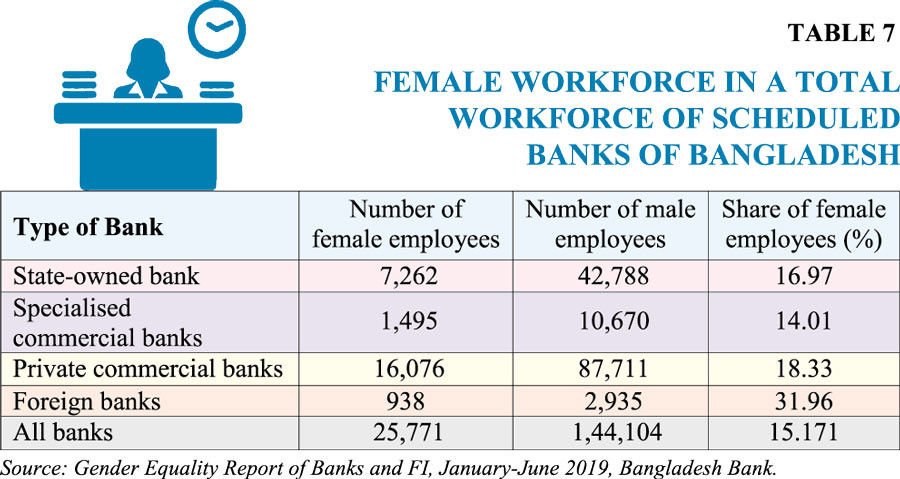 reference letter required to open a checking or savings account), v) Lack of initiatives of banks and financial institutions, vi) Low level of technological infrastructure, vii) Lack of suitable product structure of banks and MFIs, viii) Low income, ix) Opportunity cost (time and money) of getting financial services, x) High cost of products, especially, in case of Micro Finance Institutes (MFIs), x) Absence of credit bureau and insurance of MFI borrowers. While all these barriers are prevailing for both men and women, the obstacles appear to be more intense for women.
Women in rural areas do not have the custom to go out of the home to use conventional banking solutions. Bank branches are mostly located in urban or semi-urban areas or at a distant place from rural areas (may be in upazilla head quarters or in a large rural market). Women living in villages find it difficult to visit those branches as it takes a long time to go there, wait in the queue, and then to return home. Moreover, lack of access to ATM booths requires them to move to distant urban places to satisfy their financial needs. There is also a lack of female-friendly banking products. Few banks (like BRAC Bank, City Bank, Dutch-Bangla Bank, etc.) have their range of female-focused products. According to a 2019 UNCDF report titled 'Micro-Merchant Research Into Action Series : Landscape Assessment of Retail Micro-Merchants in Bangladesh' , only 7.2% of the micro-merchants of the 1.3 million micro-merchants in Bangladesh are women. The report also suggested that most of the women share some common characteristics: i) no formal education, ii) run an informal business (few have a trade license), iii) obtain loans from MFIs that traditionally focus on serving female clients, iv) Proportion of women having bank accounts and access to Mobile Financial Services (MFSs) is low, and v) have mobile phones, but limited internet access.
FINANCIAL PRODUCTS FOR WOMEN IN BANGLADESH: Several initiatives implemented by mobile financial services (MFS) organisations have exposed the possibility of reducing the gender gap in the finance sector. The pioneering initiative of mobile financial services (MFS) by bKash has generated a substantial positive impact in addressing the gender gap in financial inclusion. MFS is yet to offer women-focused products, although some indirect efforts have been taken to include women in MFS. For example, BRAC piloted a project which has led to over 150,000 female clients to pay small amounts of monthly commitment savings plans using bKash. As of October 2019, more than 350,000 RMG workers received wages through their bKash wallet, where the majority of the workers are female. Moreover, primary student stipends have been disbursed through the mobile money accounts of mothers of the students.
Not all banks are opting for female-friendly products, and some bankers were in the opinion that keeping equal access for both males and females could be the best strategy as more focus on women could hamper the focus on male clients. Moreover, offering women-focused products or taking efforts to expand services to women could be costly in some branches. For example, more female agents are needed to provide and expand MFS to women, but it can be difficult to assign female agents in areas like rural markets, while female agents are easily visible in girls' hostels or areas near RMG factories. It is important for the policy decision to fit the situation of different areas. On the other hand, NBFIs have offered limited products dedicated to women. According to a blog published by SME Forum, female entrepreneurs keep struggling to access credit from banks and NBFIs. Due to the lack of accountability, the policies undertaken by Bangladesh Bank to increase women's access to finance through NBFIs, steps are yet to reach an acceptable level of women-focused attitude. The expansion of refinancing schemes of the Bangladesh Bank can play a crucial role in reducing gender gaps in industrial credits.
Agent banking is an emerging financial inclusion tool that provides unhindered access to the tailor-made financial products to the underprivileged, underserved, and poor segment of the population, especially in the geographically remote locations. At the end of 2019, the total number of account holders was 5.2 million - 43% female and 56% male. These numbers depict a considerable adoption of agent banking among women. The reasons behind the high uptake of agent banking by the female population are still not clear. However, when it comes to loan disbursement, 59% disbursed among male customers as compared to only 7.0% to female customers. Other small enterprises received 34%. Agent Banking has played a crucial role in the digitisation of the social safety net payments in Bangladesh. According to a2i statistics, 47% of the beneficiaries registered with agent banking under this initiative are women.
LESSONS LEARNED FROM VARIOUS WOMEN-FOCUSED PRODUCTS AND PROGRAMS: Fintech solutions technology is transforming the global economy and MSME financing. Fintech companies (a short form for the use of technology in financing solutions, and increasingly used interchangeably with DFS) hold a promise of providing a new set of products tailored to the needs of smaller businesses. Fintech companies have emerged with innovative solutions that can substantially improve efficiencies at each step of the lending process. For example, i) fintech can reduce the costs for banks to originate loans; ii) it can leverage alternative data (such as utility bill payments, social data, mobile phone data (such as call records), text messages, psychometric data, and so on) to determine the creditworthiness of potential borrowers through alternate credit scoring solutions; iii) innovative products can be developed that can be leveraged to automate installment collection. For instance, the National Payments Corporation of India has developed innovative products that can be leveraged to automate installment collection. E-mandate and pull payment facilities are helping financial institutions to collect payments on time with minimal manual intervention. Aadhar e-sign can facilitate loan disbursements. Fintech models can also provide end-to-end solutions for the lending value chain, such as marketplace (peer-to-peer) lending. Access to credit can also be expanded using the digital footprint created by MSME transactions.
New financial technologies are bringing such solutions that they save time and provide easy access to financial services. With the expansion of mobile financial operations along with various financial technology, the whole banking sector may come forward with new products for women. Moreover, support is also needed for women to avail of these technology-based finance-related opportunities.
Women in Bangladesh are less likely to use mobile money both through their registered accounts and via the accounts of other people. They are also less likely to use it for the range of activities that mobile money can be used for, both basic and advanced. Whereas 15% of men in Bangladesh use mobile money for basic activities (depositing, withdrawing, and transferring money), only 6.0% of women do. Women (2.0%) are also less likely to engage in more advanced digital financial activities like borrowing, saving, insurance, etc. than men (5.0%). Therefore, women need to have easy access to smartphones and the internet. Social awareness is also required to ensure the freedom of women to use mobile financial services. To overcome social barriers in the path of becoming women entrepreneurs, India practices training to peers. For example, some microenterprise training programmes target low-income women by inviting participants to bring a friend with them to attend the training, instead of attending alone. Improving financial literacy is crucial for reducing the gender gap in financial inclusion.
The finance sector-related actions for gender equality should take account of making microenterprises more women-friendly in terms of access to finance, efficient management of a business, etc. In this connection, creating digitally equipped micro-entrepreneurs may be considered (including fast-moving consumer goods or FMCG companies) who should receive logistics and training to expand business through the utilisation of online platforms for product orders and payment methods. If we could bring the micro-entrepreneurs, digital service providers, distribution companies, logistic service providers, policymakers and development partners together, then it will be possible to build a country-wide Bottom of the Pyramid (BoP) supply chain with macro franchise organisations and individual entrepreneurs.
..................................................
Nazneen Ahmed is a Senior Research Fellow at BIDS.