A squeeze on income amid the pandemic, severe losses in the four-month-long recurrent flooding and skyrocketing of prices of essentials have pushed millions of Bangladeshis below the poverty line since March this year. It's not a mere assumption, rather such a reality has been reflected in studies carried out in recent times.
With the start of the corona-induced lockdown in March following the outbreak of novel coronavirus in Bangladesh, prices of key commodities started rising as a section of traders took this situation as an opportunity to make windfall profit. Since then, prices ofrice, edible oil, onion, sugar, potato, pulses, vegetables and many other items marked sudden and sharp rise, putting middle and low income groups in a peril.
Both private and government think-tanks' surveys revealedthat around 23 per cent people have become newly poor while 13 per cent lost their jobs due to the pandemic.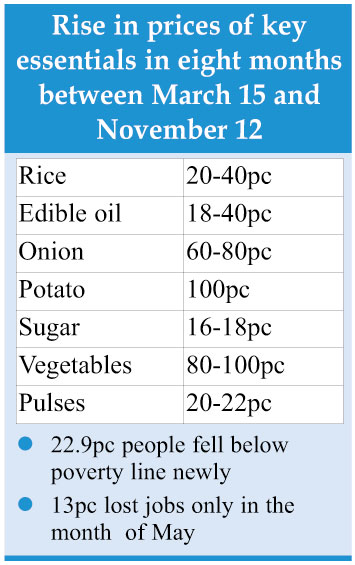 The job cuts and income erosion took place at a time when the state-run Trading Corporation of Bangladesh (TCB) and Department of Agricultural Marketing (DAM) recorded that prices of many essentials registered a 16-100 per cent rise. Rice, the staple, witnessed 20-40 per cent price-hike during the period as coarse rice price hit Tk 50 a kilogram.Medium and finer quality rice were selling at Tk 55-72 a kg in the city markets, said a report published in the Financial Express.
Onion prices hit Tk 120 a kg in August amid an export ban by neighbouring India. However, imports from alternative sources later eased the situation to some extent but the spice item was selling at Tk 60-100 a kg. Potato, a key kitchen itemfor the poor, saw a 100 per cent price rise to Tk 50-60 a kg in October from Tk 25-30 a kg before the pandemic.
Edible oil prices are now 20-40 per cent higher than pre-pandemic prices as loose palm oil price has stood at Tk 94-97 a litre. Soybean oil was selling at Tk 105-120 a litre. Prices of key pulses like lentil, and mung bean witnessed 20-22 per cent hike in the past eight months.
Prices of 16 kinds of vegetables witnessed an 80-100 per cent increase due to the floods that damaged standing crops in many places. Aubergine, a highly consumed veggie, was selling at Tk 70-80 a kg now, according to DAM. Pointed gourds, sponge, ridge, teasel, and snake and bitter gourds were selling at Tk 70-80 a kg, yard-long bean at Tk 80-100 a kg, cucumber at Tk70-80 a kg, and leafy at Tk 15-35 a bunch. Tomato was selling at Tk 120-130 a kg. Green chilli was selling at Tk 180-200 a kg.
"Floods and heavy rains damaged vegetable fields in most hubs this year," said Alim Uddin Basunia, a vegetable trader at Dhaka's Karwan Bazar. The FE quoted him as saying that prices of vegetables might remain high for the rest of the year.
Vegetable fields on nearly 10,000 hectares of land were damaged by the floods while farmers incurred a loss of Tk 2.35 billion, said the agriculture ministry.
The price situation caused more suffering to people as the job market deteriorated amid the global pandemic. About 13 per cent Bangladesh people became unemployed in May due to the Covid-19, according to a survey conducted by Bangladesh Institute of Development Studies (BIDS) between May 5 and 29, 2020. The survey titled "Coping with COVID -19 and Individual Responses: Findings from a Large Online Survey" covered 30,000 people in all divisions and districts.
It found significant negative effects on employment, income and expenditures of people, especially those from low-income groups. Almost 20 per cent (19.23 per cent) of the participants with less than Tk 5,000 earning a month, reported that their income declined by 75 per cent, while 23.31 per cent with income between Tk 5,000-Tk 15,000 reported an income fall by 50 per cent relative to the previous month's income. Cottage, small and medium enterprises that millions, especially in rural Bangladesh, are hit the hardest by the Covid-19 fallout - theirrevenue dropped by 67 per cent in 2020.
A rapid survey report styled "Livelihoods, Coping and Support during COVID-19 Crisis" recommended that over 43 per cent of the country's population, summation of recognised poor and "new poor", require Tk 100 billion fiscal package to survive the pandemic.
Jointly carried out by Power and Participation Research Centre (PPRC) and BRAC Institute of Governance and Development (BIGD), the survey revealed that due to income shock occasioned by Covid-19, nearly 80 per cent (77.2 per cent to be accurate) vulnerable non-poor, who were not recognised as poor officially before Covid-19, fell below the poverty line in rural areas.In urban areas, 87 per cent of such people fell below poverty line, the survey showed.
In reality, the report said, this percentage would be somewhat higher because a portion of the households above medium income also fell into poverty."When we compare pre-Covidincome of February and reported income of early April, we found vulnerable non-poor 77.2 per cent in rural area and 87 per cent in urban area fell below poverty line," said PPRC chief Dr Hossain Zillur Rahman."We coined a term for this new kind of poor as "new poor" and they really need attention in times of crisis," he said.
The report said a fiscal package of Tk 47.46 billion per month is required only for the poor and an additional Tk 53.38 billion will be required a month for the "new poor' which makes a combined fiscal package of Tk 100.85 billion per month to support both the poor and 'new poor'.
The survey observed that a large percentage of main income earners became economically inactive during the first week of April. The findings showed a dramatic and steep decline in income of all segments of the respondents, indicating a system-wide income shock rather than one limited to a specific group. Forty seven er cent of urban respondents and 32 per cent of rural respondents indicated a reduction in food consumption.
Yasir Wardad is staff reporter at The Financial Express.