216 posts of headmasters lying vacant in Bogura
Administrative activities of govt pry schools limping
---
---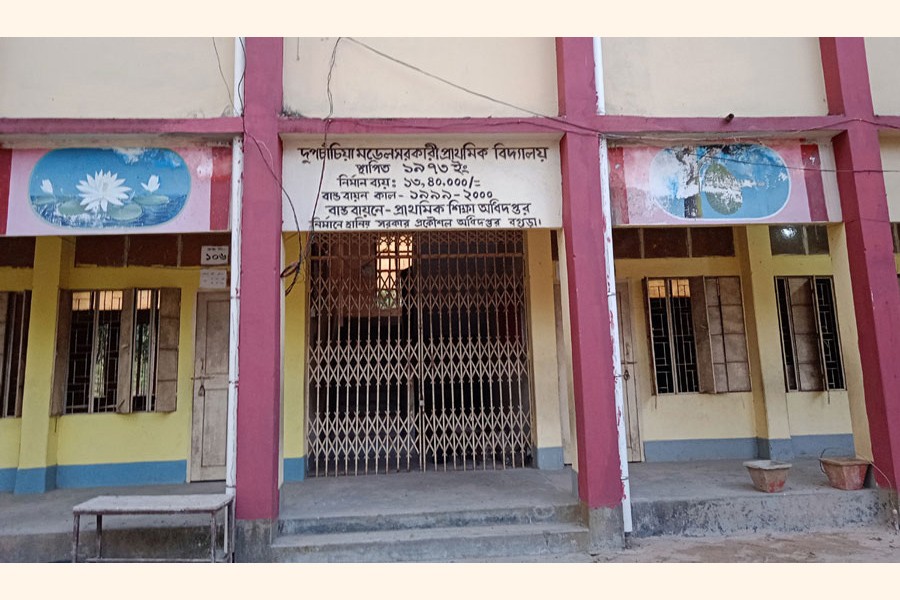 A frontal view of a government primary school under Dupchanchia upazila in Bogura — FE Photo
BOGURA, Jan 13: Smooth administrative activities of government primary schools are being hampered as 216 posts of headmasters out of 1,591 are lying vacant for a long time in Bogura.
Though teaching in government primary schools has been suspended on March 18 last across the country to get rid of corona attack, the administrative activities are running round the clock amid the vacation.
As a result, the school authorities are in a fix in absence of headmasters in all twelve upazilas of the district. The acting headmasters are to be paid extra moneyto manage annual maintenance work and performing book list submission on online and distributes book among the students.
According to district primary education office (DPEO)source, a total 1,601 government primary schools are teaching the students but some 10 post of the headmasters is yet to create. After creating the mentioned post, the vacant post would be placed to fill up with headmaster to run the administrative activities, DPEO added.
Meanwhile, about 169 posts out of 10000 posts of assistant teachers remain lying vacant for a long time as government doesn't take initiative to make recruitment due to corona pandemic. By conquering covid-19 pandemic, the authority concerned is waiting to open the schools.
A statistic shows a total 9 posts of headmasters in sadar upazila, some 40 posts of headmaster in Dhunot upazila, 28 in Nandigram upazila, 23 in Sherpu rupazila, 19 in Shibganj upazila, 19 in Adamdighi upazila, 18 in Sariakandi upazila, 18 in Kahaloo upazila, 13 in Sonatolaupazila, 12 in Shajahanpur upazila, 9 in Gabtoly upazila and 8 in Dupchanchia upazila have remained vacant for a long time.
District education officer Tahmina said the post of headmasters will be filled up by two ways. Some 35 per cent is direct recruitment and 65 per cent by promotion from the assistant teachers. The administrative activisties of the government primary schools mostly depend on headmasters, she added.
---
---
---
---