---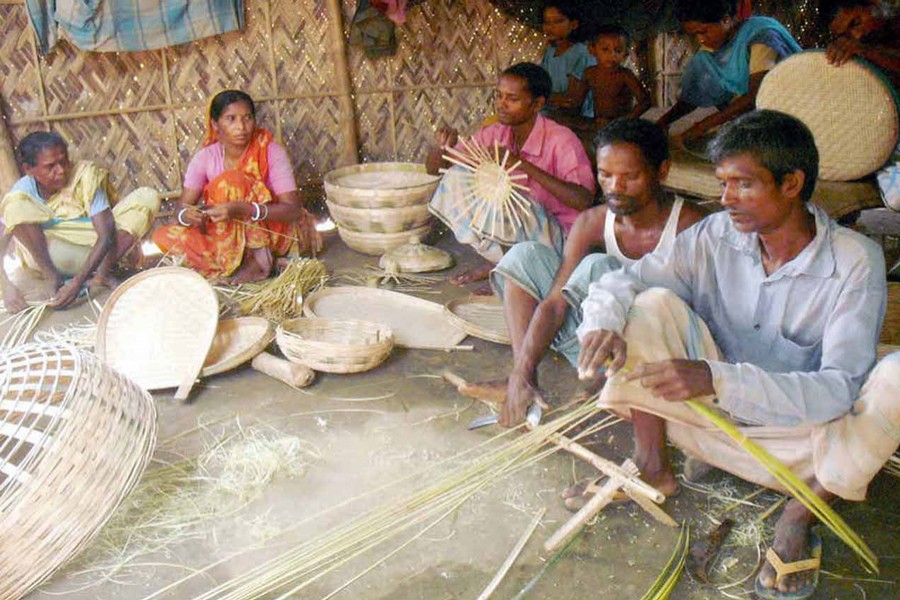 Artisans making different products from bamboo in Mahelipara village at Chatra union under Pirganj upazila in the district on Wednesday — FE Photo
RANGPUR, Mar 13: A good number of indigenous families at Adivasi Palli of Mahelipara village at Chatra union under Pirganj upazila in the district are earning their living by making different bamboo products.
Around one hundred families belonging to aboriginal Santal community of the adivasi palli are engaged in making household appliances from bamboo and thus earning their livelihood.
Nowadays, the cottage industries based on bamboo, cane and some other fibrous plants are losing attraction in the region as well the country with the flourishing of plastic goods in the market, sources alleged.
But these people are still pursuing their ancestral business, as some of the bamboo products are still in demand in both rural and town areas, sources said.
They make different types of baskets, winnowing-fan, fish-traps, hand-fans, sitting stools, cradles and other necessary household products, sources further said.
A number of craftsmen of the adivasi palli including Arun Mardi, Kalpona Mardi, Surovi Mardi told this correspondent many bamboo products are now on the verge of extinction and have been replaced by plastic goods. Now plastic goods have flooded the markets everywhere.
Production costs also increased several times. So many of them have already lost their ancestral profession and the rest are struggling a lot for their living.
Craftsmen claimed that most of the times they do not get fair price of their products owing to lack of marketing facilities. They are often compelled to sell their products at lower prices, they said.
They said if government or non-government organisations give them financial supports such as low-interest loan, it would be better for them to continue their profession. They also stressed the need for government patronisation for their survival.