---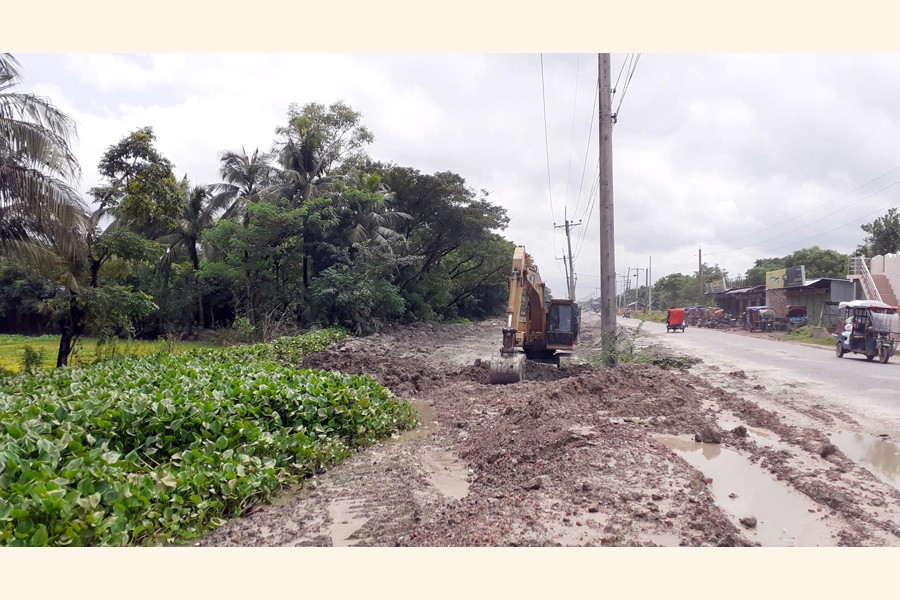 Berula canal in Cumilla is being filled up for construction of the Cumilla-Noakhali highway four-lane. The picture was snapped from Batabaria area of Laksham upazila — FE Photo
CUMILLA, Oct 18: Century-old Berula canal in Cumilla is being filled up for construction of the four-lane on the Cumilla-Noakhali highway.
Extending over an area of 60 kilometres in length, the canal starts from Fatehpur village of Laksham upazila of Cumilla and runs upto Chaumuhani of Noakhali.
The canal had long been being filled up slowly for so long with construction of shops and houses in various parts of its banks. But its complete fill-up with soil has begun with construction of the Cumilla-Noakhali regional highway four-lane recently.
According to locals, most of the canal in the area has been filled to widen the four-lane road. Again somewhere the canal has turned into a narrow drain.
However, the canal has been filled entirely at Batabaria and Bhatiavita in the south part of Laksham municipality. As a result, the drain outlet of the area has been blocked, resulting in irrigation crisis for farmland. Natural fish sources will also be at stake.
Consequently, 3,000 acres of agricultural land in Laksham, Manoharganj and Nangalkot of Cumilla district and Sonaimuri and Begumganj upazilas of Noakhali district will face irrigation crisis.
Local sources said this canal was once used to transport goods from Noakhali to Laksham Daulatganj Bazar by boat.
Vessel movement on the canal was closed due to encroachment and construction of unplanned bridges over it.
Local fishermen once used to run their families by fishing in the canal which has now turned into a drain-like narrow channel for want of excavation.
As the whole canal is now being filled to construct the four-lane road, farmers are worried whether they could produce crops in their land next year.
The canal is connected to Laksham, Manoharganj and Nangalkot of Cumilla and Sonaimuri and Begumganj of Noakhali and various branch canals.
If Berula canal is filled up, different areas of these upazilas will be affected by severe water-logging.
Mostafizur Rahman, former chairman of Khila union in Manoharganj Upazila, said the canal was renovated in 1978 through voluntary work. The canal was used to bring goods from Noakhali to Laksham's Daulatganj market by boat.
Once the canal is filled, the people of this region will become victim of water logging.
Agricultural land will fall into irrigation crisis. This will increase suffering of the people.
Laksham Upazila Nirbahi Officer (UNO) AKM Saiful Alam said, "As far as I know, the canal is owned by the Roads and Highways Department. They are filling the canal for constructing four-lane road. So I have no scope to say anything about this."
Mizanur Rahman, executive engineer of Bangladesh Agriculture Development Corporation (BADC Irrigation), Cumilla, said there is no alternative to the flowing canal to save agriculture. We will look into the matter."
Bangladesh Environment Movement (BAPA) Cumilla president Dr Mosleh Uddin Ahmed said it was illegal to fill the canal. Rivers and canals must be protected to save the environment, nature and agriculture.
Cumilla Deputy Commissioner Abul Fazal Mir said, "I don't know about filling up the canal. However, I will take necessary steps in this regard."
Roads and Highways Department Cumilla Executive Engineer Dr Mohammad Ahad Ullah said, "I will see the matter. However, if it is necessary for the road, the canal has to be filled."