RAJSHAHI, Dec 12 (BSS): The Barind Multipurpose Development Authority (BMDA) has implemented 19 projects involving around Tk 25.02 billion in all 16 districts of Rajshahi and Rangpur divisions during the last 10 years.
According to concerned sources, the implemented schemes contribute a lot towards uplifting living and livelihood condition of people in the country's northwest region.
The region scored a significant progress in the crop production sector following the expansion of irrigation facilities through operating deep-tube-wells coupled with supplying water from re-excavated canals and ponds.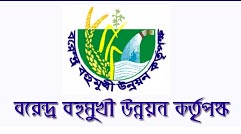 "We have brought around 47,000 hectares of croplands under supplementary irrigation facilities through re-excavating 1,498-kilometer canals and 386 derelict ponds," said Engineer Abdur Rashid, executive director of BMDA, while talking to the news agency on Tuesday.
The irrigated lands have yielded more than 3.5 million tonnes including 2.7 million tonnes of additional crops especially food grain in the region especially the vast Barind tract yearly.
Prepaid meters have been installed in 7,500 irrigation pumps. Rainwater harvesting and conservation has been arranged after excavating 303 dug-wells.
A total of 106 irrigation pumps were made functional through 2120-kilowatt solar power in order to boosting production of less-water consuming crops through promoting eco-friendly irrigation system.
Drinking water problem of more than 1.27 million remote people has been minimized through construction and installation of 1212 water infrastructures.
Yearly 4.5 million tonnes of food grains production has been ensured as a result of providing irrigation to 0.49 million hectares of land successfully.
Seven pontoons have been commissioned in seven places of Padma and Mohananda rivers for water conservation in canals and ponds.
In this way, irrigation is being provided to croplands in double-lifting method through 460 low lift pumps. Irrigation activities are being conducted through around 8,770-kilometre sub-surface pipeline aims at ending misuse of both agricultural lands and irrigation water.
Around 444-kilometre connecting roads were constructed aiming at creating scopes of marketing agricultural products produced by the farmers and fair price of those.
More than 75,000 farmers get training and motivation on proper use of irrigation water, resisting misuse of power, judicious use of irrigation water and modern farming.
Various works like electrification of 6974 deep-tube-wells, construction of 7200-kilometre power distribution line, 698 cross-dams and a 65-meter rubber dam, telemeter installation in 400 irrigation pumps and reactivation and renovation of 2877 other non-functional pumps were completed.