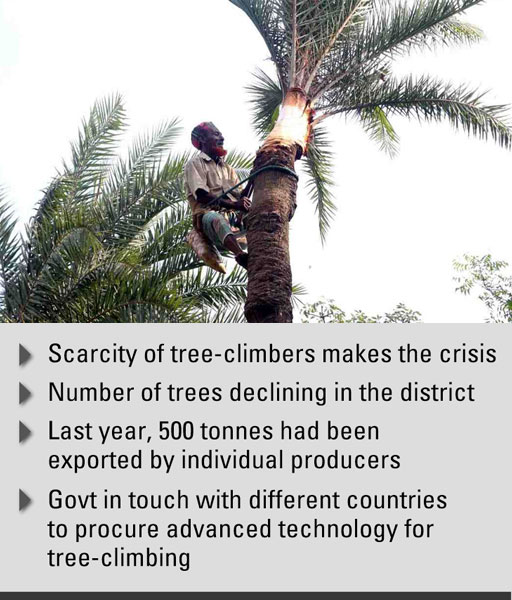 JASHORE, Nov 24 (UNB): In the Jashore's Khajura area, dozens of date palm trees sway gently in the winter wind.
A fearless Faisal prepares to scale a few such trees with buckets to bring down the fruit. But the date palm climber, who does his job with deceptive ease using only a rope-like harness looped around his feet, does not want his children to learn his rare skills.
"Already many date farmers have sold their trees due to scarcity of climbers. We want our children to study and bag a decent job," says Faisal. "Of course, some did sell their trees to fight poverty."
Also, with the number of trees declining in the district, another climber Sadiq Hossain says the dictum -- Jashorer josh, khejurer rosh" (Jashore's pride is its date juice) -- may soon become a proverb of the past.
"Two decades ago, this area was dotted with date trees. Over these 20 years, the situation has changed. Date palm juice is increasingly becoming scarce," he claims.
The tree secretes the sap only during the winter months, November to February.
Md Zahidul Amin, additional director of the Jashore Agriculture Extension Department, says that there are around 0.5 million (five lakh) date palm trees in Jashore district.
"Last season, the district produced 3,500 tonnes (MT) of date molasses, of which 500 tonnes had been exported by individual producers," he says.
Rafiqul Islam, another tree climber, says, "Some people who came from the city to buy molasses last year promised to take my business online. But given my age, it is very difficult for me to climb trees now."
Barek Hossain, another climber, says if the Bangladesh government provides them with machines, the tradition could be saved from extinction. "We will all be benefited."
Additional director Zahidul Amin says that his department is in touch with different countries to procure advanced technology for tree-climbing to get date sap. "But the process is at an early stage."