Dupchanchia-Talora connecting road turns into a death trap
---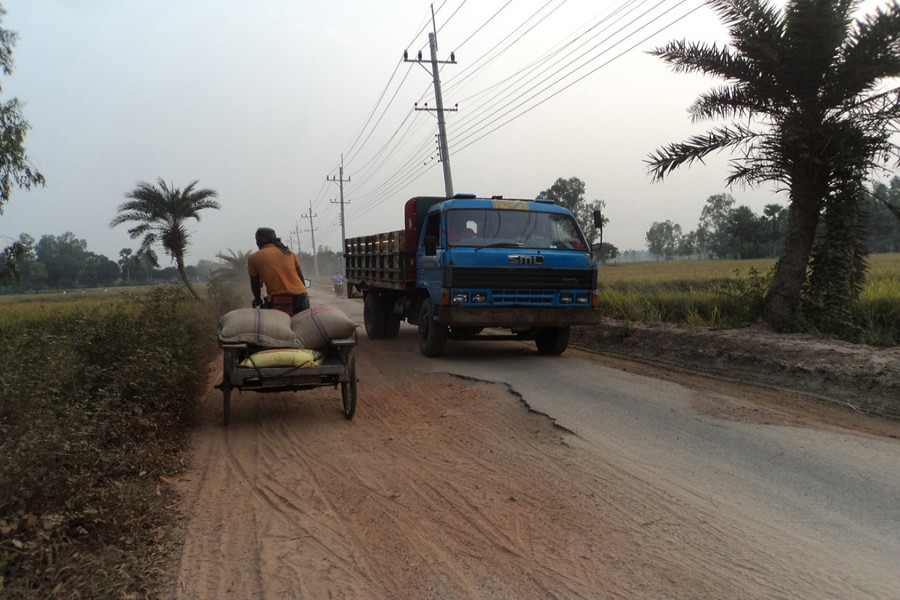 The dilapidated condition of Dupchanchia-Talora road causing untold suffering to thousandsof commuters for a long time in Bogura — FE Photo
BOGURA, Nov 21:To avoid terrible accidents, renovationof Dupchanchia-Talora is urgently needed in Bogura district.
The only connector road with district headquarters has turned into a death trap for a long time as no initiative has yet been taken to repair the dilapidated road. Both vehicles and pedestrians are suffering for a long time.
The road should be urgently renovated to reduce woes of thousands of passengers of inner-city train.
The bad shape of the road is disrupting smooth transportation o people and agricultural goods in the region.The producers can't get opportunity to export their produces A 10-km-long stretch Dupchanchia-Talora road lies in an awful state due to alleged negligence in the repair and maintenance work of the road, said a chatal businessman Zakir Hossain Talukder of Kahaloo supazila.
A CNG-run auto-rickshaw driver MdMizanur Rahman said the road has now become virtually a death trapfor pedestrians and vehicles. He again said, several terrible road accidents have occurred for the bad shape of the road.
Locals demand urgent renovation of the road considering the woes of the pedestrians, rickshaw, van, three wheelers, truck, bus and human haulers.
The road has become unfit for traffic movement as numerous cracks and potholes have developed in the road, said truck driver Nuru. The wheels, chasis and ring of the vehicles becoming ruined, he added.
Traders and importers are to count additional transportation cost, to carry food and goods produced in the factory to send those to different parts of the country. Despite repeated pleas to ease the sufferings of the vehicles as well as the pedestrians, the authorities concerned are yet to take any initiative to renovate the road.
High official of LGED said a tender for repairing the road is awaiting the approval from the authorities concerned.The repair work of the road will start following approval of the tender, they added.
---
---
---
---