---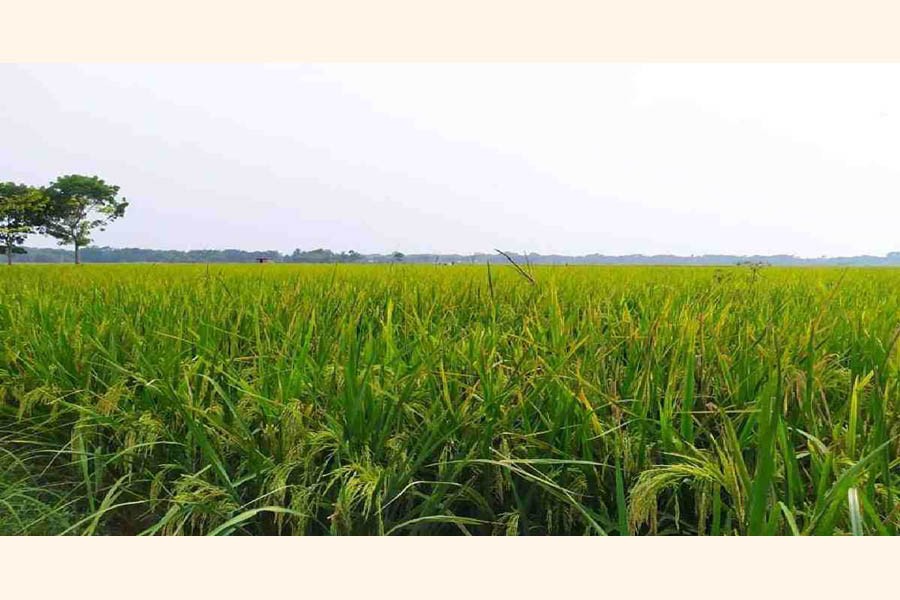 A partial view of a Fatema paddy field at Alfadanga upazila of Faridpur district — UNB
FARIDPUR, May 04 (UNB): Cultivation of the rice variety 'Fatema' has started in Alfadanga upazila of Faridpur through a young man named Riazul Islam.
While talking to this correspondent he said that he hoped to achieve bumper yield after cultivating this special variety of paddy on 75 per cent of his land.
While visiting the site, it was observed that the rice has already started to ripen. Harvesting of paddy will also start soon.
Riazul said, "I first came to know about this variety of rice from a Youtube video. I have collected the seeds of Fatema paddy from Labuyat's mother after waiting for six months."
It is to be noted that 'Labuyat's mother', the woman from whom Riazul collected the seeds of this variety of paddy is none other than Fatema herself.
Fatema first came into limelight in 2018 when she cultivated some highly potential sheaves of paddy, which held more grains than the common rice varieties.
Eventually this promising breed was named 'FatemaDhan' after her.
"I cultivated this paddy on 75 per cent of my land. It has cost only Tk 10 thousand. I am hopeful that there will be about 95-100 maunds of paddy in this land," he added.
He also hoped that he could be self-reliant by cultivating this paddy and expressed his desire to plant this paddy in more land.
Alfadanga Upazila Agriculture Officer Ripon Prasad Saha said the Fatema variety of rice invented by a farmer in Bagerhat has many characteristics. The yield of this paddy can create a buzz in the country and also surprise the whole world.
Rice can be exported by meeting the food shortage of the country if the desired yield is achieved, he added.
He further said farmers are being encouraged to increase the cultivation of 'Fatema Dhan' in the upazila.
This variety is mainly cultivated in the Boro season.