---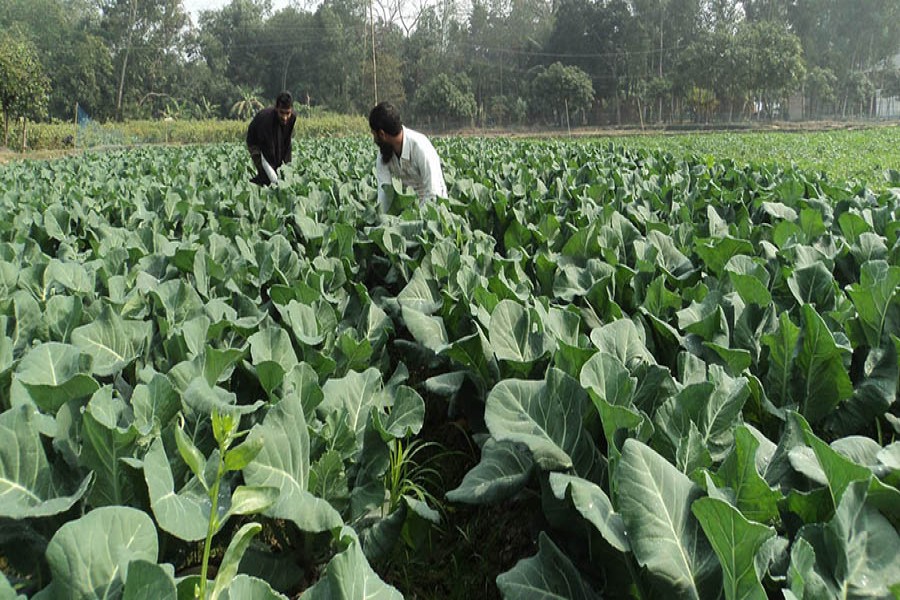 A couple of farmers harvesting early-winter cabbage at a field under Akkelpur upazila of Joypurhat district — FE Photo
JOYPURHAT, Oct 09: Early winter vegetable cultivation has brought smile on the faces of many farmers in five northern districts.
According to the Department of Agriculture Extension (DAE) office sources, peasants of Joypurhat, Bogura, Natore, Pabna and Sirajganj districts are growing bottle gourd, red spinach, bean, cabbage, cauliflower, water spinach, malaber spinach, okra, egg plant and pointed gourd on commercial basis.
The DAE provided all necessary support in this connection. A good number of cultivators have attained financial solvency by growing the vegetables every season.
Market sources said each kg of early winter bean is sold at Tk 60 to Tk 80, cabbage at Tk 50 to Tk 60, cauliflower at Tk 60 to Tk 65, spinach at Tk 40 to Tk 50 and red spinach at Tk 30 to Tk 40.
"I have cultivated early winter cabbage on 23 decimals of land spending Tk 8,000," farmer Abdul Wadud Ali under Akkelpur upazila of Joypurhat district said, adding, "I have already made a profit of Tk 18,000 from the sale of my produce and I am expecting to earn more."
"Farmers have shown more interested in vegetables cultivation across the region as they make more profit from the venture," said sub-assistant agriculture officer of DAE Azizur Rahman of Bogura agri-zone.
Deputy director of Joypurhat DAE Sudhindranath Roy said farmers of the vast Barind region start farming the early winter vegetables to earn some extra profit before winter.
Our Magura Correspondent adds: Untimely rainfall has caused concern among winter vegetable growers in the district.
A good number of growers said it is high time for growing winter vegetables. But the district has been experiencing heavy rainfall for a week. "This rain is frustrating for us," they added.
The Department of Agriculture Extension (DAE), Magura, sources said a total of 3,560 hectares of land have been brought under winter vegetable cultivation in the district this season with the production target of 70,060 tonnes.
Ram Krishna, a farmer of Tengakhali village under Magura Sadar, said, "I have brought three bighas of land under bean cultivation this season. But I am afraid that frequent rainfall may damage my beans."
Another farmer Aroz Ali of Harishpur village under Shalikha upazila said he is cultivating cauliflower on three bighas of land. "Due to heavy rain, growth of cauliflower is facing setback. If such rainfall continues my whole field will be damaged", he added.
Magura DAE official Shohrab Hossen agreed that rain at this time of the year was harmful for winter vegetables.
He urged the vegetable growers not to be worried as the situation may improve within a few days.
reporter.fe@gmail.com
litan1968@gmail.com