---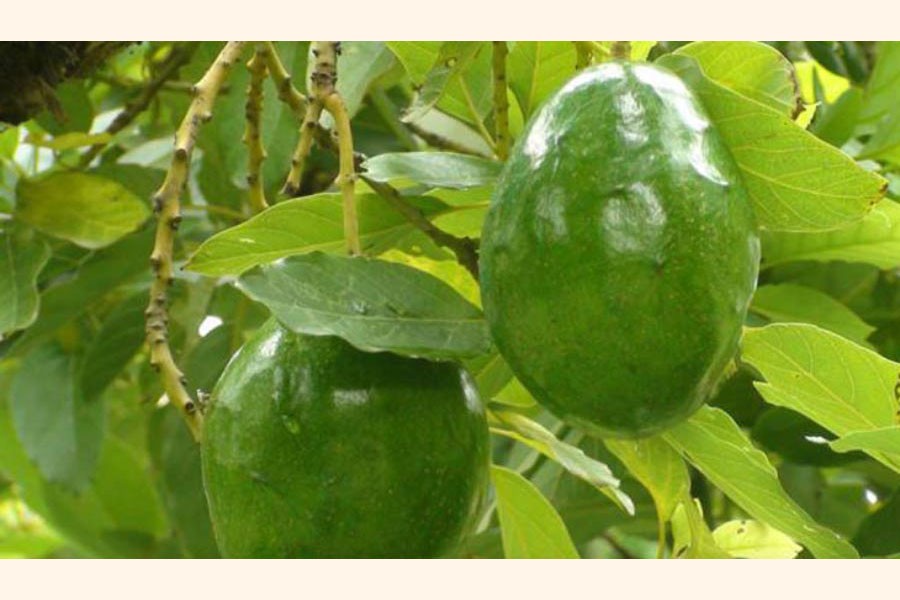 Farmimg of avocado fruit gaining popularity in Rajshahi and Chapainawabganj — FE Photo
RAJSHAHI, July 29: Farming of avocado, a fruit enriched with various vitamins and containing medicinal quality to resist various diseases, is gaining popularity in Rajshahi and Chapainawabganj.
In addition to mango, avocado might also emerge as a prominent fruit with numerous health benefits in the districts in near future, said officials at the Horticulture Centre and the Department of Agriculture in Rajshahi.
According to agro-scientists at the Regional Horticulture Centre, Rajshahi, the American-bred fruit has matchless taste and nutrients.
The fruit can easily be cultivated in the country.
Since avocado has a good demand and high price in the local market, farmers are being gradually interested to cultivate it.
Agriculture officials concerned are also hopeful of the commercial farming of the fruit.
Local agriculture office sources said steps have already been taken for expansion of commercial cultivation of avocado.
Zahurul Islam, Germplasm officer of the Horticulture Centre in Chapainawabganj, said the seed of avocado had been brought from America some 12 years ago and had been sowed at the Germplasm Centre in the district.
Later after a research of six years, scientists became successful in producing avocado at the centre four years back.
Dr Alim Uddin, principal scientific officer of Rajshahi Regional Horticulture Centre, said for having a good demand and high price in the local market, the fruit could play a vital role in changing socio-economic condition of the farmers in the region.
He further said the cost for farming avocado is very low but the profit is high.
As the climactic and soil condition of Rajshahi and Chapainawabganj is suitable for avocado, there is a great possibility of expansion of its commercial cultivation, he added.
Saifur Rahman, deputy director of the Regional Horticulture Centre, said avocado looks like guava or pear and each fruit weighs from 300 grams to 700 grams.
There is an egg-like large seed inside the fruit and after peeling the upper part, the delicate, sweet and creamy substance in the middle is consumed.
Like papaya, this fruit can be consumed raw, cooked or ripened.
He added the fruit is ripened after July when supply of mango and other indigenous fruits becomes short in the market.
Saiful Islam said enriched with various medicinal qualities, avocado keeps human body free from sodium, sugar and bad cholesterol. The fruit also keeps heart condition good by removing excess fat from blood and acts as a catalyst to check cancer.
It contains all sorts of vitamins and minerals, especially phosphorus, magnesium, zinc, copper and manganese, vitamin-c, riboflavin and fibres.