---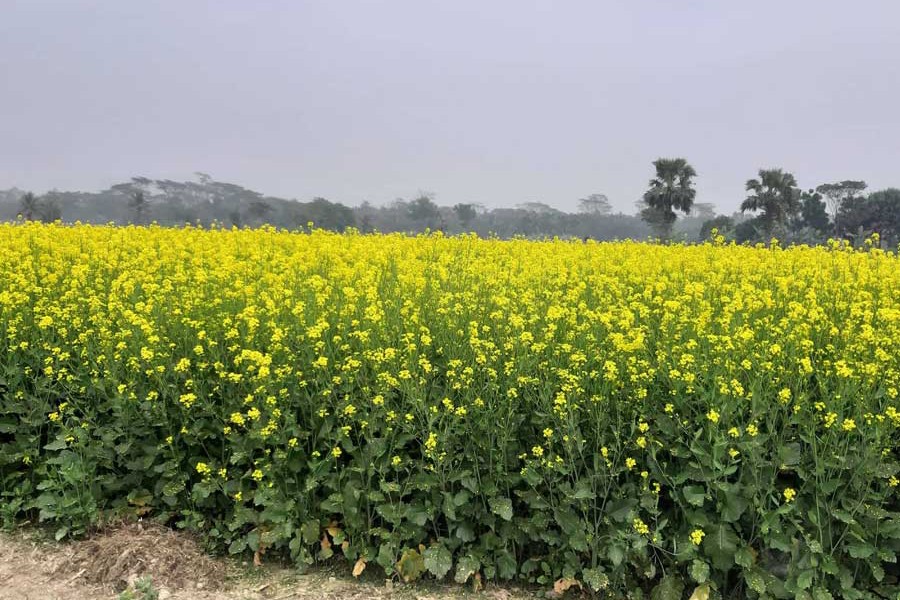 A BARI Mustard -14 field in the Lebutala Char area in Dumuria union under Tungipara upazila of Gopalganj district — FE Photo
GOPALGANJ, Feb 13: Grassroots farmers of Tungipara upazila in the district are expecting a bumper production of BARI Mustard-14 this season.
A total of 309 hectares of land have been brought under BARI Mustard-14 cultivation under the upazila.
Md Jamaluddin, upazila agriculture officer, said farming of the mustard variety is a profitable Rabi crop. Soil and weather condition are suitable for the production of mustard variety.
Farmers can harvest the crop within 90 to 100 days from its planting. Around 400 gram to 450 gram oil can be collected from 1.0 kg of BARI Mustard-14.
Nimitas Tikeder of South Kushli village in Borni Union under Tungipara upazila said he cultivated BARI Mustard-14 on five acres of land this season spending Tk 60,000.
He said, "I expect around 90 mounds of mustard from the field which market price is about Tk 0.27 million."
Another grower Md Baka Seikh of the upazila said he is growing the mustard variety on two acres of land. "The growth condition of the plants is satisfactory", he added.
Rubal Miah, sub-assistant agriculture officer of DAE Dumuria union, said farmers are showing interest in growing BARI Mustard-14 as the growers are benefitted more from it than the other varieties. It is a short-duration variety. Around 1,500 farmers in the upazila are cultivating the mustard variety this year.
Our Naogaon Corres-pondent writes: A farmers' field-day on cultivation of BARI Mustard-17 was held at Nagar bridge area under Raninagar upazila of the district recently.
The Department of Agriculture Extension (DAE), Raninagar, organised the event to train the farmers about easy production, maintenance and preservation process of the crop.
District seed certification officer Dr MA Aziz Badal spoke at the occasion as the chief guest with upazila agriculture officer Shahidul Islam in the chair. Agricultural extension officer Sazzad Hossain Sohel, deputy assistant agriculture officers Ahsan Habib Ratan and Atikul Islam attended the function, among others.
Addressing the occasion, speakers said BARI Mustard-17 is a short duration high-yielding crop which was developed by Bangladesh Agriculture Research Institute (BARI) through the process of hybridisation between BARI Mustard-15 and Sonali Sarisha.
The mustard variety is tolerant to drought and salt stress and Alternaria Blight disease. The yellow color mustard seed produces three to four per cent higher oil than that of the common brown colour seed varieties, the speakers added.
Around two hundred farmers of the upazila participated in the field day programme.
alimuzzaman81@gmail.com
ritushar.ru@gmail.com