Huge silts on Sunamganj haor lands impede Boro farming
---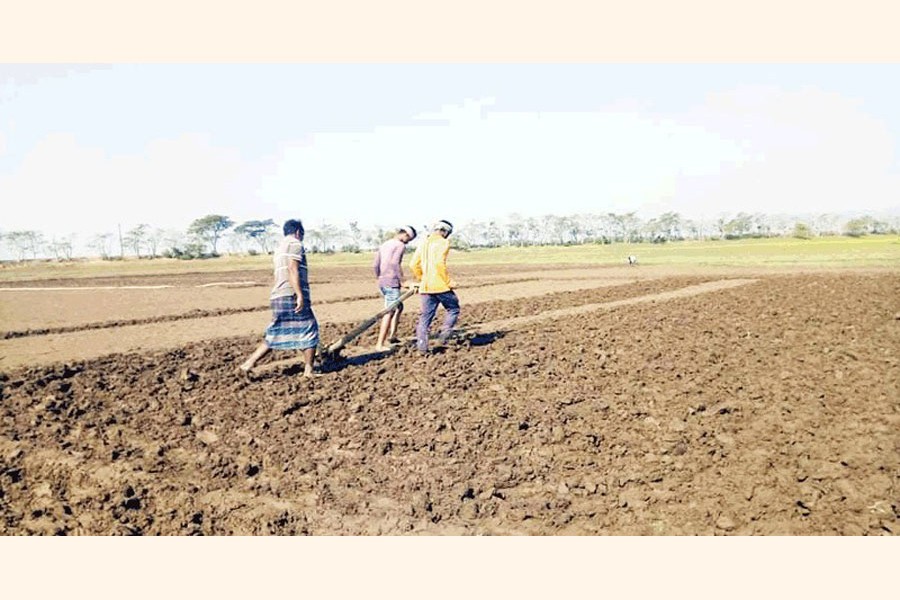 Farmers readying cropland, covered with silts for Boro cultivation in Tahirpur — FE Photo
SYLHET, Jan 13: Due to accumulation of huge amount of silts on the Boro lands in low-lying areas, the farmers in Sunamganj haors are compelled to weigh extra labourers for making the lands ready for cultivation this year.
The farmers, however, are already in a trouble due to late and slow recession of water from many areas while the cropping season is passing fast, officials and locals said.
Well to do farmer Sabbir Alam of Tahirpur upazila said the silts accumulation is too high as the floods hit the region four times this year. At least two feet silts are there on many land, he said. "I am to cultivate 5 acres of lands this year. It has become very difficult to ready the lands. Like many others in our area, I have to give much labour, he added.
Many farmers are compelled to ready their lands sans ploughing although much silts are accumulated in many areas due to absence of embankments, like on the Boulai river bank at Jamalgarh, said a farmer of Sripur in Tahirpur.
An official at the WDB, however, said preliminary survey had been done for reconstructing the embankment at Jamalgarh area. It would be done this year, he added.
---
---
---
---