---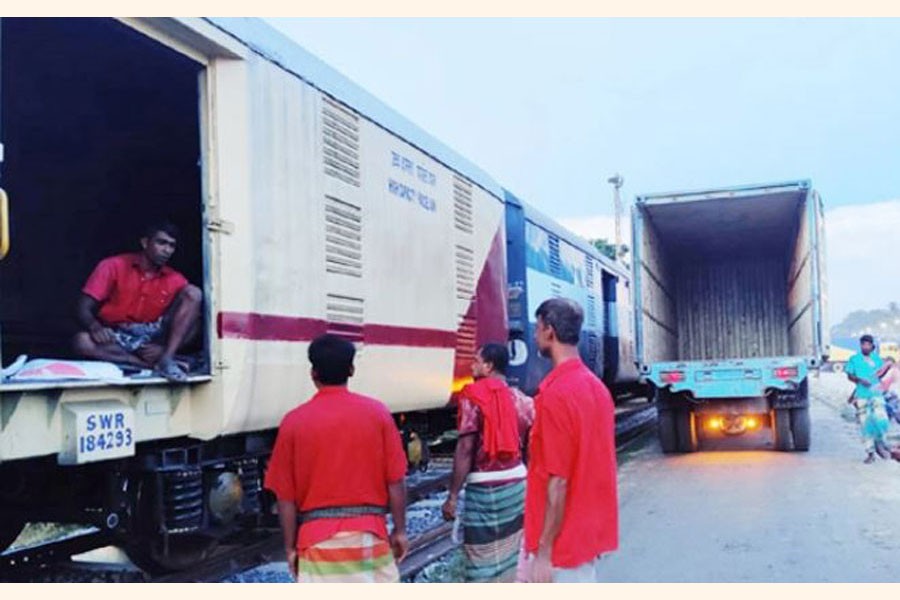 Workers busy working at Benapole Railway Station — FE Photo
BENAPOLE, Nov 25: Import of goods from India to Bangladesh by trains has recently seen a significant surge.
A total of 0.12 million (one lakh 20 thousand) tonnes of different types of products have been imported through Benapole land port in the past four months from July to October, letting Bangladesh Railway earn Tk 82.6 million (8 crore 26 lakh), according to Benapole railway officials.
Benapole Railway Station Master Saiduzzaman said, "Once, only stone and gypsum were imported through trains, but now importers are bringing all kinds of products including garments, chemicals, and food items."
Although the state-owned rail transport agency is yet to upgrade the services and facilities here, some Bangladeshi traders alleged, importers still prefer to carry goods by train instead of road transport since it is more cost effective.
The products they import include garments, onion, ginger, chili, turmeric, rice, wheat, sugar, machinery and pickup van, among others.
"Since there is no railway yard in the port, importers have to face some problems regarding where to keep their imported goods," said Saiduzzaman.
"Two railway yards are, however, being constructed while the work to extend the broad gauge line from Benapole to Petrapole is also underway. When these works are done, import by train through Benapole port will further increase," he added.
Bangladeshi businessmen alleged that a syndicate active in India extorts their trucks for parking facilities, affecting Bangladesh's domestic market to some extent due to increase in import cost.
However, things have currently changed for the importers using the railway.
Benapole Import-Export Association Vice President, Aminul Haque, said, "Due to cost-effectiveness and safety, traders are tending more to trains."
Earlier, goods were imported in four to five wagons per month, but now different types of products are being imported daily through cargo rail, side cargo rail and parcel van.
Benapole C&F Agents Association President Mofizur Rahman Sajan said, "Due to railway facilities, imports have increased this year compared to last year. Besides, the government is earning more revenue."
Matiar Rahman, Director of India-Bangladesh Chamber of Commerce and Industries, said, "Traders are importing goods by train since they have to face various harassment while importing through trucks in Indian Kalitala parking."
Bangladeshi importers, however, said they no longer want any irregularities including extortion, corruption, and traffic jams, etc.