Joypurhat coriander leaf growers happy over fair market prices
---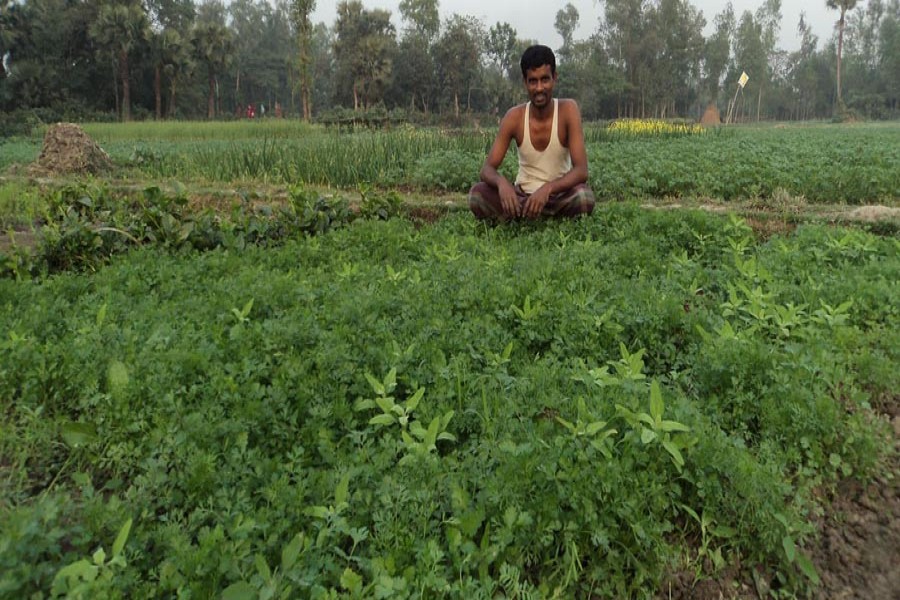 A farmer taking care of his coriander leaf field in Joypurhat on Saturday — FE Photo
JOYPURHAT, Oct 27: Coriander leaf growers in Akkelpur, Kalai, Panchbibi, Khetlal and Sadar upazilas of the district are happy as they are getting fair market price this season.
The item is selling at Tk 40 to Tk 50 per kg in the local kitchen markets.
According to the Department of Agriculture Extension (DAE) office sources, over 100 hectares of land were brought under the production of coriander leaf.
Most of the farmers in the area are growing it on commercial basis, sources added.
Sub-assistance agriculture officer of DAE Azizur Rahman said coriander leaf farming is profitable. More than 2,000 farmers in the area are engaged with the vegetable farming.
He further said farmers should bring more land under the cultivation of the leaf for more profit.
Hamudur Rahman of Akkelpur upazila said recent rain brought positive impact in farming of the item.
The farmer said he has already earned some Tk 14,000 and expecting to make a profit of Tk 30,000 more.
Deputy director of DAE Sudhindranath Roy said farmers of the district show more interest to grow coriander leaf to bring solvency.
"We provide all sorts of support to the farmers in this connection", he added.
---
---
---
---