---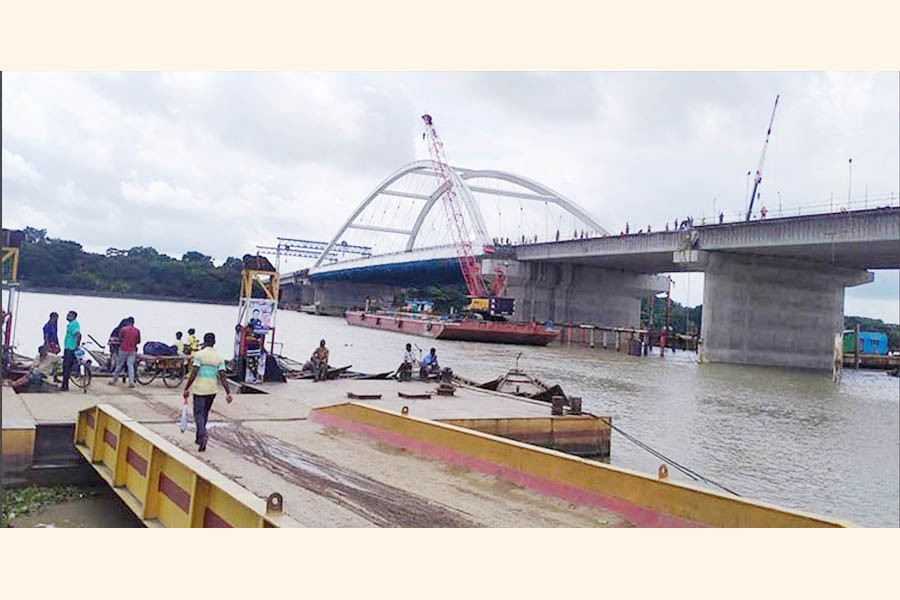 Construction work of Kalna Bridge on the Madhumati River in its final stage — FE Photo
BENAPOLE, Aug 15: Construction work of Kalna Bridge, which connects Gopalganj's Kashiani and Narail's Lohagara, is expected to be opened to traffic in September.
Kalna Bridge, Bangladesh's first six-lane bridge on the Madhumati River, is progressing fast and its work is in the final stage, said project officials.
"Ninety five per cent of the work of the bridge has been completed. The construction work of approach roads has also been done, said project manager of the bridge Ashrafuzzaman.
"The installation of the main bridge's spans has also been completed," he added.
The inauguration of the bridge is expected to give a boost to tourism, trade and industries in the southwestern region of Bangladesh. It will link Benapole land port to Dhaka city, and increase import-export with India.
Time and cost will be saved in the transportation of goods, said locals.
According to transport workers, when the bridge is opened to traffic, Narail, Jashore, Dhaka-bound vehicles from Benapole land port and Khulna will be able to travel via Kalna Bridge instead of Magura-Faridpur. And this will reduce Benapole-Dhaka and Jashore-Dhaka distance.
Similarly, the distance between Dhaka and Nawapara and Benapole port, Mongla port, Satkhira and other districts in the south-western region will also decrease.
The total estimated cost of the 690-metre long and 27.10-metre width bridge will be Tk 9.59 billion (959.85 crore).
The bridge is being built with the funding of Japan International Cooperation Agency (JICA). Japan's Tekken Corporation and YBC and Bangladesh's Abdul Monem Limited are jointly constructing the bridge.
After visiting the bridge, it has been found that the carpeting of the connecting road on the east bank of the river has already been completed. The carpeting work is in progress on the west bank. A total of 12 out of 13 culverts on the link road are also complete. The other one is in the final stage. Eight underpasses have been completed. Eight underpasses are also ready to use.
A 150-metre long steel span has been placed in the middle of the bridge. According to the project officials, this span has been the biggest task of the bridge as other spans of the bridge are of concrete.
The project officials said that the six-lane bridge will be part of the Asian Highway.