---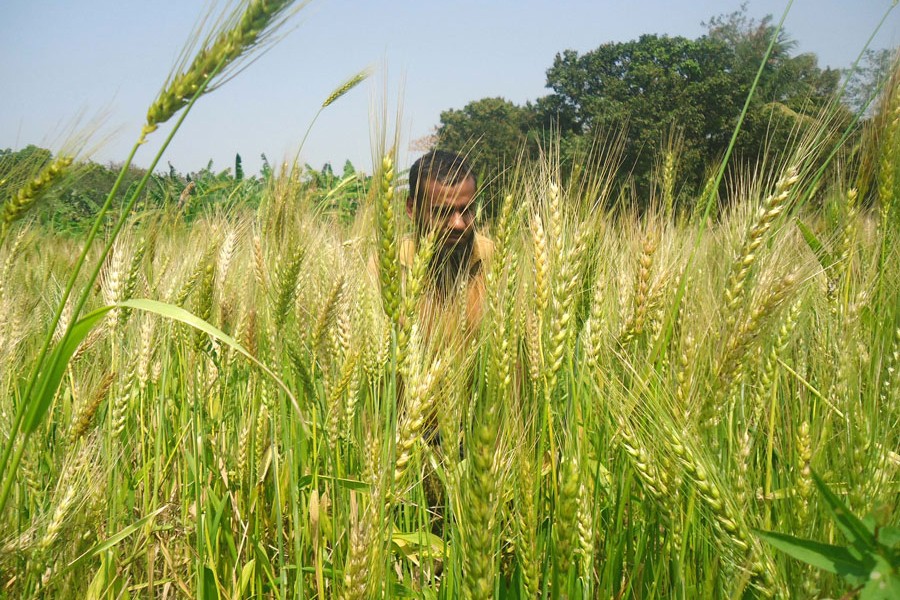 A farmer posing at his wheat field at Benipur village in Magura sadar upazila — FE Photo
MAGURA, Feb 23: Magura farmers are showing their keen interest in wheat growing. At the same time bumper production and fair price have come as a boon in wheat cultivation in the district.
Department of Agricultural Extension (DAE) Magura sources informed, five years back wheat was cultivated in the district on 3,620 hectares of land. This year the cultivation has stood at 5,220 hectares. Wheat growers are expecting a bumper yield which is 15,660 metric tonnes.
Fazlur Rahman, a farmer of village Benipur under Magura sadar upazila said, "This year I have brought three bighas of land under wheat cultivation and I am expecting a bumper yield of 30 maunds.
Tohid Alam a farmer of village Moghi under Magura sadar uazila said, " The number of wheat growers is increasing in our village. Bumper production, fair price and smooth supply of seeds are encouraging the growers in wheat cultivation. This year I have brought four bighas of land under wheat cultivation. Favourable weather, smooth supply of quality seeds and fertiliser has made me optimistic to achieve a bumper production. Now I am waiting to harvest a bumper yield".
DAE Magura deputy director Shuknata Kumar Paramanik said this season they are expecting a bumper production of wheat. They have provided the growers with adequate training and seeds, he added.
---
---
---
---