---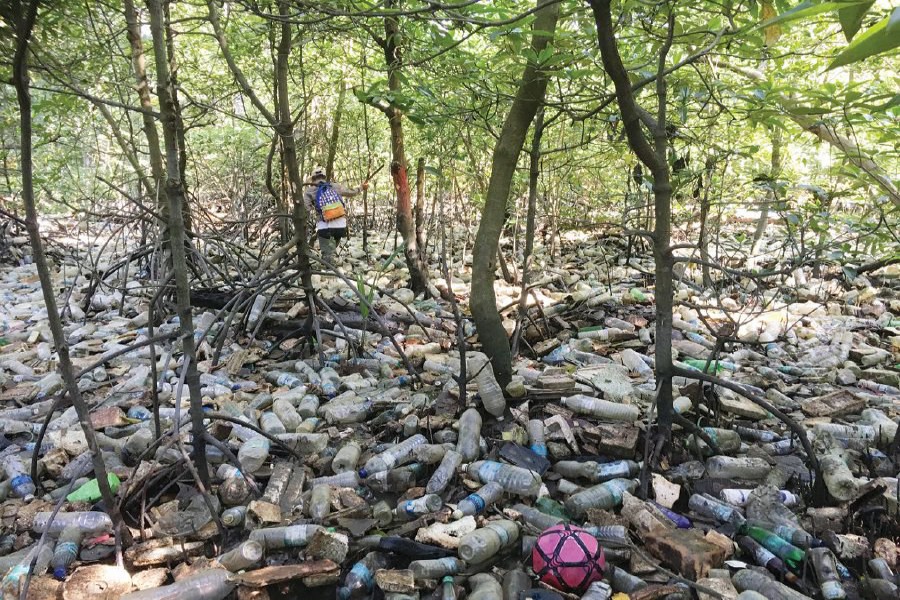 Plastic pet bottles, packets are left by visitors in Sundarbans — Collected
Visitors are indiscriminately dumping different types of non-biodegradable plastic items including pet bottles and packets in Sundarbans, posing a threat to the biodiversity of the world's largest mangrove forest.
Dumping continues unabated mainly due to lack of strict monitoring and awareness among visitors and shortage of manpower at forest department.
The scene was seen during a recent visit to Kalagachia Ecotourism Centre in Satkhira district range of Sundarbans. A food shop was also found selling chips, different salted biscuits, muri and other food items there.
Visitors at the ecotourism centre were seen offering processed food items to animals including deer and monkey which is another concern for forest animals, said experts.
Plastics have become one of the biggest concerns for the Earth, they observed.
In every one minute, about one truck of plastic waste is thrown into oceans by 192 countries which would increase to twofold by 2030 and fourfold by 2050 making the Earth inhabitable for humans and others, scientists warn.
Uthpal Kumar, researcher at Water Systems and Global Change Research Group of Wageningen University, the Netherlands, told the FE that 'micro-plastic' has become a new concern for the Earth. Scientists worry that oceans are swiftly becoming a 'soup of plastic'.
"Bangladesh has been experiencing its effects and contributing to this as plastic waste thrown by visitors in the Sundarbans is gone to deep forest and subsequently to the Bay of Bengal," he added.
The people who visit Sundarbans are mostly educated but unfortunately they are not aware as to how their ignorance affects the biodiversity of the world's largest mangrove forest which stands as shell to protect the coastal community and lands, he added.
Besides, he said, loopholes in policies and management systems are big threat to the 'blue economy and ecotourism' in Bangladesh.
Bangladesh has huge potential in the sectors and the country is dreaming to avail of huge currency from those, Mr Uthpal said.
Quazi Mahfuzur Rahman Mukul, Khulna divisional coordinator of Bangladesh Environmental Lawyers Association (BELA), told the FE that in the Indian side of Sundarbans, 40 per cent of the total mangrove forest is much more restricted to visitors.
Apart from plastics, sound pollution, visitors' noise, fuel-run vessels with high sound and irritating animals are also affecting the mangrove forest, its biodiversity and animals, experts said.
Johanna Charlotte Klapwijk, ecologist and researcher at Wageningen University, expressed her concern after she saw visitors offering processed foods including potato chips, different salted biscuits, muri and some other items to animals.
Klapwijk, who came to visit Sundarbans, told the FE that processed food ingredients including enzyme and salt are harmful to animals.
Deputy Chief Conservator of Forest Department Md Amir Hossain Chowdhury said there are policies to restrict the people to taking plastic items in Sundarban areas.
Every year 0.2-0.3 million people visit Sundarbans and it is difficult for them to implement the policy with limited manpower, he added.
"Apart from making policies, we need to launch social movement and boycott plastics to protect the Sundarbans. The existing situation and awareness level are now much better than anytime before but we need to do more," he said.
Md Hashem, an on-duty guard, told the FE that they always try to prevent the visitors from throwing plastic packets in the forest areas. "Even we collect plastic materials regularly."
nsrafsanju@gmail.com