---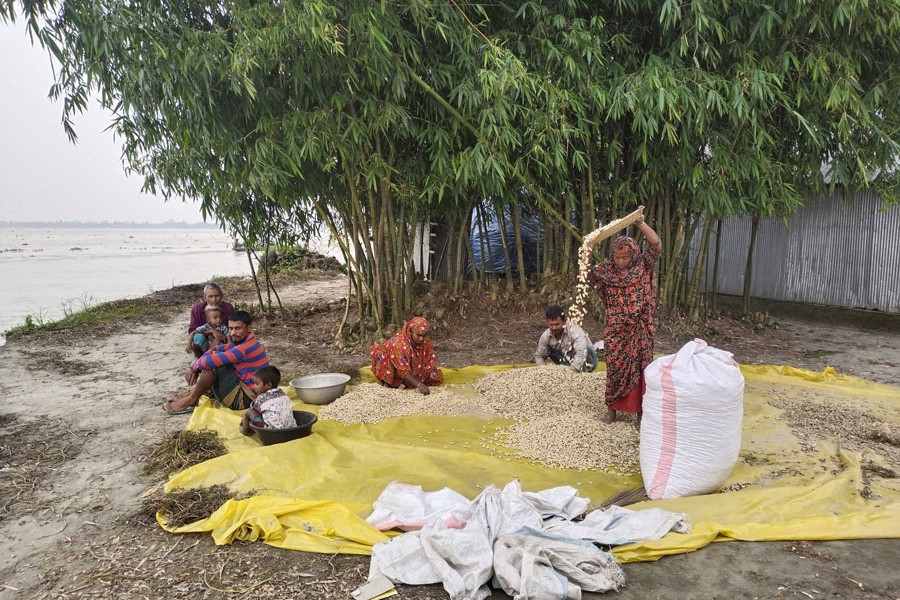 Women busy processing peanuts in Char Gokunda village of Lalmonirhat district — FE Photo
LALMONIRHAT, June 22: Good yield and fair prices delighted peanut farmers of Teesta Char areas in the district.
They are hopeful of making up the losses they had incurred in onion cultivation.
Different shoals of Aditmari, Lalmonirhat and Hatibandha have been brought under peanut cultivation this year, according to the Department of Agricultural Extension (DAE) in Lalmonirhat.
In a recent visit to the shoals, it has been seen that that some farmers are now busy processing peanuts.
Sohir Uddin, a farmer from Char Gokunda, said, "We are happy because the price of peanut is very satisfactory this year."
"We could not harvest onion the way we expected due to rain and onrush of water from the upstream," he added. Now they are busy drying up peanuts.
Belal Khan, another peanut farmer, said, "I have cultivated peanut in two bighas of land in Dushmarer char, costing Tk 10,000. And I'm now expecting 12-14 maunds of nuts."
"One maund of peanut now sells at Tk 4,000-4,500," he added.
Most of the farmers do not have their own land. They cultivate others' land and for this they have to spend a big chunk of money.
Another farmer Ahasan Ali, 45, said, "The price of peanut was Tk 2400-2600 per maund last year. But now the demand is high and its price has almost doubled." "Renowned food processing companies purchase the peanuts," he added. Many of them, however, claimed that they hardly get any help from the government for peanut cultivation.
"We don't get any support or any assistance from the agriculture department. We have to borrow money from others or NGOs (non-government organisations) to buy seeds and others," said farmer Azizur Uddin.
"After harvesting crops, we have to repay the money with inertest," he added.
Hamidur Rahaman, Deputy Director (DD) of the DAE in Lalmonirhat, said, "This year the price of peanut is higher than the previous year."