---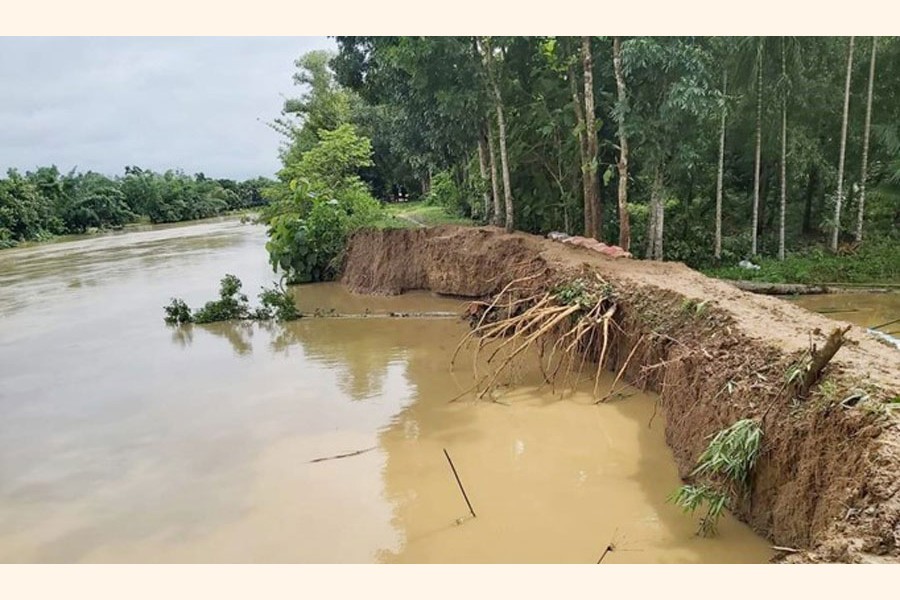 Photo shows a big land collapse and erosion along the Dholai River bank in Komolganj of Moulvibazar — FE Photo
SYLHET, June, 23: A portion of the embankment along the Dholai riverbanks in Komolganj upazila of Moulvibazar has collapsed due to heavy rain and upstream water.
At least seven points of the embankment went under water.
Authority of Moulvibazar Water Development Board said they have started dumping sandbags on the embankment to protect it.
While visiting the area, this correspondent found that locals also dumped trees and sandbags on many places to protect the embankment from damage and further collapse. Residents of Komolganj upazila are living in fear. The badly-hit places are Lakshmipur, Khushalpur, Alepur in Rahimpur union, Hiramoti of Madhabpur union, Ghoramara in Adampur union, Suranandapur of Munshibazar union and Gopalnagar, Dakshin Kumrakapon, Rampasha of the Komolganj Pourashava area.
Villagers said that they were trying to protect the embankment with trees and sandbags. But they are in fear as this effort is not enough to protect the embankment. They demand immediate repair of the damaged portion of the embankment.
Shyamol Chandra Das, a schoolteacher of the area, said, "After the weeklong rains and gushing water from upstream Tripura hills, many places along the 120km embankment on both the banks of the river Dholai turned vulnerable and risky".
One villager alleged that the WDB used geobags with inferior quantity of sand. That's why soil collapse took place, he said.
Meanwhile, admitting the 11 severe risky points along the embankment, an official of the WDB said that measures were being taken for immediate repair of those. However, a major project for the Dholai embankment reconstruction has been awaiting approval of the higher authority, he claimed.