Rajshahi city observes Ekushey in a unique way amid pandemic
Sidewalks of C&B square filled with donated books
---
---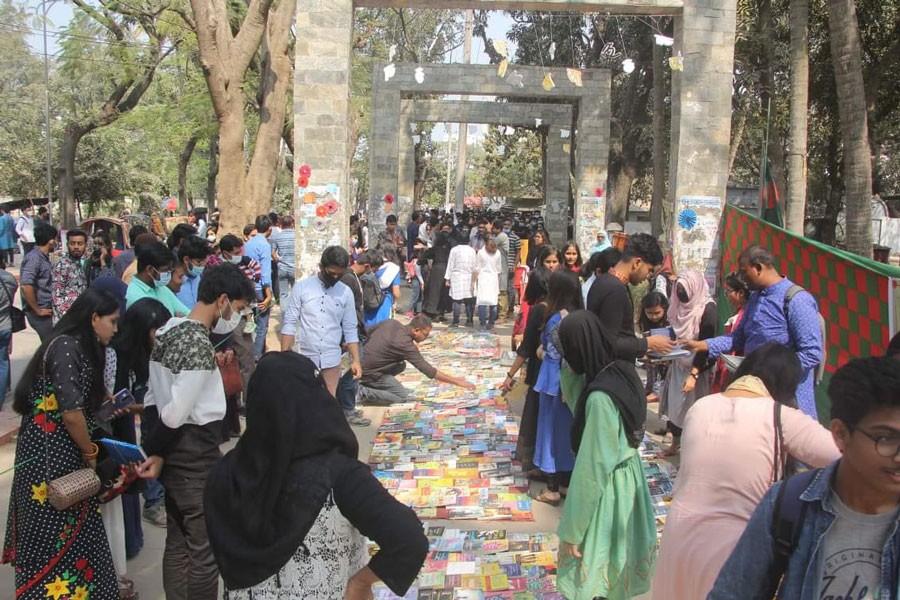 Visitors gathered at Pustak Path-2021, a free book fair set up by Mindcastle, at C&B Morh in Rajshahi city on Sunday — FE Photo
RAJSHAHI UNIVERSITY, Feb 22: For one day the sidewalks of C&B square at Rajshahi city were fiooded with 3,250 books, a unique idea by secondary-level students in observance of the Ekushey February, the International Mother Language Day- 2021.
The books were there to be taken away by the visitors, free of cost.
While this might sound like some bookworms' fever dream, it was actually the work of the editorial panel of an online magazine called Mindcastle.
The members of the editorial panel, all of whom are secondary level students, did it on Sunday in observance of the International Mother Language Day-2021.
It took the Mindcastle volunteers about 20 days to put together the books that they called Pustak Path-2021. They spent that time collecting books and donations from the donors.
From 11:00 am to 6:00 pm on February 21, the sidewalks of C&B square were filled with donated books and abuzz with visitors.
In the evening, Mindcastle held a drawing and essay writing competitions for children.
Tasnia Tuzahim Ahona, one of the organisers and member of the editorial panel of Mindcastle, said, "Each year, in the month of February book fairs take place all over the country. But, this year all the book fairs were called off due to coronavirus concern. When some of our friends got together, we planned to hold an event about books. It all started from there."
"About three thousand visitors attended our programme. The excitement and appreciation of the visitors were beyond anything we had hoped for", she added.
---
---
---
---