---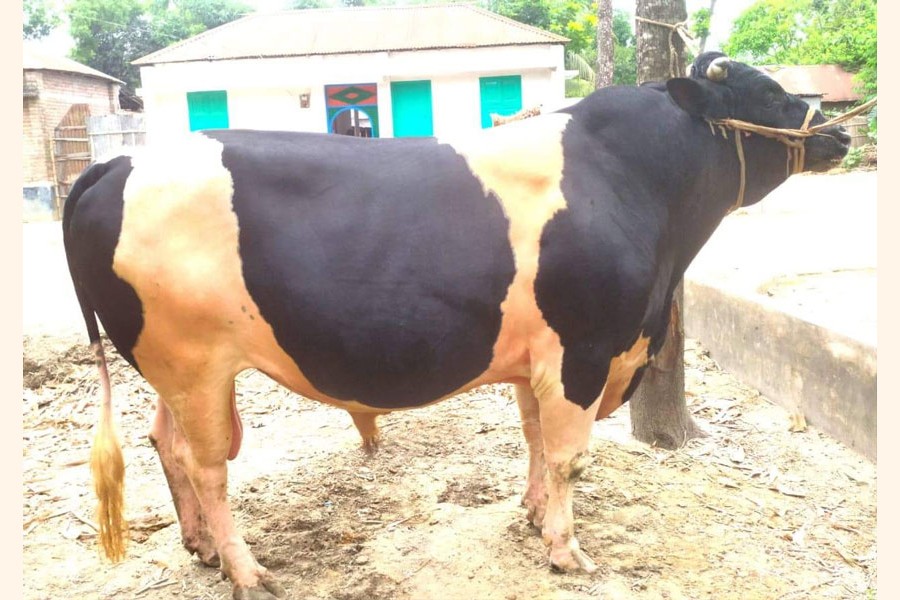 Sher Khan, a four-year-old bull
KUSHTIA, June 22 (UNB): Sher Khan the bull has been at the centre of interest of admirers in Kushtia.
Sher Khan is no ordinary bull -- technically a steer, a neutered male popular for its meat.
It's a Friesian variety cattle weighing around 1,600 kg.
Owner Akmal Islam reared the bull as a family member in his home in Hazipara of the district's Mirpur upazila. He has kept the four-year-old bull's asking price at Tk 1.5 million (15 lakh) for this year's Eid-ul-Azha.
Akmal has already been awarded by the Upazila Livestock Office for rearing the big bull in the upazila. "Sher Khan eats grass, husk, banana and other fruits," he says.
"I have decided to sell Sher Khan at the local cattle market this year to settle some loans I took for rearing the bull," the proud owner says.
Sohag Rana, Mirpur upazila livestock officer, said the cattle farmers of the upazila have been rearing their livestock in a healthy way and "necessary assistance are being provided to them."
---
---
---
---