---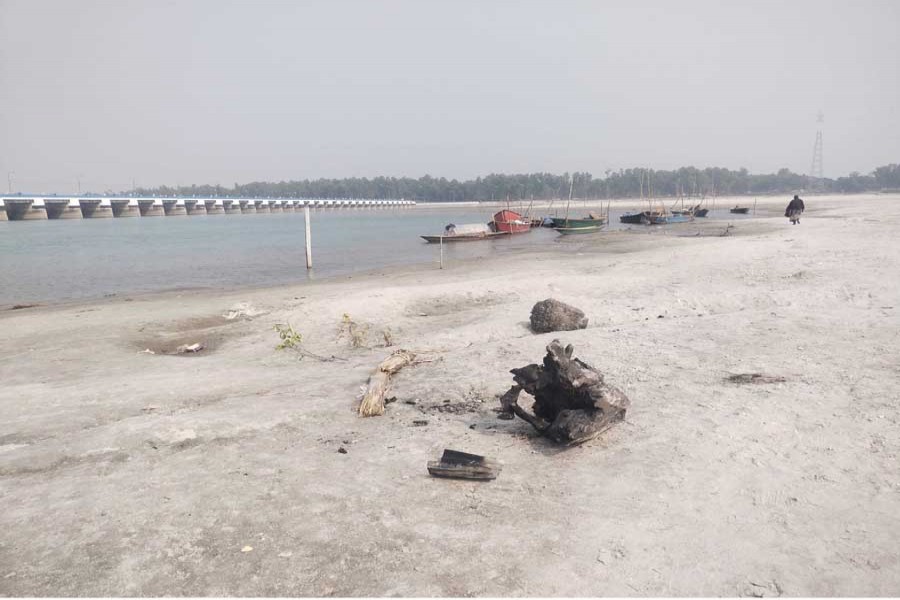 A partial view of the Teesta river at Duani in Hatibandha upazila in Lalmonirhat district — FE Photo
OUR CORRESPONDENT
LALMONIRHAT, Mar 18: Teesta, the lifeblood of millions of people in four districts in the northern swathe of Bangladesh, is already facing a severe water crisis that threatens the livelihoods of fishermen and farmers.
Rising in the Pauhunri Mountain of the eastern Himalayas, the 414km river flows through the Indian states of Sikkim and West Bengal and subsequently enters Bangladesh through Rangpur division.
Currently, the river is almost dry in some areas, with little water flowing even in the main channel, which is filled with heavy silt. This is due mostly to the unavailability of water during the lean season, which has badly affected irrigation, agriculture, fishing, and biodiversity.
Against the backdrop, West Bengal's recent reported plan to withdraw water by digging two new channels causes a new concern for the lives and livelihood of millions of people, and prompts water resource experts to call for immediate measures by the government.
Local farmers say they are already forced to use diesel-run water pumps to irrigate their fields, while thousands of fishermen who rely on the river for their livelihoods are struggling to survive.
Talking to the FE, Binod Roy, a fisherman at Teesta barrage, expressed his concern that the river has turned into a dead canal. He added that many fishermen have already left the area for other jobs, such as pulling rickshaws and becoming day-labourers.
The Teesta barrage authority sources have revealed that there is only 1,554 cusec water in the main channel of the barrage in the last 10 days of March. This amount is inadequate to irrigate the croplands.
Mijanur Rahaman, Executive Engineer of Water Development Board (WDB) Lalmonirhat, said Bangladesh needs at least 3000 cusec water in the dry season.
Dr Tuhin Wadud, a river researcher and professor at Begum Rokeya University, has expressed his anguish that the country is not getting adequate water share from neighbouring India.
He believes that the government should take immediate steps to stop the river's death, as the ecology of the area, agriculture, and the lives of millions of people face a severe threat.