---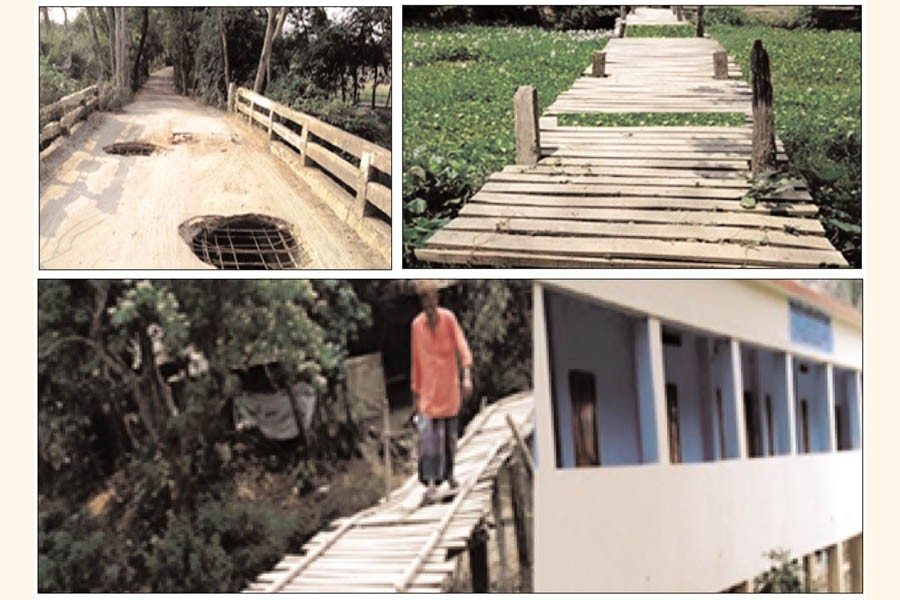 Photos show bridges in deplorable condition in Shahrasti (top left), in Matlab Uttar (right), and in Chandpur Sadar (bottom)
CHANDPUR, May 03: Three important bridges in Shahrasti, Matlab and Chandpur Sadar are in deplorable and risky condition for lack of proper maintenance. As a result, people have been suffering immensely for long.
An important bridge known as Naliapara Bridge in between six kilometre long Khila-Chitosy Road in Shahrasti Upazila has become dilapidated and dangerous for want of proper cares and repairs for many years.
When this correspondent visited the bridge, he saw three holes/potholes on the bridge which are dangerous for any vehicles. So, people of all walks of life and all sorts of vehicles have to encounter much inconveniences due to the deplorable and risky conditions of this pucca bridge at Naliapara village under Chitosi (West) Union in ShahrastiUpazila.
It is located in the middle of Khila-Chitosie Road under ShahrastiUpazila. It is a very important road. The bridge is used by all, round the clock to and from ShahrastiUpazila Sadar, Chandpur, Hajiganj, Laksham, Cumilla, Roypur, Ramganj and Luxmipur . But despite the bridge's dilapidated condition, panicky people and drivers have no other alternative but to make use of the bridge with light , medium and heavy loads all day and and night.
According to the local people and Chitosi (West ) UP Chairman Jubayer Kabir Bahadur, the bridge belongs to Local Govt Engineering Department (LGED). It is about 45 feet long and 18 feet wide. It was built by the Local Government Engineering Dept (LGED) long ago, in 1985 when local influential officer Md Hossain Ahammad was IGP of the Govt. Since after that, no good initiative was taken to repair and reform the bridge by the authorityconcerned. And so it has become worn-out. UP Chairman has said, last year, a small slab was put on the hole of the bridge to avoid accidents. For the last few months, two more big holes have developed in the bridge making it very risky and dangerous. The situation becomes worst at night, said drivers. UP Chairman and locals apprehend, at any moment a major accident may occur costing life and properties.
Contacted, Upazila Engineer Redwanur Rahman has said, 'I have come here a month ago and so this bridge is not well known to me'.
When contacted, LGED, Chandpur's Ex-En Md Yunus Hossain Biswas has told this correspondent that 'Very soon the bridge would be repaired to avoid accidents ahead of coming Eid. We have already sent an estimate of the bridge to higher authorities seeking allocation for a new bridge here'' . He has added, '' If allocation is granted, work of this bridge would start''.
People are however looking forward to its quick implementation.
On the other hand, there is a broken wooden bridge over BhasancharKhal in ChhotoHoldiya village in Farazikandi Union under Matlab Uttar Upazila. For want of proper cares and repairs, it has become worn- out and tottering and unfit for use by people. Many wood pieces have been removed and gone rotten due to wear and tear.
When anyone walks on the bridge, it simply tilts causing panic to the walkers. Everyday people of some 8/10 villages use this bridge while they go to schools, bazars, hospitals, doctors and other places. No farmers can use this bridge with loads on heads. Time and again people have appealed to the elected representatives to make it a pucca bridge but to no effect as yet.
Talking to this correspondent, local social workers - KamruzzamanMonir, Omar Faruque and Advocate TaslimaAkterAnkhi( also teacher of ChhotoHoludiya village) have told this correspondent that for about 5 decades, this bridge has been lying uncared for and unrepaired and so we, people, have been suffering immensely to cross this dilapidated bridge. Pregnant mothers, serious elderly patients and children are quite afraid of this bridge. It was learnt that the local UP Chairman Delwar Hussain Danesh is now in Singapore in connection with his better treatment. So he could not be contacted regarding this matter.
When contacted, Upazila Engineer (LGED) MdSaiful Islam has told this correspondent that an estimate of a pucca bridge over this canal (as per advice and order of the local MP AdvNurul Islam Ruhul ) has been sent to the higher authorities. When/If the allocation will be granted, the work of the bridge would start inshallah, he opined.
Yet another broken wooden bridge at Moddhomchori village under Bishnupur union in Sadar Upazila has been lying uncared for and unrepaired for many years causing immense sufferings to the people. Elderly men, women and school children are the worst sufferers.
They allege that they are afraid of crossing this deplorable and worn out bridge over a canal at Moddhomchori village. There is a govt primary school near the bridge and there are several hundred little learners here.