---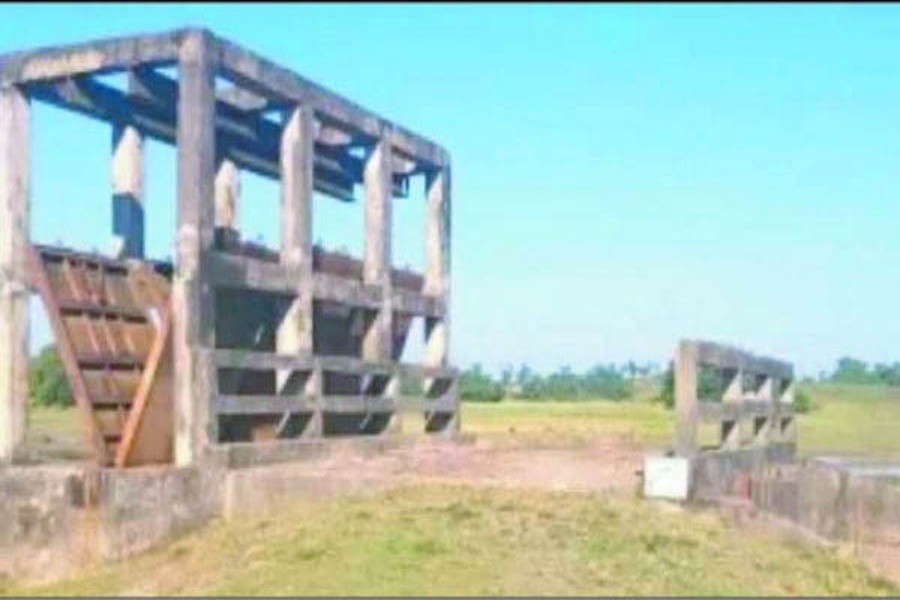 The sluice gate has been lying inoperative for five years in Juri upazila — FE Photo
OUR CORRESPONDENT
SYLHET, Nov 21: The sluice gate constructed at a cost of taka 16.02 million has been lying unused for 05 years in Juri upazila of Moulvibazar district, causing much suffering for the farmers in general.
The locals, however, also raised serious allegations against the water resources management society, which looks after the structure.
The LGED in 2012-2013 fiscal constructed the structures under small scale water resources development project at the Boro Dhamai under Juri upazila. It includes construction of 1.5 km cross embankment, canal digging and construction of sluice gate at Kaulichhara and the office of the farmers' water management society.
It's land donor Zahir Ali and others alleged the structure was built with a target to facilitating the farmers to cultivate the Boro crops. Accordingly, it was done somehow for 3 years by the locals. But the embankment had already turned inoperative since water submerged it as earth washed away by the flood waters amid no major repair on it over years.
As the structure turned unusable the farmers have to arrange traditional irrigation for their lands as they used to do before the construction of the sluice gate and other structures, they alleged. All these structures are by now unusable, since there is none to look into the matters, while the society also went non-functional.
The society officials do not stay at the village while its loan programme is also suspended. The locals have demanded election of the officials through election. They also handed over a memo to the upazila Engineer and other officials recently demanding transparent formation of the society, which could take measures for making the irrigation project effective.
However, General secretary of the Kaulichhara Pani Baybosthapona Samabaya Samity Abdul Munim said elections would be held by December, while loan distribution and other activities had been suspended for reasons.
An official said things were not in our knowledge. However, steps would be taken soon after visiting the project site and in consultation with the locals.