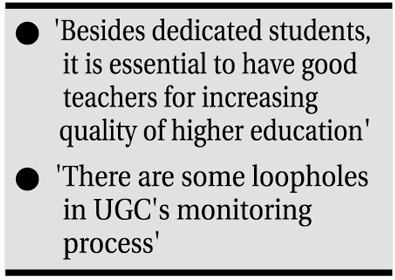 Noted educationist and University Grants Commission (UGC) member Prof Dr Biswajit Chanda has said the quality of higher studies is directly linked with the quality of a country's universities.
The UGC member said this during an exclusive interview with UNB.
Asked about the dwindling standard of education at the country's universities, Biswajit said that the number of seats has to be lowered to maintain standards.
"A class should consist of only 35-50 students. If needed, the number of sections should be increased to accommodate a large number of students. In our country, sometimes there are 2000-3000 students in a single section, which erodes the quality of education to a great extent. The standard of higher education won't develop if we can't keep the number of seats in check," Biswajit said.
Replying to a question, Biswajit added that besides dedicated students, good teachers are also mandatory for increasing the quality of higher education.
"Appointment of competent teachers along with curriculum and skills development is some of the steps that need to be taken immediately to ensure top-notch education. Proper infrastructure and training of teachers also need to be in place. Most importantly, cooperation and participation of students are necessary to create a sound learning environment," Biswajit added.
Asked about UGC's monitoring system, Biswajit assured that his organisation is constantly monitoring the higher education landscape of the country.
"Recently, some questions have surfaced regarding the quality of higher education at some universities, specially the private ones. UGC is repeatedly warning these universities to maintain a certain standard. There are some private universities which are providing world class education nowadays. This shows the impact of UGC's strict monitoring," said Biswajit.
Biswajit also informed that UGC is thinking of arranging a six-month-long training programme for the university teachers, which the apex academic body is thinking will make the in-person learning process more efficient.
During the interview, the UGC member accepted the fact that there are some loopholes in UGC's monitoring process.
"UGC's manpower is much less compared to the large number of private universities in the country. Although we've already given some directives on how to provide quality education to the private universities, it's taking time for us to reap the fruits of our initiative due to the manpower shortage. However, we're always trying to strengthen our monitoring process," Biswajit added.
On the quality of Bangladesh's higher education compared to other countries, the academic said that it depends on the quality of the universities.
"The standard of higher education at some public and private universities of the country is much closer to the world's leading universities. At the same time, education provided by some universities can't even match the local standard. As a result, any comparison between Bangladeshi and international universities is bound to be faulty. However, I would say that we've progressed a lot in terms of higher education in the last few years," said Biswajit.
It's the same for public and private universities, Biswajit concluded, adding "Any attempt to differentiate between them is bound to fail. Quality of higher education depends on quality of universities, not on their type."