---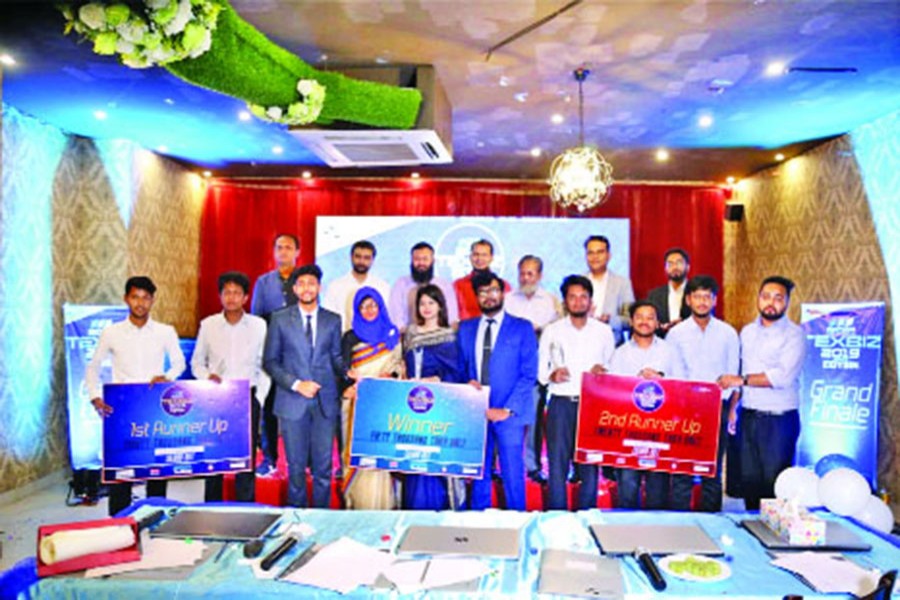 Winning team members with dignitaries present at the grand finale of TEXBIZ 2019 organised by Bangladesh University of Textiles (BUTEX) Business Club
The grand finale of Morrison TEXBIZ 2019, organised by Bangladesh University of Textiles (BUTEX) Business Club was held on August 03, 2019.
This year "TEXBIZ" set the stage even better and bigger for the students from different universities all over the country. The grand finale of the third season of the flagship event took place at the Waterfall Restaurant and Convention Centre situated at Bangla Motor, Dhaka.
Out of all the submissions of the solution of the case from 173 teams in the online round, only 28 teams were selected for the presentation round. The second round took place on July 27. Team Benomia, Team Kacchi Without Elachi, Schrodinger's Team, Team Oligarchy, Team Game Changers, A Team Has No Name, Team Last Minute and Team Lion's Den were the eight finalist teams picked for the grand finale of TEXBIZ 2019.
The teams in the final were provided with a textile-based business problem designed on the basis of the context of our country's ready-made garment (RMG) sector. The teams using their creative problem-solving techniques and available information from online sources designed solutions to their business problems in the final round. The eight finalist teams gave in all their efforts to bear the title, "Champions of TEXBIZ 2019".
At the end, leaving the seven teams behind Team Oligarchy became the champion of TEXBIZ 2019 winning the prize money of Tk 50,000 and other exciting prizes. Schordinger's team became the first runner-up and Team Benomia became the second runner-up winning the prize money of Tk 30,000 and Tk 20,000 respectively. Team Steampunk was awarded the "Youngsters of TEXBIZ" award, a prize money of Tk 10,000 as the emerging team of the competition.
The eight teams in the grand finale were evaluated by the four judges; they were -- Mazharul Ahmed Rumon, CEO of Naz corporation, Md Amanur Rahman, managing director of DYSIN-chem Limited, Md Abdul Matin Emon, founder, MD and CEO of Doctorola.com and Dr Md Abbas Uddin Shiyak, assistant professor of Department of Dyes and Chemical Engineering, BUTEX.
Prof Md Abul Kashem, vice chancellor of Bangladesh University of Textiles, BUTEX attended the closing ceremony of the event as the chief guest. Arif Iqbal, assistant professor, Department of Textile Engineering Management and Moderator of BUTEX Business Club was also present at the programme. They both appreciated highly of this initiative taken by BUTEX Business Club in blooming the latent talent of the participants with regard to their ability to solve textile business problems.
The closing ceremony was ended with a gala dinner at Waterfall Restaurant and Convention Centre.
The writer is a third year student of
Department of Apparel Engineering,
Bangladesh University of Textiles. He can be reached at [email protected]