---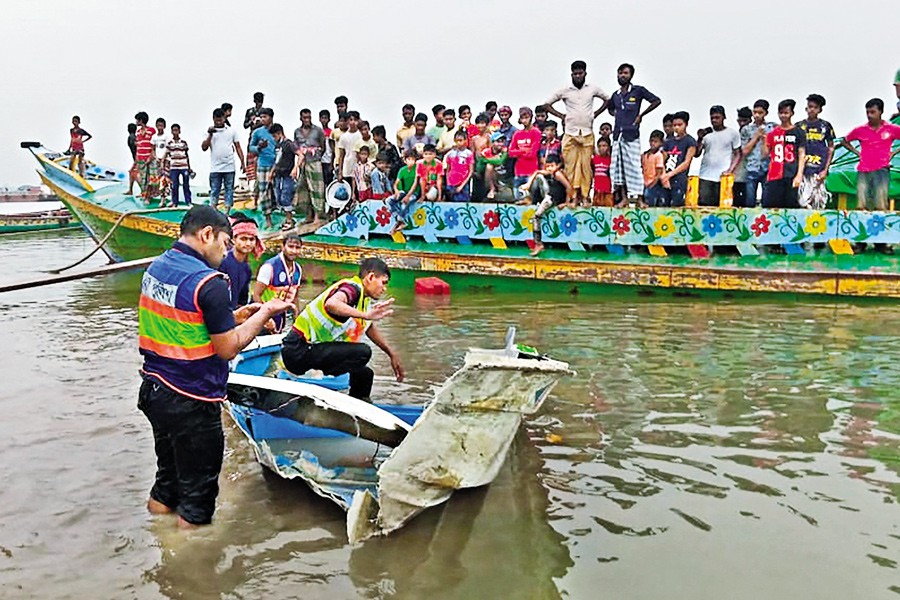 Police inspect the wreckage of a speedboat that crashed into a sand-carrying bulkhead in the Padma river at Shibchar in Madaripur on Monday, killing 26 people — AFP photo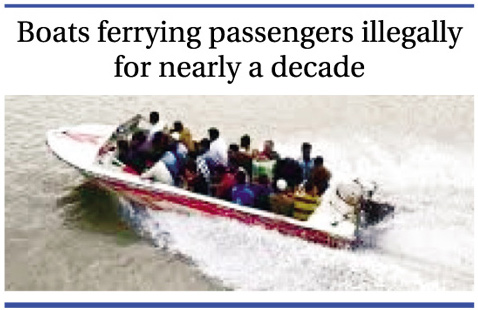 At least 26 people were killed Monday morning when a passenger-packed speedboat rammed into a sand-carrying bulkhead and sank in the River Padma near Shibchar upazila in Madaripur district.
Mohammad Raihan, station officer (media cell) at the Fire Service and Civil Defence Headquarters, told the FE that the speedboat carrying 31 passengers was heading to Shibchar from Shimulia in Munshiganj and it sank at around 7:00am.
The divers from local firefighting units recovered the bodies of 26 people and rescued one alive, he said, adding that locals rescued four others alive.
Of the deceased, three were children and one female, Mr Raihan said.
The injured were undergoing treatment at Royal Hospital at Panch Char under Shibchar upazila, he added.
On information, the rescue teams from Shibchar and Zajira fire stations rushed to the spot and started the rescue operation.
The rescue operation ended at 2:30 pm on Monday as they did not find anyone after their frantic efforts.
Meanwhile, a six-member probe body was formed to investigate the accident.
Mofazzal Hossain, deputy assistant director at Bangladesh Fire Service & Civil Defence, said there were 31 passengers in the boat as they did not find anyone in the river after the rescue operation.
The speedboat was packed with passengers as the lockdown was going on across the country shutting down all public transports including launch, Mr Hossain pointed out.
The sand-laden bulk carrier was anchored when the speedboat hit it, he added.
Shyamal Biswas, who was leading the rescue operation, said Upazila Nirbahi Officer (UNO), members of Bangladesh Army, officers-in-charge of local police stations and naval police officers rushed to the spot after the accident.
On April 5 in 2021, at least 28 people were killed as a ferry carrying around 50 passengers collided with a cargo vessel and sank in the River Shitalakkha.
At least 32 people died after a ferry capsized in the River Buriganga near Sadarghat on June 29, 2020.
The country's ferry track record is one of disastrous one. In last 25 years (since 1994), 250 ferry incidents with over 2,000 deaths have been recorded until 2019.
Over 400 speedboats ferry passengers from Shimulia ferry ghat at Munshiganj to Kathalbari and Majhikandi of Madaripur illegally. Those boats do neither have registration nor route permit as required under law. Yet they have been operating for nearly a decade despite being involved in a number of accidents.
Though illegal, the IWTA's Shimulia ferry ghat carries a sign board showing the speedboat mooring.
Talking to newsmen the officials of relevant agencies and police at the place of mishap promised a probe into the incident. All of them knew about the illegal operation of speedboats, yet they feigned ignorance.
When a private TV channel reporter asked a top official of the department of shipping, the agency that oversees licencing and operation of motor vessels, who would be liable for the loss of so many lives, he paused for a moment and said,' everybody should shoulder it!'.
The speedboats do not have enough life jackets and their pilots are mostly inefficient and drug-addict, locals have complained.