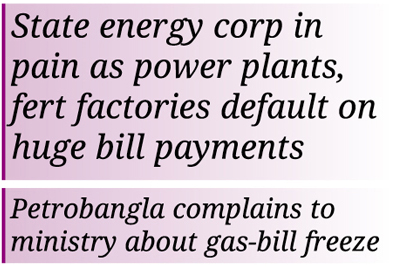 State energy-corporation Petrobangla gets in a two-pronged financial crunch as power plants and fertilizer factories have defaulted on payments in local currency.
The corporation has been facing problems with oil imports because of dollar dearth in recent months.
Power plants and fertilizer factories in public sector owe around Tk 100 billion, equivalent to US$926 million, to Petrobangla against gas purchases, Petrobangla chairman Zanendra Nath Sarker told the FE Tuesday.
The state-owned gas-based power plants have stopped paying gas bills over the past eight months, and the arrears accumulated to around Tk 85 billion (US$787 million), he said.
They have refrained from paying gas bills against gas purchases for electricity generation since February this year, he said, in a huff over tariff hike.
The government jacked up retail prices of gas by 14.5 per cent to 178.9 per cent for industries, power plants and commercial establishments by an executive order on January 18, which came into effect on February 1.
The price of gas used for power generation was hiked to Tk 14 per cubic metre from previous Tk 5.02 through the government directive.
But the publicly owned gas-fired power plants are not paying tariffs at the enhanced rate, Mr Sarker said.
Like the power plants, state-owned fertilizer factories also ceased paying gas bills since February and the default bills mounted to around Tk 15 billion or US$ 138 million, the corporation chief laments.
Although the government did not raise gas tariffs for fertiliser factories in January 2023, Bangladesh Energy Regulatory Commission (BERC) had ordered a 259.55-percent hike for these factories with effect from June 2022.
The fertiliser factories have ceased paying gas bills since June last year, it has been alleged.
"I have raised the issue to the Ministry of Power, Energy and Mineral Resources (MPEMR) as the growing unpaid bills are squeezing Petrobangla's fiscal capacity," says Sarker about inter-agency standoff.
Without sufficient local currency in bank accounts, the banks would not agree to open necessary letter of credits (LC) to import LNG or pay sufficient US dollars to clear outstanding dues, he adds.
Privately owned gas-fired power plants and industry owners are, however, paying gas bills at enhanced rates in line with the government directive, sources have said.
"We are paying gas bills at actual rate," president of Bangladesh Independent Power Producers Association (BIPPA) Faisal Khan told the FE Tuesday.
"The industry owners are paying gas bills in line with the government's latest directive at higher rates," executive president of Bangladesh Knitwear Manufacturers and Exporters Association (BKMEA) Mohammad Hatem told the FE.
He fears that the mounting unpaid gas bills due from state-owned entities might result in squeezing of LNG imports, which might cause factory outputs to shrink.
Mr Hatem also regrets that most of the industries are not getting sufficient gas despite government promise to provide uninterrupted supply of gas.
"Gas pressure in some areas rather fell from the past," he says about the predicament the export industry is in on account of fuel.
Officials say Petrobangla is already in financial strains as it is delaying payments against gas purchases from LNG suppliers, US oil-major Chevron and Singapore's KrisEnergy.
The energy corporation currently owes around US$250 million for gas purchases from Chevron that produces the highest quantum of natural gas in Bangladesh.
Payments to the US oil major for gas purchases couldn't be cleared for over a year, from April 2022 to May 2023, amid dollar crunch.
Chevron had urged Petrobangla in a letter to clear all its dues, amounting to around US$280.72 million, by August 31, 2023.
Around $30 million was paid following the letter to pacify the US firm so it continues gas extortion.
In lockstep with Chevron letter to Petrobangla came two similar letters from two spot LNG suppliers on the global market seeking overdue payments.
France's TotalEnergies and Gunvor Singapore had warned Petrobangla earlier in July to clear about US$113 million in outstanding payments for spot LNG cargoes within three working days, or else forfeit monetary guarantees with the state bank.
Petrobangla also cleared some dues to appease TotalEnergies and Gunvor and continue LNG supply, said sources.
To come out of the dire fiscal state, the corporation has initiated talks to borrow around US$500 million from the Islamic Trade Finance Corporation (ITFC), a member of the Islamic Development Bank (IsDB) Group, to clear the pending payments to the IOCs and the LNG suppliers.
But the loan has yet to be sanctioned.
Mr Sarker says Bangladesh had never before defaulted on paying Chevron gas bills. Bangladesh used to make payment within one month of getting natural gas supplied into its national gas grid.