Bangladesh's ready-made garment (RMG) exports to Japan sustained a robust growth of over 43 per cent to cross the billion-dollar mark during the first nine months of the current fiscal year (FY).
Shipments to the destination country witnessed a decline for two consecutive fiscal years beginning 2019-20 and bounced back in the last fiscal, according to official data.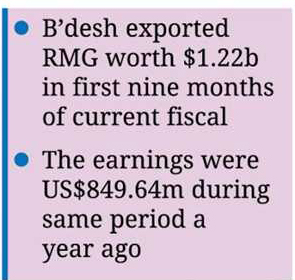 Apparel exports to Japan doubled in the last decade, thanks to entrepreneurs' relentless efforts to meet the Japanese standard and the government's policy support like cash incentive, say industry people.
They also attribute this rise in exports to Japan's 'China-plus policy' and relaxation in its rules of origin.
Locally-made knit items have been enjoying a duty-free facility in the Japanese market since April 01, 2011 and woven items since April 2014, although raw materials are imported, they add.
Bangladesh exported apparel items worth $1.22 billion to Japan marking a 43.79per cent growth during July-March period in the ongoing FY23, according to data of the Bangladesh Garment Manufacturers and Exporters Association (BGMEA).
The earnings were US$849.64 million during the corresponding period of last fiscal.
Bangladesh fetched $944.82 million in FY 2020-21. RMG exports to Japan first crossed the billion-dollar mark with $1.091-billion earnings in FY19.
Apparel exports, including knit and woven items, to Japan were $478.48 million in FY 2012-13 which was only $74.33 million in FY 2008-09.
Talking to the FE, BKMEA's (Bangladesh Knitwear Manufacturers and Exporters Association) former president Fazlul Hoque said exports to Japan increased mainly because of two reasons – Bangladesh produces quality products and offers competitive prices.
"It means we are meeting standards of the Japanese buyers, who are very cautious about quality," he said.
Explaining the growth, he said buyers from Japan along with other non-traditional markets purchased with caution after the Covid period unlike the European and US buyers.
The EU and US buyers, who placed a huge volume of work orders in the post-Covid period, now have a huge stock of RMG products – therefore, they are not desperate to procure apparel items.
On the other hand, buyers from Japanese and other non-traditional markets now require the RMG products, he noted.
Besides, the economic situation is comparatively better in the non-traditional markets, resulting in the growth of exports there, he added.
Terming Japan a 'niche market', Abdullah Hil Rakib, managing director of Team Group, said Japanese buyers are very much conscious and focused on quality of product materials.
"We have to have the proper mindset with the right business module to get into the market with a separate team and unit," he explained.
Asked, BGMEA President Faruque Hassan said, "There is no denying that Japan is one of the most important and potential markets beyond traditional ones."
He expected that shipments to Japan would rise further in the coming months.
According to a recent UNCTAD report, preferential access to Japan for duty-free treatment of T&C (textile and clothing) products for the targeted LDCs largely depends on their membership to the Association of Southeast Asian Nations (ASEAN).
Bangladesh and Nepal will be subject to the GSP or MFN (most favoured nation) rate in their exports to Japan as they are not part of ASEAN and therefore do not benefit from the ASEAN-Japan Comprehensive Economic Partnership Agreement (CEPA), it notes.
In this context, they will face tariffs on their clothing exports ranging from 8.5-9.0 per cent.