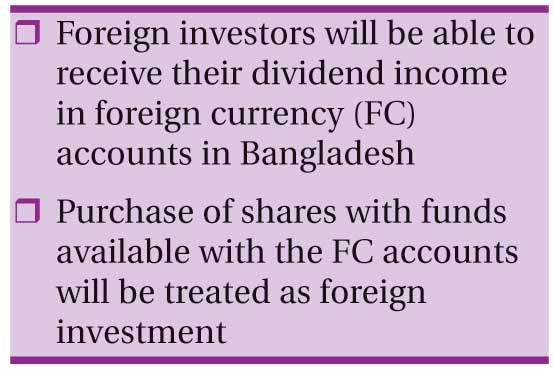 The Bangladesh Bank (BB) has relaxed relevant rules to attract more foreign direct investment (FDI).
Following the relaxations, foreign investors will be eligible to receive their dividend income in foreign currency (FC) accounts maintained in Bangladesh, according to a notification, issued by the BB on Tuesday.
Besides, purchase of shares with funds available with the FC accounts will be treated as foreign investment.
However, funds from declared dividends will be treated as inward remittance for reinvestment in Bangladesh, the notification added.
"We've simplified our policy to help encourage foreign investors to invest more in Bangladesh," a senior official of the BB told the FE while explaining the main objective of the policy relaxation.
He also said the central bank is continuously working to facilitate more FDI inflow to the country.
The BB asked all authorised dealer (AD) banks to follow the latest relaxations in transactions relating to FDI in Bangladesh.
The central bank's latest move came just after more than two weeks of its policy relaxations, allowing non-resident investors to repatriate sales proceeds of their shares in non-listed companies to attract more FDI to Bangladesh.
On June 18, the AD banks were allowed to remit sales proceeds of shares regardless of amount, fair value of which is determined by management of the target companies through net asset value (NAV) approach on the basis of latest audited financial statements, submitted together with tax returns.
The central bank has taken a series of initiatives against the backdrop of a falling trend in FDI inflow to the country in the recent months despite taking different measures by the authorities concerned.
The net inflow of FDI to Bangladesh dropped by more than 19 per cent to US$1.96 billion in July-May period of last fiscal year (FY), 2019-20, from $2.43 billion in the same period of FY 19, the BB data showed.
siddique.islam@gmail.com