Bilateral transit between Bangladesh and Bhutan looks way off as they couldn't agree on terms of bank guarantee and validity of the treaty in their latest meeting, officials said.
A meeting of the Bangladesh-Bhutan Joint Working Group on Transit and Protocol in Dhaka last week could not finalise the text as officials from Thimphu said they needed further consultation with stakeholders to give a decision, they added.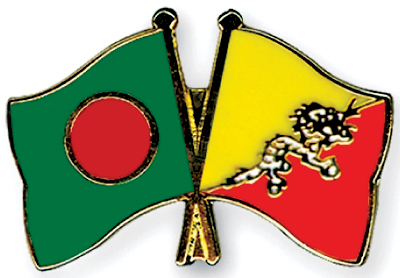 The previous transit deal between the two countries, signed in 1980, expired in 2000. Bhutan, being a landlocked mountainous country, is interested to sign the transit deal as part of its effort to use Bangladeshi seaports for carrying out overseas trade.
At the meeting Dhaka demanded that Bhutanese businessmen execute bank guarantee against each of the consignments to be transited through Bangladesh territory. Thimphu agreed to furnish bond instead.
Officials said the Bhutanese side did not agree to furnish bank guarantee as there is monetary involvement with it. However, the delegation members even could not confirm what kind of bond they want to execute instead of bank guarantee.
Bangladesh sought bank guarantee equivalent to taxes and duties to be applicable lest any consignment should be offloaded on Bangladesh market instead of sending it abroad.
According to officials at the ministry of commerce (MoC) Bangladesh wanted that the protocol to be signed under the proposed treaty should remain valid until the signing of another protocol under BBIN (Bangladesh, Bhutan, India, Nepal) motor-vehicle agreement (MVA).
But the Bhutanese side did not agree to tag the transit deal with the BBIN MVA as, until now, Thimphu is not interested to implement the regional-connectivity initiative.
"The BBIN MVA is found to be very sensitive to Bhutan. They don't want to tag one with another," said a senior MoC official.
He said two rates of fees and charges--one under bilateral transit deal and another under BBIN MVA--cannot exist for similar types of services. "So we wanted to keep validity of protocol under transit deal until BBIN MVA takes effect. But Bhutan did not agree."
Additional commerce secretary Shafiqul Islam, who led the Bangladesh delegation at the meeting, told the FE the Bhutanese side wanted to consult stakeholders and government high-ups before giving a decision on the two unsettled issues.
He was hopeful that the agreement terms will be finalised in next meeting of the joint working group.
Bilateral trade between the two countries is very meagre. In the fiscal year 2015-16 Bangladesh exported goods worth US$4.74 million to Bhutan and imported goods worth $21.60 million.
Bangladesh mainly exports apparel, agro-products, and footwear to Bhutan and imports vegetable products, prepared foodstuffs, mineral products, products of the chemical or allied industries, textiles and textile articles, base metals, machinery and mechanical appliances and electrical equipment.