The flow of foreign direct investment (FDI) into the country recorded substantial rise in 2018 with China becoming the top contributor.
The development came in contrast to the decline in global inflow of FDI last year, according a report of the UNCTAD.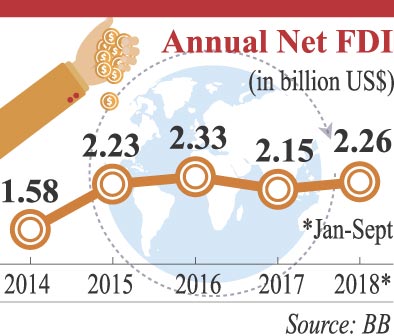 Net inflow of FDI into the country, according to the Bangladesh Bank data, was $2.26 billion during the January-September period of 2018. The figure represented a 51.62 per cent increase in FDI inflow over that of corresponding period of 2017. A total of $1.49 billion FDI flowed into the country during the first nine months of 2017.
In fact, the nine-month FDI in 2018 surpassed total FDI worth $2.15 billion in 2017.
China became the top source of FDI in Bangladesh as net inflow of FDI from the second largest economy of the world reached $812.15 billion in the first nine months of 2018 due to big Chinese investment in the power sector.
Investment Trend Monitor, released by the United Nations Conference on Trade and Development (UNCTAD) on Monday, estimated that global FDI inflow declined 17 per cent to $1.19 trillion in 2018 from $1.47 trillion in 2017.
Though the figure of 2018 is based on a preliminary estimation, it is likely to stay close to it at the final count which will be released in the middle of the year.
Inflow of global FDI was $1.98 trillion in 2015 which declined to $1.86 trillion in 2016.
"The third consecutive drop brings the FDI inflow back to the low point reached after the global financial crisis," said the UNCTAD report.
"The decline was concentrated in developed countries where FDI inflow fell by 40 per cent to an estimated US$451 billion mainly due to large repatriations of accumulated foreign earnings by the United States multinational enterprises (MNEs) following tax reforms," it added.
It is also estimated that FDI flow into developed economies last year was the lowest since 2004.
In contrast, inflow of FDI into developing economies increased by 3.0 per cent to $694 billion and the share of these economies in global FDI reached 58 per cent last year.
Bangladesh is an example of developing nations' robust FDI inflow past year, though the country still gets a tinny amount of foreign investment.
During the period under review, gross inflow of FDI also stood at $2.93 billion while the amount of disinvestment was $0.67 billion, according to Bangladesh Bank statistics.
Disinvestment includes capital repatriation, reverse investments, loans given to parent firms and repayments of intra-company loans to parent firms of the multinational companies operating here.