The Bangladesh Investment Development Authority (BIDA) has suggested the central bank to take necessary steps to bring down the daily transaction limit of 'Nagad', making it equivalent to that of other mobile financial services, sources said.
'Nagad' is a mobile financial service (MFS) introduced recently by the Bangladesh Post Office (BPO).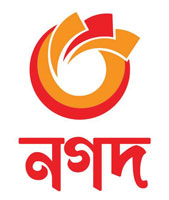 The BIDA thinks that the transaction limit of Nagad, being much higher could be used for the purpose of money laundering.
The BIDA has advised the Bangladesh Bank (BB) to immediately create a level playing field in the country's digital financial service.
Under the circumstances, the International Finance Corporation (IFC) of the World Bank which has engagement with bKash and its joint investors -- Melinda and Gates Foundation and Alibaba -- expressed their concern over the higher transaction limit of 'Nagad', sources said.
The BPO has introduced 'Nagad' with the 'Third Wave Technologies Limited. The BPO is providing mobile financial services like other financial services. But other financial services including bKash are allowed to cash in Tk 15,000 and cash out Tk 10,000 a day in the case of an individual account holder, according to the Bangladesh mobile financial services (MFS) regulations 2018."
On the other hand, under the scheme, a 'Nagad' customer will be able to cash in or cash out Tk 50,000 in a single transaction and a maximum of Tk 250,000 through 10 transactions a day. This will be conflicting with the MFS, the letter said.
A high official of BPO said Nagad would only be regulated by the 'Bangladesh Postal Act (Amendment) 2010'.
'Nagad' would not, thus, come under MFS regulations, he explained.
When contacted, a BPO senior official declined to make any to the BIDA's suggestions regarding the transition limit of 'Nagad'.
The BIDA had sent a letter to the governor of BB again to take required action in this connection on April 17. It sent the same instructions to the central bank on March 31, 2019.
Meanwhile, the test run of Nagad service has raised concern among rival service providers.
This comes at odds with other providers who, as per regulations, can cash in a maximum of Tk 15,000 via two transactions and cash out a maximum of Tk 10,000 a day.
Industry insiders fear 'Nagad' service, with its increased transaction ceiling, may create an unhealthy competition in the market.
At the same time, they believe, 'Nagad' will increase scope for huge money laundering and terror financing.
Prime Minister Sheikh Hasina formally opened Bangladesh Post Office's digital financial service, Nagad, at a function at Ganabhaban on March 26 last.