---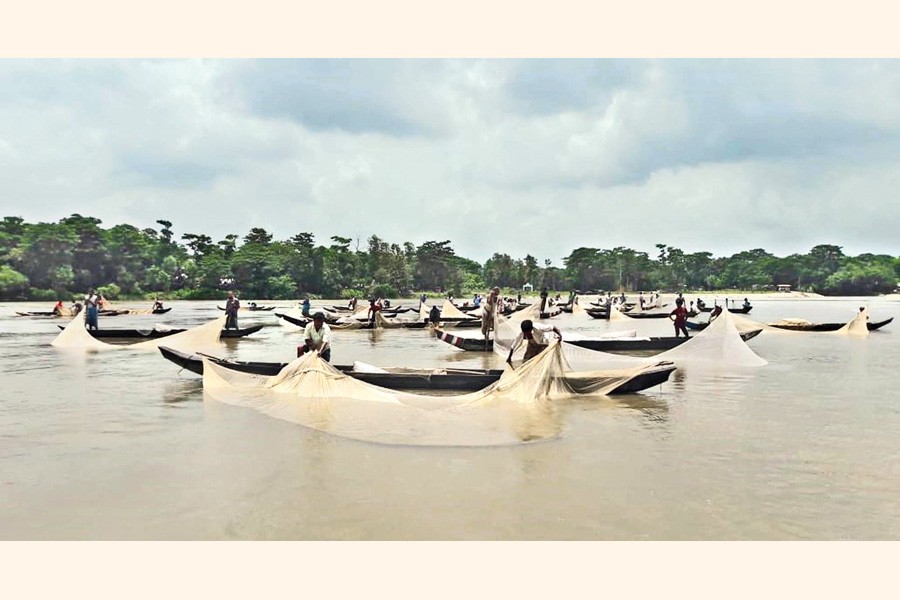 Fishermen collecting eggs in the Halda river on Friday — Focus Bangla
CHATTOGRAM, May 22: The brood fishes started releasing eggs in the Halda river, the only natural fish spawning ground in the country, in the early hours of Friday.
Earlier, the fishes released sample eggs after the rainfall on Thursday evening.
Soon after the release of eggs, several hundred fishermen and egg collectors started collecting the eggs from areas stretching from Gorduara to Modunaghat under Hathazari upazila and from Barighona area under Raozan upazila and the collection was going on until filling of this report at 6:00pm on Friday.
Most of the eggs were collected from Ajimer Ghat, Khalifar Ghona, Onkuri Ghona, Ninajuru, Sonair Mukh, Abur Khil, Sattar Ghat, South Gohira, Mogdhai, Mobarak Khil, Urkirchar, Napiter Ghat and Sipahir Ghat, the fishermen said.
In the previous year, the fishermen collected around 25,000 kg of eggs. The figures were 22,680 kg of eggs in 2018, 1,680 kg in 2017, 735 kg in 2016, 2,800 kg in 2015 and 16,500 kg in 2014.
The fishermen and egg collectors are now collecting eggs of fishes such as rui, katla and mrigal.
Shankar Jaladas, an egg collector, said that if the rain continues, more mother fishes would release eggs.
Ruhul Amin, Upazila Nirbahi Officer of Hathazari, said the brood fishes released sample eggs last week for the first time in this season and on Thursday for the second time. Later, the mother fishes started releasing fertilised eggs after 12:30am on Friday."
"We have taken all necessary measures to facilitate the collection of eggs," he added.
"This year, collection of eggs might be satisfactory as the government had earlier taken a number of steps to stop catching mother fishes in the Halda," he said.
According to the sources, Halda is the only river in the country from where fishermen collect fertilised eggs and later make arrangements for the hatching of eggs.
Halda is believed to be one of the most important rivers in Bangladesh for the fishing industry because of its once abundant supply of fertilised carp and other types of fish eggs, and conditions suitable for the brood fish that produce them.