Bangladesh Securities and Exchange Commission (BSEC) will scrap licences of the errant merchant banks, brokerage houses and dealers, its Chairman Dr M Khairul Hossain reiterated the warning on Tuesday.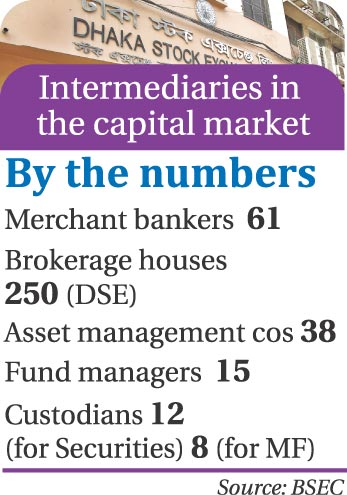 Speaking as the chief guest at a seminar, the BSEC chief said they have information that many brokerage houses and dealers are not performing their duties duly.
"We will scrap their licences soon. As the first step, we will delist them from the eligible investors' category to stop their participation in the bidding process," he said.
The BSEC chairman said there are some merchant banks, which got licences many years ago, but failed to issue any IPO (initial public officering) until now.
"We'll go for scrapping their licences as well," he said, adding it will be done as part of a series of measures to further strengthen the capital market.
The seminar titled 'Role of capital market in long-term finance' was jointly organised by Businesshour24.com and DSE Brokers Association (DBA) at a city hotel.
Hinting at some possible changes in the existing book-building (BB) method, the securities regulator chief said they have seen institutional investors buying shares at the cut-off price although their initial bidding offer was much higher.
The commission, from now on, will compel the investors to buy shares at their highest bidding price, he also said.
"We're going to experiment with it in the share trading at small-cap board, a separate platform for small firms to raise funds. Later, we'll replicate it in the main market," the BSEC chairman added.
Former caretaker government adviser Dr A B Mirza Azizul Islam said the strength of a capital market is being judged on various criteria, like - turnover ratio, market liquidity, number of listed companies and overall investment.
"Bangladesh share market remains at the low level in all criteria."
Highlighting the importance of bringing more foreign investors to make the market stable and healthy, Mr Islam, also a former BSEC chairman, said the regulator should be aware of the overseas investors, who often change markets.
"It (changing markets) could affect the market stability and the exchange rate."
He suggested conducting a comprehensive study to detect reasons behind the good companies' apathy towards issuing IPO and said there is a need for coordination among the relevant regulatory bodies.
Faruq Ahmed Siddiqi, another former BSEC chairman, said a good number of companies here are operated by family members. They do not want to come to the share market in the fear of losing their dominance (in controlling the companies).
"There is dearth of corporate governance in such firms. They are afraid of meeting regulatory requirements. We need to make them understand that corporate governance is required to expand their business," he added.
He further said private sector investment is hovering between 21 per cent and 23 per cent in the country for the last several years. It needs to be accelerated further to create demand for funds.
"Once the demand for funds increases, the banks will be unable to finance (in a large scale), and the institutions will have to come to the capital market," he said.
DBA President Shakil Rizvi said the capital market is not growing in line with the growth of the national economy.
For strengthening the marker further, he suggested selecting 100 good companies, and providing them lucrative incentives for the first two years (of public listing) instead of charging listing fee.
"We can think about launching a 'fast-track' facility to lure good companies," he opined.
Md Sayadur Rahman, former president of Bangladesh Merchant Bankers Association (BMBA), emphasised bringing reform in lending.
He suggested the banks to consider (the companies') volume of business alongside their paid-up capital and equity to approve loans.
Senior journalists Raju Ahmed and Hasan Imam Rubel, among others, also spoke at the seminar.