Chinese energy exploration firm Sinopec has found onshore natural gas prospect at Shariatpur in central Bangladesh after a 2D seismic survey, a senior official said.
The Sinopec has carried out the seismic survey in Shariatpur and 16 other districts in three onshore blocks - 3B, 6B and 7 - to delineate hydrocarbon prospects over the past one and a half years having been assigned by the state-run Bangladesh Petroleum Exploration and Production Company Ltd (Bapex).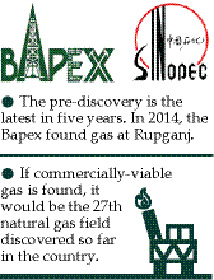 The pre-discovery sign is the latest in five years. In 2014, the Bapex had found gas at Rupganj.
"It could find only one prospective spot for natural gas reserves at Shariatpur, which is located near gas-rich Bakhrabad and Shahbazpur gas fields," Bapex managing director Md Abdul Hannan told the FE.
Drilling of exploratory wells at Shariatpur will be required to spot and assess whether gas reserves there will be commercially viable or not, said the Bapex boss.
If commercially-viable gas is found, it would be the 27th natural gas field discovered so far in the country.
Officials said the Sinopec secured the contract to carry out 2D (two dimensional) seismic survey following a competitive bidding on December 28, 2017.
Between January 2018 and December 2018, the Chinese firm carried out around 11,000 line kilometre 2D seismic survey in 17 districts, including Dhaka, Gazipur and Narayanganj.
Other locations near Dhaka included Munshiganj, Manikganj, Tangail, Rajbari, Faridpur, Shariatpur, Madaripur and Gopalganj. Besides southern Barishal, Pirojpur, Jhalakathhi, Barguna, and southwestern Bagerhat were covered.
Upon completion of the survey, it has submitted documents and survey results to the Bapex recently.
The Shariatpur natural gas prospect was determined after interpreting the 2D seismic data.
The project cost was around Tk 1.88 billion, which came from the state-managed Gas Development Fund (GDF).
Insiders said currently the country has a total of 21 active gas fields while one remains inactive.
The production of gas remains suspended in four gas fields.
The country's overall natural gas output is hovering around 3,125 million cubic feet a day (mmcfd), of which 2,539 mmcfd comes from local gas fields and the remaining 586 mmcfd comes as re-gasified LNG after imports, according to Petrobangla's latest statistics.
The entire natural gas production from local gas fields comes only from onshore gas fields.
Sources said the country discovered only four onshore gas fields with total recoverable reserves of around 800 billion cubic feet (Bcf) over the past decade. The onshore gas fields are Bhola North, Rupganj, Srikail and Sundalpur.
Natural gas discovery during the previous decade (1997-2006) was around 6.18 trillion cubic feet (Tcf) from two discovered gas fields-Moulvibazar and Bibiyana.
It was almost eight times higher than the discoveries of the last decade, according to the Petrobangla data.
During 1987-1996, the country discovered an accumulated gas reserve of 3.15 tcf from six discovered onshore gas fields-Fenchuganj, Saldanadi, Shahbazpur, Jalalabad, Meghna and Narsingdi-and the lone offshore Sangu gas field.
The country discovered a total of 493.8 bcf during 1977-1986 from five onshore gas fields-Beanibazar, Begumganj, Kutubdia, Kamta and Feni.
According to Petrobangla, the total gas discovery during 1967-1976, the period during the then East Pakistan and the independent Bangladesh, was 1.65 Tcf from two discovered gas fields-Bakhrabad and Semutang.
The highest 14.66 Tcf reserve was discovered during 1957-1966 from Titas, Habiganj, Kailashtila, Rashidpur and Chhatak onshore fields.
Before 1957, the lone Sylhet gas field, also named Haripur, was discovered in 1955 with a recoverable reserve of 318.9 Bcf of natural gas.