---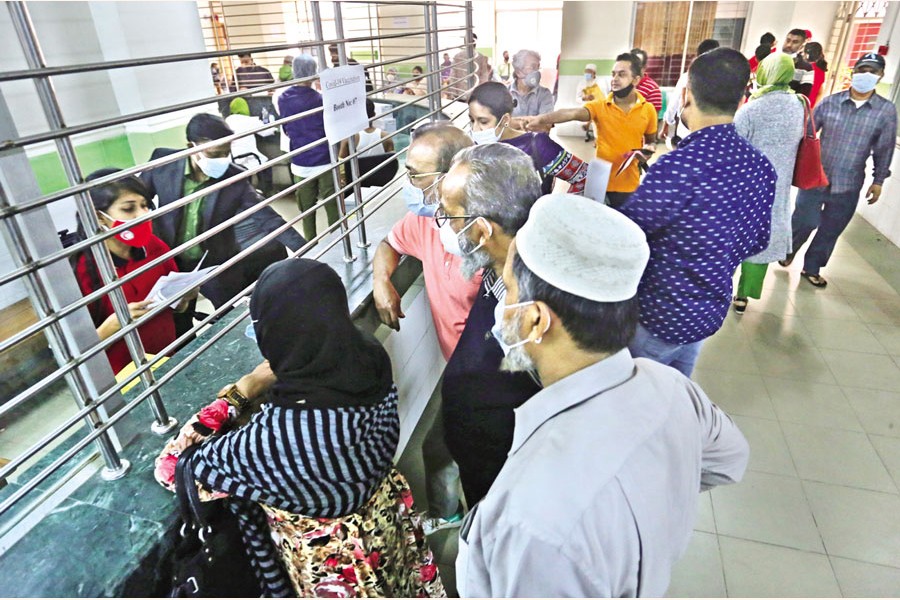 People gather at the Mugda Medical College and Hospital in the city on Tuesday to receive Covid-19 shots — FE Photo
Bangladesh will start giving the second shot of coronavirus vaccine on April 07, two months after the first dose, in line with the WHO guideline.
Health minister Zahid Maleque on Tuesday said people would start getting the second dose of the vaccine just two months into taking the first shot.
"An eight-week gap between the two doses is recommended by the World Health Organisation (WHO) as immunity would be better that way," he cited.
However, inoculating people with the first dose would continue as usual, Mr Maleque said after a meeting held at the secretariat.
Meanwhile, the country immunised nearly 2.5-million individuals with the first jab of Covishield. Of them, 182,896 were vaccinated countrywide on Tuesday.
A total of 115,318 among the receivers were male and 67,578 female, according to the statistics updated by the Directorate General of Health Services (DGHS).
Citing another consignment from India, Mr Maleque said, "We were supposed to get 5.0-million doses of the vaccine this month but we got 2.0 million instead."
"There would be a gap in the overall vaccination process, but we have been pressurising the local dealer and the Serum Institute to make up the gap."
The minister further said that the authorities concerned have ensured the government of supplying additional doses next month to cover the current gap.
About negotiations with other vaccine makers and suppliers, he said the government has been holding talks with some other countries and companies to source the antidote to feed the demand here.
The DGHS showed 29,007 people in Dhaka metropolitan area-18,670 male and 10,337 female-took the shot developed by the Oxford-AstraZeneca coalition and produced by the Serum Institute of India.
So far, 335,190 individuals-222,019 male and 113,171 female-have been immunised in Dhaka.
In the meantime, 2,491,053 took the first shot of the vaccine across the country. Of them, 1,634,033 were male and 857,020 female.
Up till now, an estimated 4.0-million people have been officially registered online for immunisation.
Currently, mass inoculation has been going on at 1,010 centres through the country.