The Chittagong seaport continues to experience a backlog of container ships as a result of a 60-hour operation shutdown caused by Cyclone Mocha, which hit the Bangladesh coast in mid-May, according to officials.
Almost every day, 10 to 15 container vessels are waiting at the outer anchorage of the country's prime seaport, seeking berthing.
Officials and stakeholders say some ships wait up to five days to secure a berth, particularly gearless vessels that rely on the port's gantry cranes to unload and load boxes.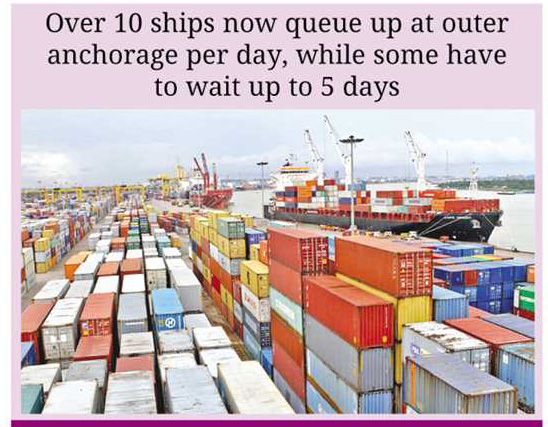 The berthing schedule for Thursday, available on the Chittagong Port Authority (CPA) website, showed that 15 container vessels were waiting at the outer anchorage, with four scheduled to berth on that day.
Of them, container ship HMM Dhaka had been waiting for five days to secure a berth, AS Roberta for four and a half days, Cape Syros for four days and the Bangladesh flag vessel HR Balu for two days.
Out of the 10 waiting container ships on Wednesday, only one vessel, Maersk Xiamen, secured a berth after waiting for four and a half days, while the remaining ships waited for several more days.
On Tuesday, some 15 container vessels were waiting at the outer bar of the port, of which five secured a berth after waiting three to five days.
Contacted, CPA spokesperson Omar Faruk told the FE on Friday that the operation suspension caused by cyclone Mocha has resulted in a logjam of vessels at the port, leading to longer waiting times than usual.
He said that many ships avoided entering the waters of Bangladesh during the cyclone to prevent potential incidents, but now they are arriving at the same time, causing congestion.
Mr Faruk expressed hope that the backlog would not last for an extended period and would be resolved soon.
However, shipping sector stakeholders said that the provision of priority berthing is another contributing factor to the buildup of ships at the outer anchorage of the port.
They argue that the closure of operations during Mocha resulted in an accumulation of vessels, which is a valid reason for the congestion. But the allocation of berths to flag carrier vessels and those heading directly towards Europe also leads to a logjam at the outer anchorage.
A director of the Bangladesh Shipping Agents Association (BSAA) said that gearless vessels are particularly affected by the prioritisation of berthing. "They wait for a longer duration compared to geared vessels due to a lower number of berths allocated to them."